Women's Basketball Gets First Win and Prepares for ECC Tournament
The Mercy Women's Basketball team finally got their first win of the season on Wednesday when they took down the St. Thomas Aquinas Spartans 79-70. This was the Mavericks' first win over the Spartans since 2009 as the Mavericks were firing from all cylinders.
No one had a better performance than Sophomore Kellie Nudd, who had a double-double with a career-high 24 points and 12 rebounds. Nudd was all over the court and was dominating the Spartans in the paint. After her double-double performance, Nudd spoke about her team and how they gelled together in their victory. "It was a great win for us because we broke a 26 game losing streak against STAC. We understood going into it the importance this win was for us because it would be the first time we won since 2009 against them. That was one of the best games we played as a team together."
Other than Nudd, fellow Sophomore Katie Wall put up another solid performance on the season with 14 points as she continues to be the steadiest shooter for the team this season. Wall has taken a big leap in year two not just leading the team in scoring but also taking on a leadership role, even though she is only a Sophomore. "I took on a leadership role this year, although I am only a sophomore, we are an extremely young team with only two juniors and the rest are sophomores and freshmen," Wall stated. "Although we are young, we have an incredible amount of potential and talent with this group, with a shortened season it has been extremely hard to be successful without having a preseason or any extra team bonding due to the pandemic. Putting all of that to the side, we have been fortunate enough to have a season, so we have been giving it all every game with nothing to lose."
As the Mavericks won their first game against STAC, they lost game two last Thursday 52-44. The Mavericks were playing catchup the whole game. With no surprise, Katie Wall was the leading scorer dropping 14 points and grabbing three rebounds. Kellie Nudd was the only other Maverick to score double-digit points and had a team-high in rebounds with six in Thursday's loss.
The Spartans on the other hand, got revenge on the Mavs for Wednesday's game as Julia Reggio dominated dropping 16 buckets, grabbing six boards, and registered three steals. The only other two players to score double-digit points were Junior and North Rockland High School alum Alexa Huertas with 11 points, and Chanel Brodeur-Muir with a team-high 17 points coming off the bench.
The Mavs may have split with the Spartans but, they finally got their first win against STAC since 2009. Their career record against STAC is 3-32. There only three wins coming at home. They are winless when they play in Sparkill.
The Mavericks finally closed out their season in West New York when they took a road trip to Buffalo to play D'Youville College. This game was a back-and-forth affair but, the Mavericks would end up on the losing side again when they lost 78-70 on Saturday.
Three Mavericks scored double-digit points in their loss on Saturday. Of course, Katie Wall had another amazing scoring performance with 26 points and on the defensive side of the ball. She had five steals and seven rebounds. Another Mav to score double-digits was Jamie Waldron who dropped 13 points. However, her offensive performance wasn't what turned heads. It was her in paint defense and offense as she snagged a whopping 18 rebounds, nine on offense and nine on defense. Last but not least, Aysa Brandon had 13 points off the bench as she has been a reliable player for the Mavericks off the bench this season.
However, second-year guard Sara Pfeiffer and the Saints prevailed at the end when Pfeiffer dropped 23 points on the Mavs and snagged eight rebounds.
On Tuesday, the Mavericks go back down to Rockville Centre to play the Molloy College Lions in a play-in game. This will be Mercy's first time in the ECC tournament since 2009 when they lost to Dowling in the quarterfinals that year. They are the fifth seed in the tournament as they go into Tuesday's game as the underdog. They lost both games against Molloy this season by double-digits. You can live stream the game on Mercyathletics.com.
Leave a Comment
About the Contributor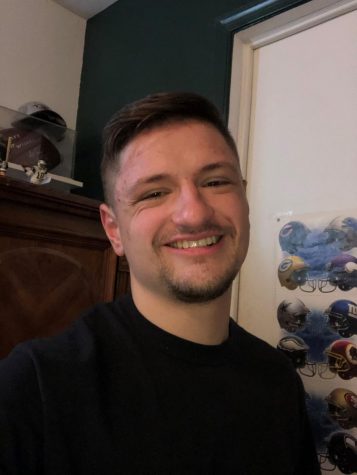 Alex Wendling, Impact Staff
A die-hard sports fan who is eager to learn more about the sports media industry. His dream is to one day work for a big sports news outlet. He is a die-hard...