Mercy Women's Team Falls to Molloy College but The Future is Bright
The Mercy Women's team fell to the Molloy College Lions, 62-47, on Tuesday night, dropping the team to 1-7 in the conference and 1-8 overall.
This season was a building year for the Lady Mavericks as this year's team only featured two upperclassmen, Brianne Santos and Maryland native Taysha Bender. This was a young team that Scott Lagas had to mentor this season as this was the youngest the program has seen in recent memory.
Even with the shortened season, the Mavericks could only string off one win, but as the season progressed there chemistry got better on the court from game to game. This was a team that stayed together during tough times throughout this season.
One player who stood out from the rest was sophomore guard Katie Wall, who took a big leadership role in only her second year at Mercy. Wall carried the Mavs offensively all season, scoring a total of 125 points, which was a team-high. She was also named to the ECC honor roll and was recognized for her play on the court. The Wappingers Falls native is a competitor and was upset that her team couldn't advance to the next round of the tournament.
She feels optimistic about what is ahead for this young Mavericks team.
"This season was for sure a weird year. Coming back to school in the fall, we were set back a bit with COVID-19. Being sent home a few times not being able to have a full preseason definitely hurt a bit, but although it wasn't a normal season, we were lucky enough to still be playing," Wall stated after Mercy's loss to Molloy.
"We are a young group and have so much talent that I am excited for the future of this program. We didn't have many team practices compared to other teams that we have faced, but we didn't let that affect us the way we played, we pushed ourselves every game and next year with a full year together and a full preseason with more talented freshman coming in. This program is on the rise and teams will have to worry how much damage we can do in the league."
Wall was definitely a leader on this year's team, but there were other leaders who lead by example on this team as well, such as freshman center Jamie Waldron. She made an impact on the team in her first year with the Mavericks, who ended up second on the team in rebounds and was a force down low all season. Sophomore Kellie Nudd also led the team in total rebounds with 40 and had one of the best overall scoring performances in Mercy's only win on the season versus the St. Thomas Aquinas Spartans, which was a monumental win for the program by beating STAC for the first time since 2009.
One of the newest additions for the Mavericks this season was freshman Aysa Brandon from Hamden, Connecticut. Brandon had a role coming off the bench and every time she had an opportunity to step onto the court she didn't waste it. Brandon a total of 50 points (fourth on the team) with a standout game against defending ECC champs Daemen College, scoring a career-high 16 points coming off the bench.
Brandon's first season got off to a good start as she expressed how she felt after completing her first season under the Mercy program.
"I think my first season for me as a Mav was all about getting adjusted on the collegiate level and just improving game by game. This season just showed me what I need to work on individually to be more than ready for next year. Even though I didn't get the full feel of how college basketball was due to COVID, I got a good feel for how college ball will be."
The Mercy Mavericks women's team has yet to achieve an above .500 record. Something the program has been striving to do for over 15 years now. This year was a down year for the team due to the COVID-19 pandemic, but from the way, it's looking the lady Mavericks are young and have a bright future.
Leave a Comment
About the Contributor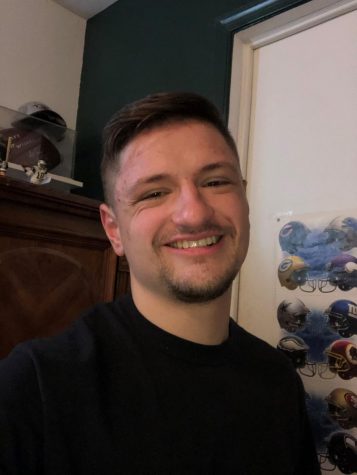 Alex Wendling, Impact Staff
A die-hard sports fan who is eager to learn more about the sports media industry. His dream is to one day work for a big sports news outlet. He is a die-hard...