No. 9 Mavs Lacrosse Off to Hot Start After Defeating Dominican College
The Mercy Men's lacrosse team was ranked number one in the ECC preseason poll after their 2020 season got cut short due to the COVID-19 pandemic.
In 2020, the Mavs started hot with a 5-1 record. Attacker Dominic Scorcia had 22 goals in only six games played. But Scorcia isn't the only Mav to return to the mix. Junior goalkeeper Tommy Umano comes back after saving 52 goals in 202o with this being the first full season as starting goalie for the team. The Mavericks are the favorite to win the ECC conference title for the second time in three years as they look to return to the division 2 lacrosse tournament after falling to the Le Moyne College in 2019.
The Mavs got off to a hot start in their season opener against Dominican College when they crushed the Chargers, 19-6. The big offensive surge started early when junior Brady Kearnan scored his 100th point. Kearnan finished with five points on three goals and two assists. He now has a total of 101 career points with 68 of those points coming during his freshman year at Newberry College.
Scorcia also had a big game where he had six points on two goals and four assists. The senior attacker from Franklin Square, New York was named to the USILA D2 Team of the Week.
"We were excited to come out hot with a strong start to the season with a big win but we are also excited to improve game by game as the season goes on," Scorcia stated after the Mavs' first win on the year. "We look at each game as a new challenge and don't take any game for granted considering the situation we are in. We take the season day by day and are grateful to be on the field every day as a team. There are always little things to improve on but I think if we cut out some turnovers we will make a long run deep into the season and even the NCAA tournament."
The biggest strength of the Mavericks this season is their defense. Defensemen Kyle Gardner, Jack Kipnes, Bobby Norton, James Distefano, Vincent Campbell, Jake Fitzgerald, and Sean Rigley are some of the notable returners on defense. The Mavs defense was strong against the Chargers, only giving up six goals in their win on Friday.
Grad student, Kyle Gardner, expressed how having his senior season cut short and taking on a leadership role this year could help propel the Mavs back to the NCAA tournament.
"We have high aspirations for this year including winning the conference and making a national championship run," Gardner said. "It felt like some of us older guys have been with this program for so long now. We definitely provide veteran leadership for the young guys as well as the current seniors. We look forward to getting out there with each other each and every day and treating it like it may be our last because you never know."
A lot of the credit on defense goes to the goalkeeper Tommy Umano who received his first win on Friday after only giving up two goals. Umano looks ahead to this weekend's game against the Georgian Court University Lions in an out-of-conference matchup.
He looks to continue his hot hand in the goal but knows that you're only as good as your last game. "This Saturday is a huge game for us. We definitely want to take this season week by week and one team at a time. This week it is important for us to stay focused at practice and execute our game plan once Saturday rolls around," said Umano after his first win. "Overall, we have many great players on both sides of the field. Our goal every day is to get better little by little and make a run for a national title."
The Mavericks look to continue their 2021 campaign on Saturday in New Jersey against the Georgian Court University Lions. The Mavericks are undefeated against the Lions, in the history of playing them. They are a perfect 5-0. The Lions have some tough talent as Junior attacker Devin Bell was named to the USILA Team of the week alongside Scorcia after having five points off five goals in their 12-8 victory over Lake Erie College. The Mavericks currently rank at number nine in the country among Division II teams.
Fans can live stream the game on the Georgian Court University athletic site due to the game being an out-of-conference game (CACC network). The game starts at 1 p.m. on Saturday.
Leave a Comment
About the Contributor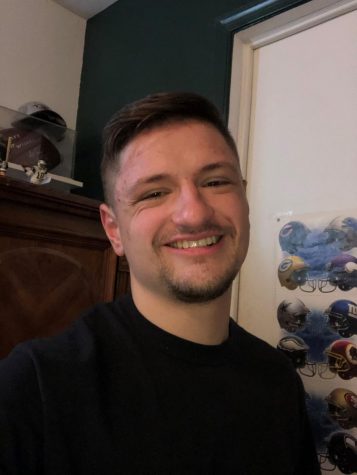 Alex Wendling, Impact Staff
A die-hard sports fan who is eager to learn more about the sports media industry. His dream is to one day work for a big sports news outlet. He is a die-hard...