It's Never Too Late To Fulfill Your Dreams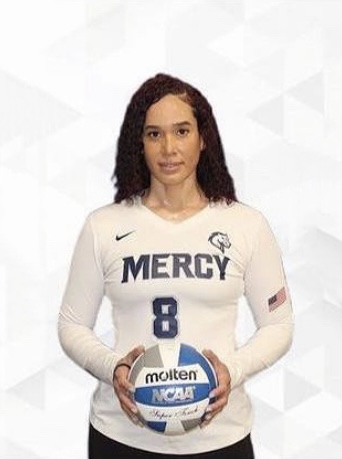 After 20 years without playing collegiate volleyball, Cristy Encarnacion has stepped back onto the court. This time for Mercy College.
Rewind to the early 2000s when she was 18-years-old, a freshman athlete playing at Queens College. She was just starting the preseason when her career took a turn. Her team was playing at a tournament in Poughkeepsie, New York. She was a starting freshman as an outside hitter. Queens started off, taking the lead against Vassar College. Encarnacion received the ball from her opponent and hit it over. Vassar quickly made a comeback and hit it back over. Cristy attempted to make a save, but a Vassar player tripped and fell underneath the net, landing on Encarnacion's right knee.
Instantly, she knew something was wrong. The doctors told her she would be out for the season because she had torn her ACL. Her season, and her career, came to an end before it even started. With a million thoughts on her mind, Encarnacion decided to throw in the towel and quit volleyball. During her recovery, she still went to classes but by the end of the year, she was moving out and leaving Queens College.
She continued to keep volleyball in her life by coaching. The first job was with an assistant coach at Alcorn State University, then took another assistant coaching job at Riverdale Country Day. More recently, she has been coaching for the Blazers Girls' Club in Yonkers since 2018. After watching her girls take a hard loss in the semifinals in 2019 against Baruch College, she had a moment of realization. Coaching volleyball would never be enough for her. Losing that game dug up some long-lost motivation she needed to push herself. She knew if she were out on the court that night, she would be an impact player.
In the end, no matter how long it had been since she had played, she wanted to give it another shot.
Her favorite quote is, "You don't have to be great to start, but you have to start to be great," by Zig Ziglar.
After gaining some inspiration, she reached out to Gary Preston, the new head coach for Mercy College.
"She emailed me expressing interest in playing for the team. After speaking with her and getting a chance to know what she is looking to do, I thought she would be a perfect addition to the team," Preston stated. "One of our starting players suffered a terrible injury in the first match of the season. Cristy's experience and the fact that she's 6'2" definitely helps our team get better."
The Mavericks had just lost a player due to the same injury Encarnacion had. Tanializ Rivera tore her ACL playing their first game against The College Of Saint Rose. Not only did the team lose a player, but it started the season on a losing streak. Emotions were high, but Encarnacion still pushed through it and decided to join the team. The ladies welcomed her and taught her their team culture.
She claimed the come back process was very nerve-racking however her new teammates made it feel like home. After not having a sisterly connection with her teammates at Queens, this was new for her. Something that she would be able to cherish years from now. "One of the things I had to remember was to not compare myself to anyone due to the fact that everyone is on their own journey. I had just began mine," she said.
After the long nights of practice, she finally met the hours to make her eligible to play. Preston decided to put her in on Sept. 29, 2021, her first game playing as a Maverick. They played against Molloy College. Preston started Encarnacion as the outside hitter. She had two digs, three blocking assists, and got to play in all four sets. Mercy won the first set, lost the second, and won the fourth and fifth. The final score was 3-1, Mercy. Encarnacion considers this a huge win due to them not being able to beat Molloy since 2016.
"I felt amazing that I actually contributed to this win. I felt accomplished although I knew there was still work to be done but that day will always be so surreal. I walked into the gym with a purpose and left with poise and pride." she said.
The Mavericks are 10-12, and as of right now, they are in the third seed, which makes them qualify for the ECC championship tournament. The stakes are high with the season coming to an end with only six games remaining.
Encarnacion is in a consent battle against her mind and body. Her mind is telling her she will never be the player she was when she was younger, and her body is telling her she does not have the strength anymore. Yet, she still took the challenge.
"I am pushing through to fulfill my dreams."
Leave a Comment
About the Contributor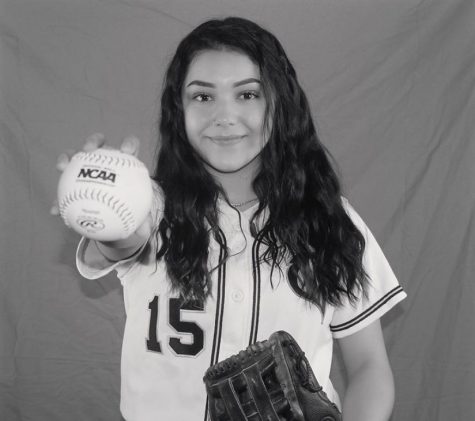 Ariana Ricci, Impact Staff
Ariana Ricci is currently a Senior at Mercy College. She is a collegiate athlete that is a part of the Student Athlete Advisory Committee and the Maverick...