Women's Basketball Winning Streak Longest In 40 Years
Sweeping up the East Coast Conference, the Mercy College women's basketball team had eight consecutive wins making the longest winning streak they had since 1984-85.
On Jan. 23, two undefeated teams faced each other in a tense game. Daemen College ended up taking the win and was left undefeated by the end of the day. Although the Mavericks fell short in their match with Daemen, they still beat out their most overall wins since 1999-00.
"The team has grown with each other each year. They are now juniors and seniors who have developed chemistry and know what it takes to win in the ECC," says Matt Kilcullen, Athletic Director at Mercy College.
Coach Scott Lagas has been a part of Mercy College for four years and he has been able to help turn around the women's basketball program. Last year, the Mercy College women's basketball team was 1-8. As of press time, they are 8-4 and were also voted as one of the top 10 teams in the East region. They haven't been ranked since 2014-15.
Over the years, the Mercy College women's basketball team endured plenty of obstacles by trying to hold a steady ground but with fortitude and determination. They are now third in the ECC standings.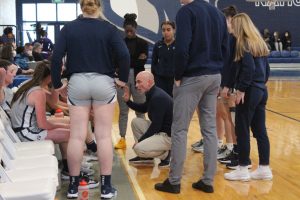 "The key to the success we have had is the outstanding character and work ethic of our players, they believe in each other and work really hard. They have combined basketball concepts with hard work and unselfish play," said Lagas. "They have put in the time and are now seeing the results."
Lagas has taken a different approach this year. He is trying to mold his team into having the expectations of winning more games. The first girls he recruited are now upperclassmen and have been in the program for multiple years.
Kilcullen implied, "He really knows how to sell Mercy and recruit a young person who can be successful here at Mercy academically, athletically, and socially."
Lagas has aimed to create a philosophy of making a grandiose plan to reform their standards. Which lets the players take the reins from within gaining a selfless attitude from all.
Junior guard Katie Wall is currently leads the team averaging 16.8 points per game with 55 steals and 92 assists. Senior guard Taysha Bender is second on the team in scoring with 15.2 points per game and 30 steals. Sophomore Maria Tedesco, junior Asha Talib and junior Kellie Nudd are wreaking havoc on the boards, all with over 100 rebounds thus far this season.
Senior Brianne Santos, who has been a part of Mercy's basketball program for four years, feels like their team chemistry and work ethic have been the number one factor to being more successful. "We've been working really hard defensively in the preseason and have a lot of players now that understand the necessary work it takes to win a basketball game outside of our scheduled practices."
Team chemistry can make or break a team, and the Mavs work hard to be team oriented.
"I trust every player on my team with everything in me. I know we all have each other's backs off the court so on the court there is no doubt each and everyone one of us will do everything in our power to help each other out," says Kellie Nudd, who has been a part of the team for three years.
When one walks onto the court and fully commit oneself to her teammates, it is a new level of the game and that's what Mercy's women's basketball team has. They play as a whole and not individually.
The Mercy College athletic program does not take the word "family" lightly. Coaches, players, and staff have come together year after year trying to create a family-like atmosphere. All of the sports teams wear shirts that say "family" on them for a reason. "We have amazing team chemistry on and off the court. I've never been on a team that was such a family."
Every team goes through its ups and downs while trying to create a strong bond. It may take some teams longer than others but it's something that has to get done. "In the past, we never had that chemistry with each other so it was hard to connect on the court, but trusting each other has really put us ahead on the court. We have been working a lot on our offense and getting 1 percent better each day at practice which really translates on the court," says Kellie.
Having talented players might win you a couple of games but having hard-working players that trust each other breaks records. Which is exactly what the Mavericks are doing.
Leave a Comment
About the Contributor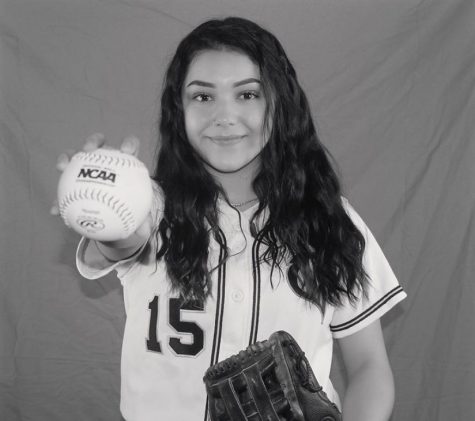 Ariana Ricci, Impact Staff
Ariana Ricci is currently a Senior at Mercy College. She is a collegiate athlete that is a part of the Student Athlete Advisory Committee and the Maverick...