The Humble Phenom
The Frosh Shortstop Standout Is Grinding Out Hits With Grit And Inspiration From Dad
It was a warm and sunny Wednesday afternoon home game against New Haven, down off the Hudson River on Mercy Field.
Jaden Caballero's father, Richard, was in attendance for that game. In Richard's eyes, there wasn't a better way to spend his birthday than to watch his son play ball.
He saw the Mavericks retire New Haven one, two, three in the top of the first inning. The final out coming from a routine ground ball to his son at short.
The Mavericks hit two singles to lead it off. One passed the shortstop and the other a misplayed bunt that put runners on the corners for Caballero with no outs. He took the first pitch for a ball.
New Haven's senior right-hand pitcher Kevin McNiff went into the stretch and sent the next pitch right over the plate.
"When that happened, I knew it was gone," said Jaden Caballero.
The 5-10, 170 lbs shortstop isn't known for his power at the plate. In fact, of the three home runs he has hit this season, only one of them had been in a home game. That one could not have come at a better time.
"I'm not the biggest guy. I never thought I'd have an out-of-the-park home run at this field," said Caballero.
The story of Jaden Caballero's love for baseball is the timeless story shared by so many baseball players, both young and old. It's an aspect of baseball that transcends the game and is nearly impossible to adequately describe in words.
It is the connection between a father and son.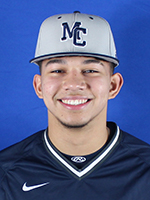 Caballero's father grew up in New York City playing baseball and football. His son admits his father was more into football than baseball. However, he still wishes he kept going with baseball until an injury in football eventually stopped him.
This did not stop Caballero's father from letting his four children, three daughters and his son, play sports. Jaden, his youngest child and only son, has early memories of baseball that still resonate.
"Surprisingly, my youngest sister Taina played hardball with me in T-ball. She fell so much in love with hardball that when she was introduced to softball with the green ball, she didn't love it as much. She wished she could play with a regular baseball," said Caballero.
This led his youngest sister to abandon her pursuits of America's pastime and join her other sisters in cheerleading.
It was from this point that Caballero and his father began the grind that so many young aspiring baseball players and their families know.
"He would always help me and make sure I got extra work in. He set a lot of time aside for me. I owe a lot to him for how I play baseball and the way I am," said Caballero.
This extra time to develop a collegiate ball player adds up. From working on fundamentals on the field and in batting cages to being there for him when he needed to drive to Boston or New Jersey for travel tournaments, his father was always there. It was in these small moments, and long car rides to and from their home in the town of Newburgh, New York that their connection was made.
It was attending high school at Newburgh Free Academy that helped prepare Caballero for the ups and downs of life and baseball.
"Living there is different. It's not like normal towns or cities. I feel like that made me grow more as a person," said Caballero.
The City of Newburgh, where Newburgh Free Academy is located, consistently ranks in the top 100 hundred most dangerous cities in the United States, according to NeighborhoodScout, an organization that tracks crime data from across the nation.
Caballero himself notes how Newburgh Free Academy itself is a very diverse school. Many of the over 3,000 students come from diverse backgrounds ranging across all different levels of socioeconomic status.
"You compete for spots in sports, school, and everything. You have to have a gritty mindset to make sure you're not pushed away when going there," said Caballero.
It is this mindset that propels Caballero to show he will not be pushed away. The place where this shines brightest is on the baseball field, patrolling the infield between second and third.
He notes how baseball is a sport based on failure. Batters who fail to get a hit seven out of ten times up to bat are considered among the best to ever play the game. It is through the failures of playing the game he loves, and the grit of his high school, which helped shape him.
"The more I played baseball and grew up in Newburgh, it gave me hard skin. I became nonchalant in a way. I'm not going to let anything affect me. It's just something little, and I can overcome it," said Caballero.
It was this hardened mentality, added to a quick swing, which propelled Newburgh Free Academy, a traditional high school football powerhouse, to the top of baseball heights for 2021.
Caballero, who already led his varsity team in average in two years, was a focal point in the lineup, which ended a 16-year Section 9 championship drought for Newburgh. This win marked the complete turnaround for a high school baseball program that was dormant for almost two decades.
"Being able to turn that team is really inspiring to me. It made me realize I really do love the sport of baseball," said Caballero.
In essence, Caballero is looking to bring that same inspiration with him down the Palisades Parkway across the Tappan Zee bridge right to Mercy College.
Mercy baseball busted its decade-long playoff appearance drought just last season in what finally seems to mark the turnout for the program.
They've clinched a second straight playoff appearance this season in what hopes to be a redemption year from last year's crushing ending due to COVID Safety Protocols.
With that in the past and before his time, Caballero has become one of the top hitters as a freshman for the Mavericks.
His .363 average in 157 at-bats with three home runs and 24 RBIs has made him a front runner for East Coast Conference Rookie of the Year. He's already locked up Mercy College's Freshman of the Year awards.
From all perspectives, he appears to become the mainstay at shortstop for the Mavericks over the next few years.
"To play for a Division II team on the rise (is thrilling.) I'm very proud of myself. I'm still not over that it's almost full season already. It's going super quick, and I love it," said Caballero.
This love of the game is what carries Caballero through the grind of off-season workouts and throughout a full season. However, there's one moment when it all came together. The moment where all the hard work of himself and his father came together to remind him of what matters most.
It was after the game when Caballero sent the 1-0 pitch flying into the left-field hillside seats on his father's birthday.
As Caballero rounded second he pointed to his father sitting in the left-field seats. When the game ended, he went to find him to celebrate his birthday. Caballero's father, the man who spent countless hours and drove hundreds of miles to help his son's dream of playing baseball, could say only two words to him.
"Thank you."
Leave a Comment
About the Contributor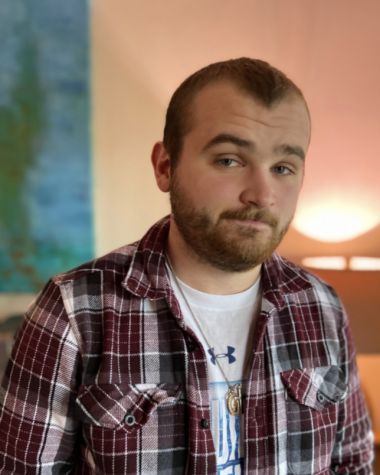 James Tiedemann, Managing Editor
James Tiedemann graduated from Mercy College in the May of 2022. He transferred there after graduating from SUNY Orange with his Associate's Degree in...