Mercy Volleyball Is Back, And They Are Hungry
Mercy Volleyball left a lot of meat on the bone in their 2021 season, finishing with a 13-15 overall record, and 8-4 in conference play. A season which left the Mavericks feeling unsettled, and hungry for more. With the exit of Head Coach Gary Preston this past year, the odds were even more stacked against their favor. But that was just the fuel.
The 2022 season opened with a warm welcome to new Head Coach Ana Todorovic, the former head of the CCNY Men's Volleyball program, who also was a 17-year professional player. Five of those which Todorovic competed for the Serbian National team. She also has an immense amount of professional playing experience, playing in professional leagues in countries such as Italy, Greece, Turkey, Serbia, Germany, Puerto Rico, Russia, Poland, Austria, and Romania.
Todorovic's recent coaching success is nothing to make light of. Since 2015, Ana Todorovic has reigned the men's program at CCNY, bringing the team to its best success in 20 seasons. Her best season as head coach came in 2019, when she led the Beavers to a program-best 15-4 record and a No. 2 seed in the conference tournament.
With a prestigious resume as a coach and a player, Todorovic's next mission was returning the Mercy Volleyball program to success. It would not be Todorovic's first time adjusting to a new conference. The CCNY Beavers switched from the CUNYAC to the ECAC in Todorovic's tenure, during which she led her squad to their first conference tournament appearance in 2021. In her first season with Mercy, she did not disappoint, leading the Mavericks to a winning record of 13-7 and a bid to the ECC conference tournament.
Fortunately for Ana Todorovic, her first team at Mercy was a very experienced group. In 2022, Mercy had the ECC Setter of the Year, senior Yarianne Gonzalez, as well as five other All-Conference players in the lineup. Seniors Stephanie Lankorst and Larissa Schneid locked up First Team All-Conference honors, senior Julia Pomerleau and Gonzalez made the All Conference Second Team, and junior Anyelainy Vizcaino Araujo received Honorable Mention honors to conclude.
A talented roster from top to bottom is essential for the success of any first-year coach, and Todorovic was excellent in maximizing each player's potential. Mercy got out of the gate with speed to start their season, blazing to a strong 8-2 record, winning their first four games in a row. Mercy earned quality conference wins against conference foes D'Youville, Molloy, Roberts Wesleyan, Daeman, and Queens.
Just like any other college sport, recruiting is the foundation of every program's accomplishments. It can be even more challenging in volleyball as many of the world's premier talent likely lives outside the United States. In 2022, three out of four of Mercy's kills leaders were from outside the U.S.
Larissa Schneid, a Brazil native, led the Mavericks in the kills category this past season. Second on the team was Anyelainy Vizcaino Araujo, a third-year player from the Dominican Republic. One of two of Mercy's First Team honorees and fourth on the team in kills was Stephanie Lankorst this season, who came to Dobbs Ferry all the way from the Netherlands to play college volleyball.
When asking Todorovic about her view of international recruiting, she said, "International students don't often get an opportunity to play their sport and pursue education at the same time. [International] students who get the opportunity take it very seriously, and they show it by their hard work on the court."
The great news for the Mavericks is their percentage of returning talent in 2023 is among the highest in the conference. Headlined by superstar Yarianne Gonzalez, Mercy has all the tools to hoist the ECC Championship trophy next November. A second season for Todorovic in Dobbs Ferry will help the Mavs tremendously.
Based on Ana Todorovic's coaching trail, it's safe to believe the Mavericks are only going to get stronger. A roster of experienced and talented players is back for another year to hone their craft, which must have Coach Todorovic ready to go.
"The 2022 season was amazing," Todorovic said. "We had the best record since 2005, and the team is hungry for more. We cannot wait for the 2023 season."
Leave a Comment
About the Contributor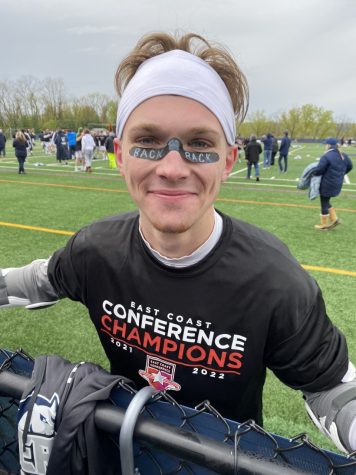 Thomas Heyder, Impact Staff
Thomas Heyder is a man of few words. He is a senior Media Studies major studying journalism. He plays lacrosse. He plays lacrosse. He writes like a champ.

He...