Jaclyn Grzelaczyk Knew She Always Had A Home At Mercy
Mercy Women's Lacrosse holds an imposing 11-6 record through regular season play after graduating nine seniors last year. The Mavs have been powered on offense by graduate student Jaclyn Grzelaczyk, who has a team-high 60 points on 27 goals and 33 assists. An impressive year already on paper, until one may dive deeper into where the newest Maverick came from.
The Coronavirus outbreak was traumatic, but it changed the lives of millions of people. Grzelaczyk was just a sophomore on the New York Institute of Technology Women's lacrosse team when it was her world that took a spin. 
In August of 2020, NYIT broke the news that they'd be suspending their athletics program indefinitely. Grzelaczyk had only one full collegiate season under her belt, a year in which the freshman exploded for a team-high 75 points for the Bears, taking home 1st team ECC and Rookie of the Year honors. An utter loss of a special career in the making.
"It was really hard on me," Grzelaczyk explained. "I didn't know what the future held for me, and I didn't get much time to decide on what to do."
Jaclyn was also a part of the nursing program at NYIT. Her commitment to pursue nursing essentially kept her from transferring out, as it would have been difficult to start over elsewhere. 
Grzelaczyk would go on to earn her Bachelor's degree in four years at New York Tech, but her hunger to compete never quite went away. "Lacrosse had always been such a huge part of my life, and I just wasn't ready to say goodbye," Grzelaczyk stated. In her time away from playing, she always kept herself surrounded by the game.
Grzelaczyk coaches a youth team for the Long Island Yellow Jackets travel organization during her summers off, a sign of every former player wanting to give back to the sport they love.
After NYIT shut down its programs, a relationship between Jaclyn and Mercy Head Coach Dawn Sachs reignited. Grzelaczyk recalls Sachs being the first coach to provide support during her transition, and the loyalty by Sachs always stuck with her.
"I was recruited by Mercy while in high school, and ultimately decided to go to NYIT even though my twin sister [Kaitlyn] was committed here," Grzelaczyk mentioned. Kaitlyn's been a five-year member of the Mercy lacrosse team, totaling a stellar 142 career points. "I got a text from Coach Dawn that I had a home at Mercy if I ever wanted, which was very sweet."
Sachs left that door open, and two years later, Grzelaczyk walked through.
Sachs is reaping the benefits of planting that seed, as reuniting the Grzelaczyk sisters has sparked the Mercy offense this season. A connection on the field that looks unblemished, these two have been fun to watch.
When asked about playing with her sister again, Grzelaczyk stated, "It's been so special sharing the field with Kait again. We work off each other so well, and it's always extra exciting when we assist each other's goals. Finishing our lacrosse careers together feels like the perfect way to say goodbye."
Grzelaczyk's domination this year is incredible considering the time she spent away from lacrosse. It takes not only talent, but a quality IQ of the game to not skip a beat like that. "I felt rusty at first," admitted Grzelaczyk.
"I felt like I had so much to prove. But it's like riding a bike, and it came back to me quickly the more I got into it."
The transition to Mercy off the field was a smooth one for Grzelaczyk, she recalls. "The girls welcomed me with open arms and made me feel like I had been there forever, and it was nice having my sister too as it calmed my nerves a lot."
It's evident the culture Sachs has created at the helm is a strong one.
Grzelaczyk will finish her career with only two full seasons completed, but it's the road she traveled between those seasons that is to be noted here. Her maturity to prioritize academics at the time is impressive for the then 20-year-old, while still managing to be active in the lacrosse community as much as she could.
Jaclyn Grzelaczyk earned her opportunity to step on the field again, and she has made the most of every second.
Keep an eye out for #8 as the Mavericks take action in the ECC playoffs.
Leave a Comment
About the Contributor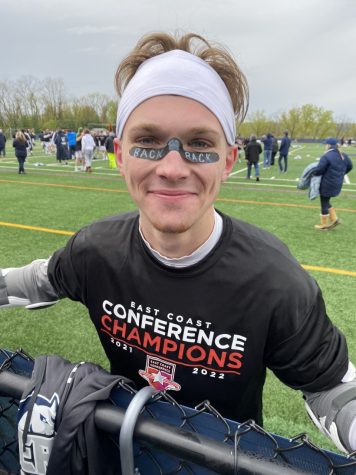 Thomas Heyder, Impact Staff
Thomas Heyder is a man of few words. He is a senior Media Studies major studying journalism. He plays lacrosse. He plays lacrosse. He writes like a champ.

He...