A New Beginning for Cummings
Growing up on the lacrosse hotbed that is Long Island, Mercy college junior Mackenzie Cummings has routinely used the sport as therapy for everyday life. She also does not mind the opportunities that have presented themselves to her in the process of competing athletically.
"(Lacrosse) gives me the chance to do what I love with a great group of people. I've traveled all over the place meeting new friends and teammates, and I have been able to learn life lessons along the way while growing friendships. The sport has shaped me into the person I am today and will continue to shape me in the future."
Like most athletes hoping to compete for scholarships or college opportunities in their desired sport, Cummings participated in club lacrosse as a youth and continued that into her high school playing days, while also continuing to play for Islip High School. Her club team, TopGun, allowed her the opportunity to meet Alex Feheml. Feheml was an assistant coach at Wagner College in Staten Island was coaching for the club team. Impressed with Cumming's play, she advocated to Michelle Tumolo to offer her a spot.
After weighing numerous options that included five others at the Division I level, Cummings opted for familiarity with Feheml and Wagner. Cumming's parents, who she describes as her biggest fans and her best support system, acknowledges that they were in fact not happy with her decision to attend Wagner.
"They didn't tell me until after I left, but they were not thrilled with my choice when I made it junior year of high school. They weren't thrilled with the location and didn't think that Division I was the right choice for me athletically. They weren't fans of the culture, but they would never tell me that a decision I made was wrong."
Along with her parents thoughts, she also had to deal with the coach that recruited her, Fehemel, leaving the college before Cummings arrived. Still, Cummings enjoyed her time in Staten Island.
"One of the best parts about attending Wagner was the state of the art amenities such as having our own locker room, as well as the technology available to us that included normatecs and theraguns in the training room. The training room had everything that we needed, and the equipment provided to us as athletes in the weight room and the nutrition plans were top tier."
Although given a number of amenities that were afforded the opportunity to compete at the Division I level, she also noted that the lacrosse experience on the field was poor, especially with how the girls were treated by their former coaching staff.
"My recruiting class consisted of nine players. There are only three left playing and that will graduate by the end of the year. It didn't help that the team dynamic was full of cliques that made it hard to make friends with members of other classes."
Aside from the team issues, Cummings also noted the poor living situation offered to everyone on campus that included dorms that were not thoroughly cleaned and food at the dining halls Cummings described as "inedible."
After two disappointing years at Wagner, Cummings decided she would enter the transfer portal and look for a new home. Her decision would be an easy one to make.
Cummings older sister Kerri was a rising senior at Mercy College at the time of her younger sister's decision to transfer. She made it clear to Mackenzie that her best option was to attend Mercy College and compete for the lacrosse team in Dobbs Ferry.
"She would tell me all the time that Mercy was the best place for me. It wasn't going to have the nicest equipment or everything that was at my disposal while at Wagner, but it was the people who were going to make it special."
Among those people who would be available to her at Mercy is women's lacrosse head coach Dawn Sachs, who Cummings had the opportunity to play for on a separate club team while in high school. Sachs made it a point to mention to Cummings that, even though she was committed to a different school, she would always have a place at Mercy if she ever chose to move on Sachs, along with her big sister and the several friends she had made while playing lacrosse at Mercy, influenced Cummings enough to decide to enroll at Mercy in the fall of 2022.
"I know that my sister wants nothing but the best for me, and my parents were so supportive like they always are. They felt that this would be a better situation for me moving forward."
Cummings has just completed her first full year at Mercy College. Despite a year where the team finished off by defeating Roberts Wesleyan in the East Coast Conference Championship, Cummings dealt with adversity personally on the field.
"I rolled my ankle pretty severely past the midway point of the year. I ended up tearing three ligaments and it put me into a boot for the rest of season."
While sitting on the sidelines injured, Cummings was still able to maintain a positive outlook about the situation.
"I had the constant support of my teammates, coaches, parents, and the training staff throughout the entire time I was injured. It was certainly difficult at times to watch my teammates play and not get the chance to, but I was able to be a part of something great."
That something great, Cummings noted, was not only the trip she took with the team to Florida during spring break or all of the talented teams Mercy was able to face this season, but it was the friends she has made along the way, just as her sister promised her.
"Everybody has been so welcoming to me in my first year. I live now with another transfer and each and every girl has made the two of us feel right at home. I can't wait to come back in the fall."
Returning for her senior year of school and competition, she will look to complete her degree in health science, with the goal of becoming an X-Ray technician.
"I have been in training rooms my whole life working with athletes and watching them all try to recover. It's only natural that in the next phase of my life I become a part of that journey somehow."
Leave a Comment
About the Contributor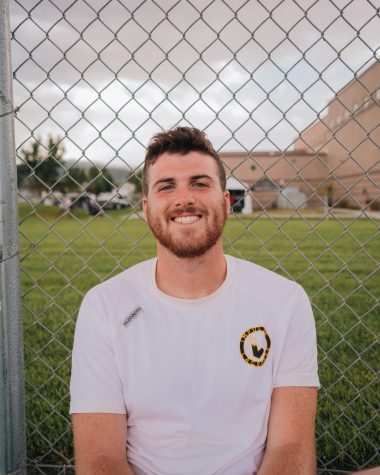 Zack Higgins, Impact Staff
Zack Higgins is a 5th year Media Studies major at Mercy College.  He is a previous student of Salisbury University, Onondaga Community College, and the...