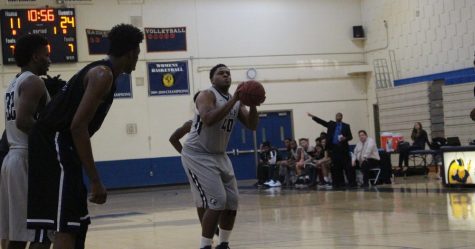 Kayla Simas, Managing Editor

February 7, 2017

Filed under Sports
Five-year-old William Robinson sits with his father, watching the New York Knicks play against the Chicago Bulls on television. He watches as Michael Jordan makes a sweep at the basket and made it in, one after another. Regardless of how upset Robinson saw his father get that the Knicks were losing, ...
Staff Profile
Tiffany Wilson
Staff Writer
Tiffany has always had a particular fascination with the media industry, especially the " behind the scenes" or brains of the project. She grew up admiring the singer on stage wishing she could be...
Read all stories written by Tiffany Wilson
Michael Perrota
Adviser
Prof. Michael Perrota began teaching at Mercy College in 2005. Previously, he was a full-time reporter for North Jersey Media Group in the sports and news sections. After he began teaching, he worked in...
Read all stories written by Michael Perrota
Andrea Loaiza
Staff Writer
The name is Loaiza, Andrea Loaiza. She is currently a junior in Mercy College on her way to getting her bachelors in Media and Journalism. She was the managing editor for her high school newspaper...
Read all stories written by Andrea Loaiza
Karen Polanco
Impact Staff
Karen is dull and boring and that is why she can't write a bio. She lives in Connecticut. Or something. She edits videos fairly well. Rumor is she loves donuts. She can be reached at...
Read all stories written by Karen Polanco
Chelsea Renay
Staff Writer
Chelsea. Chelsea Renay. Chels. Che (Only if you're her best friend Sam!) Chelsea Martin is a New Haven, Conn. native and is studying Radio and Television production at Mercy College. In her spare time,...
Read all stories written by Chelsea Renay
Matt Reich
Impact Staff
Matt Reich is a guy constantly on the go who can't let a minute go unused. Born in a city in Texas, raised in rural Connecticut, and now he's trying to make it in New York. An avid comedy fan who follows...