Basketball Squad's Robinson Breaks 1,000 Point Mark
Five-year-old William Robinson sits with his father, watching the New York Knicks play against the Chicago Bulls on television. He watches as Michael Jordan makes a sweep at the basket and made it in, one after another.
Regardless of how upset Robinson saw his father get that the Knicks were losing, he was glued to the TV.
The sound of the commentator as he announced, "Jordan scores another point," had Robinson even more intrigued.
The desire and passion Jordan portrayed throughout the course of the game, caused Robinson to think to himself, 'I want to be like Mike.'
The senior studying business sports management, remembers vividly when he got himself a hoop for the back of his door and pictured a crowd watching him, going crazy.
"I wanted to be like Mike, so I got myself a hoop and practiced as much as I could."
Three years later, at the age of eight, his mother signed him up for tryouts.
"I began playing at the Mount Vernon Boys and Girls Club," Robinson said.
Ever since, basketball has been the backboard to his life.
It wasn't easy, as he says, referring back to high school, when he almost wasn't able to play for the team.
"I never had good grades," Robinson began to say. "But one day, my high school coach gave me some of the best advice possible."
"'Without good grades, you won't be able to do anything,' he told me, 'Without good grades, you won't be able to play on the team.'"
They were the same words that his mother always drilled in his head, but hearing it from his coach gave it a different tune.
"I took what he said to heart," Robinson said. "From that point on, I hit the books and made the honor roll."
Not only did that piece of advice help Robinson, but his passion, dedication and leadership for the sport pushed him to continue his success. In high school, he won two state championships and one federation title.
Right out of Mount Vernon, he played for Nyack College, where he was selected for Rookie of the Week and was All-East Region Third team.
"Nyack was a great foundation," Robinson said, "But I wanted a new environment to continue basketball elsewhere."
And so he did. He started as a Maverick in 2015, where he was given a fresh start and appeared in 26 games, earning 24 starts.
Despite the men's basketball coming freshly off a season where they have four games remaining with a 2-20 standing, Robinson has had a pretty well season.
Robinson was recently named to ECC Men's Basketball Weekly Honor Roll for Week 12, as it is his second recognition. Along with that, he earned Metropolitan Basketball Writers Association (MBWA) Division II-III Player of the Week Honorable Mention Recognition for games played Jan. 30 – Feb. 5.
As he beings to laugh, Robinson says, "I bring fire to the team," as he refers to this season.
With a team high six double-doubles on the year, he is averaging 12.5 points and a team-high 6.5 rebounds per game. He also had made hit his milestone of 1,000 points against Daeman College.
Robinson, like the rest of the Mavericks are disappointed, but play with everything they have, regardless of the outcome.
It's upsetting," Robinson began to say, "since last season we made it to the semi-finals. It was my first ever appearance in the playoffs and furthest I ever got throughout my college career."
In the semi-finals last season, Robinson had three seconds left on the shot to end the game, and refers to it as one of the greatest moments of his basketball career.
"I'm upset we didn't live up to our expectations, but hey, what can you do."
At this point, Robinson is trying to move forward and win as much as he can, in order to leave his mark.
"You just have to cherish these moments because it goes by way too quick," he said.
Though it goes by way too quick, Robinson is sure he's ready to throw in the towel and say goodbye to basketball to enter the workforce. Everything basketball taught him will be surely used everyday, as he compares basketball to the game of life.
"When you play basketball, you learn that you have teamwork," he began to say. "You may not be friends with everyone on the team but you have to respect them and work together, just like in the real world."
"Communication goes hand in hand, too. Without that, it's not easy to score."
***
Looking up at the hoop before him with the ball in one hand, the five-year-old inside him who wanted to be like Mike, came out Jan. 2 at Daemen.
Robinson went for the shot at the 14:45 mark on the clock in the first half of the game as he scored with a jumper.
Before the game could be put back in action, it was paused as an announcement was made.
"William Robinson just scored his 1,000th career point."
The sound of his name over the speaker as the crowd, teammates and members of the other team were giving a round of applause was music to Robinson's ears. It was real. The crowd was going crazy.
For a long minute and a half, Robinson thought to himself, "I feel like Mike."
Leave a Comment
About the Contributor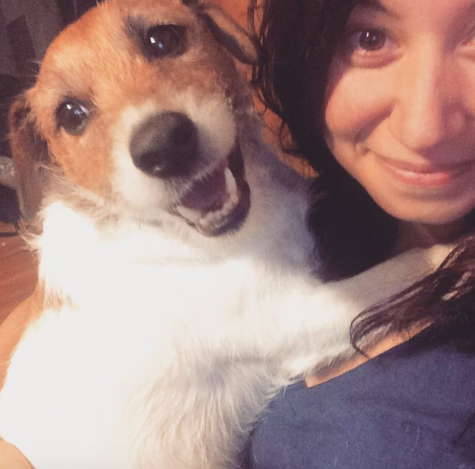 Kayla Simas, Managing Editor
Kayla Simas is a Journalism major at Mercy College. She's from the forgotten borough of New York - Staten Island. She's an avid coffee drinker and enjoys...