Most Memorial Inaugurals Gowns
While everyone was worrying about President Trump entering the White House, or crying on Barack Obama's departure, others were dying to know what the new First Lady would wear at the inauguration. Melania Trump wore a sky blue Ralph Lauren at President Trump's swearing, just like Jackie Kennedy at her husband's swearing.
The First Lady's main role is to become an active figure in the political world. They must stand by and defend their husband throughout the four years of the presidency. They also will get judged on what they are wearing.
In order to survive in the White House the new First Lady must dress to impress! Fashion is a vital key to The First Lady life in the White House. Let's take a look on the most jaw dropping inaugural ball gowns that has been worn by the First Ladies.
Jackie Kennedy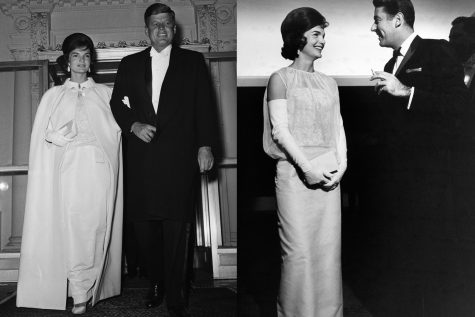 The youngest first lady, Jackie Kennedy, designed her own gown with close friend Ethan Frankau. She was one of the First Ladies to be nationally televised at the time. It was really important to stun viewers at home. So Jackie Kennedy designed and wore a white sleeveless silk dress with long cape. The long cape soon became a trend throughout the fashion world.
Claudia Alta "Lady Bird" Johnson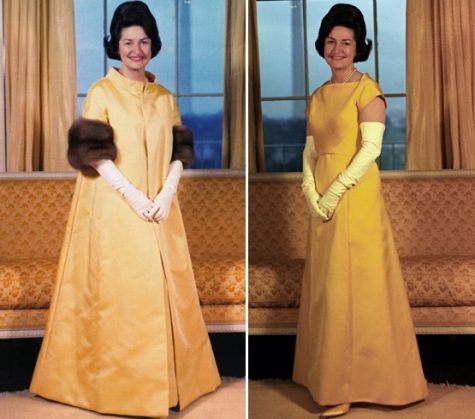 Claudia Alta Johnson, best known was Lady Bird Johnson, wore a a bright yellow gown designed by John Moore. It wasn't the Beauty and the Beast yellow dress that stunned the audience. It was the matching long coat with the fur sleeves. It sure made my jaw drop. Love me some fur clothing!
Rosalynn Carter

Everybody knows that you can't wear the same outfit twice to an event! Rosalynn Carter broke that rule and recycled her outfit, which was bought from department store. She wore a blue and gold embroidered coat with gold and blue dress underneath.
Nancy Regan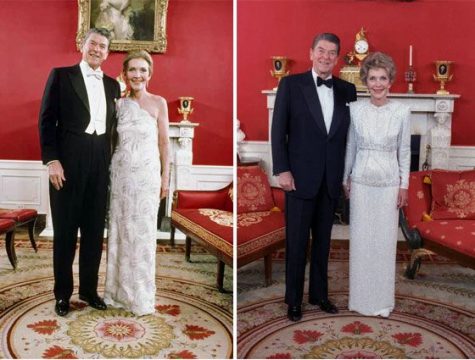 Former First Lady Regan would often wear the color red and owned the color, Regan Red. Her gown was not red but it was white. James Galanos designed Regans last two-inauguration gowns. The first dress was a one shoulder white dress. Rumor has it that her second dress cost over $40,000 and it was a very costly gown at the time.
Hillary Clinton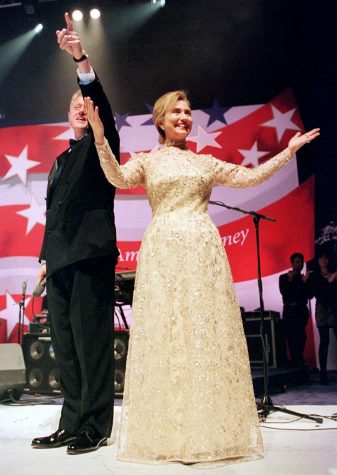 A well-known designer, Oscar de la Renta, designed Hilary Clinton second inaugural ball gown. Oscar de la Renta designed a gold lace dress. Just like Jackie Kennedy, Clinton wore a matching cape. De la Renta became friends with Clinton throughout her political career. He continued to design dresses for her and even designed Clintons dress for her daughters wedding.
Laura Bush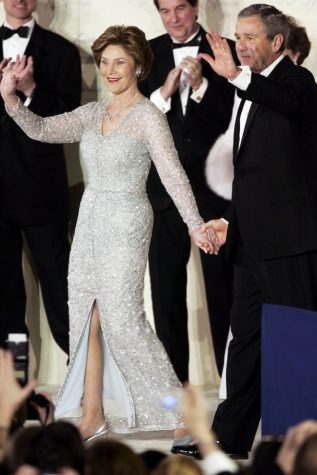 Into her second inaugural ball, Laura Bush also too wore a gown designed by Oscar de la Renta. Laura Bush wore a silver blue gown covered in silver crystals. The sparkling V-neck dress also showed of some of Bushs skin. No matter what age, it's okay to show off some skin. You go Laura Bush!
Michelle Obama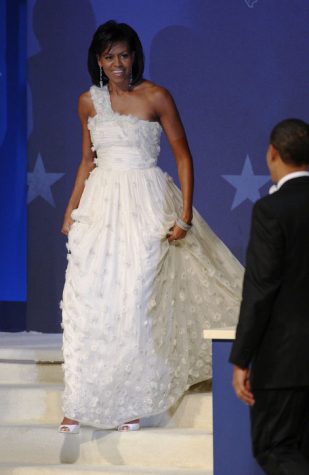 The first African American First Lady wore an over the shoulder white dress with flowers spread throughout the dress and covered with Swarovski crystals. Jason Wu designed the white dress, which symbolized as hope for a new beginning. At the time, Wu was not known in the fashion world. Wu soon became a big fashion designer and designed Michelle last inauguration gown. Can you say SLAY?
Melania Trump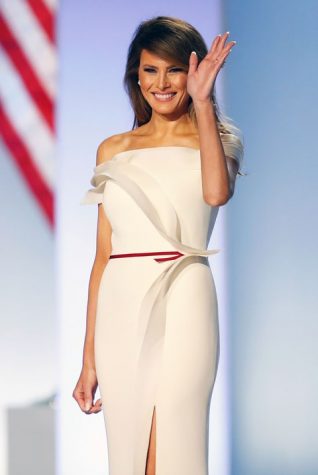 For the first time, fashion designers have declined to dress up for Melania Trump Inauguration Ball Gown. Many of them have rejected to dress her up because of her husbands politics and political journey. Hervé Pierre thinks differently. Pierre put Trumps politics aside and decided to step up to create the silk white off the shoulder dress. A white dress, just like Michelle Obama wore at the last inauguration. Could she possibly steal the idea, just like she stole Obamas speech? #thinkingEmoji
Welcome to the First Lady Club, Ms.Trump!
Leave a Comment
About the Contributor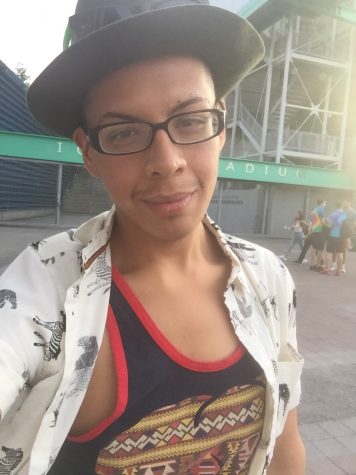 Christian Arriaga-Flores, Staff Reporter
Christian Arriaga-Flores is a Radio/Television Production major at Mercy College born and raised from Newburgh, NY. He likes to chat about anything from...