5 Best Real Housewives Moments
The Real Housewives franchise has been bringing drama, luxury, enviable fashion and idealized lifestyles to the masses since 2006 when the first season of Real Housewives of Orange County aired. Bravo has truly cultivated a lasting hit when it comes to reality TV, and the moments captured in these ladies' lavish lives have become some of the most talked–and tweeted about in TV history. Here are some of the best moments from The Real Housewives.
5. Lisa Rinna vs. Kim Richards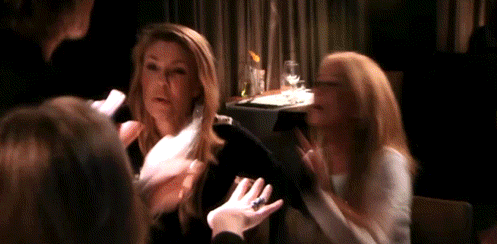 In Season 7 (Episode 6) of Real Housewives of Beverly Hills, Lisa Rinna faced off with Kim Richards in an explosive moment at dinner. What started as a tense, yet cordial evening quickly turned into an all-out brawl, glasses of Pinot flying and all.
4. Aviva Drescher Throws Her Leg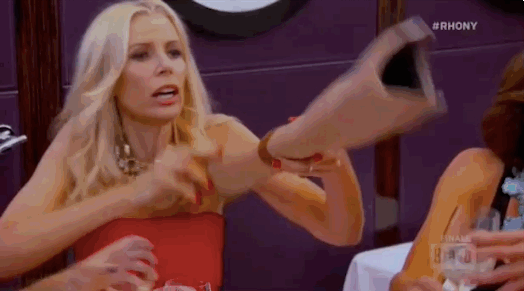 In an earlier season of Real Housewives of New York, things got a little stiff when the ladies began to attack previous cast member Aiva Drescher's character over dinner. The ladies started to call out Aviva's apparent "fakeness," to which she responded by removing and throwing the "only artificial thing" about her across the table. Iconic.
3. "Don't Be All, Like, Uncool"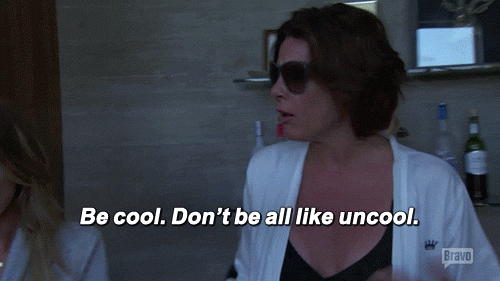 On the RHONY ladies' trip to Turks and Caicos in Season 7, Luann de Lesseps is under fire for bringing home strange men to their opulent, island bungalow after a night out. Heather Thompson gets visibly #shook when she awakens to a naked man in the bedroom across from hers (unattended no less!) and goes on a rampage to find out who's mans this individual is. Luann takes the brunt of the blame (Ramona slithers out of fire yet again) but has a pretty laissez faire attitude about it. See the gif above for her perfect response to Heather's dramatics.
2. Jeana vs. Tamra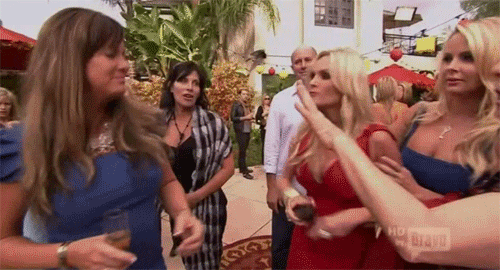 Tamra Judge and Jeana Keough shared an extremely confrontational moment in Season 6 of The Real Housewives of Orange County when Tamra decided to throw red wine in Jeana's face–in the middle of Vicki Gunvalson's party! The two exchanged words over bad press, shady comments, Tamra's divorce, and eventually, Tamra had had enough. She threw her "cease and desist" letter into Jeana's face and thought, that's not enough, so she proceeded to splash her seemingly full glass of wine into Jeana's face. #MESSY
1. Teresa Giudice's Last Supper
Bravo TV

One of the all-time most iconic Housewives moments was Teresa Giudice's meltdown at, surprise surprise, the dinner table. This one is honestly better off witnessed firsthand without any prior introduction, so play the video above and enjoy.
Leave a Comment
About the Contributor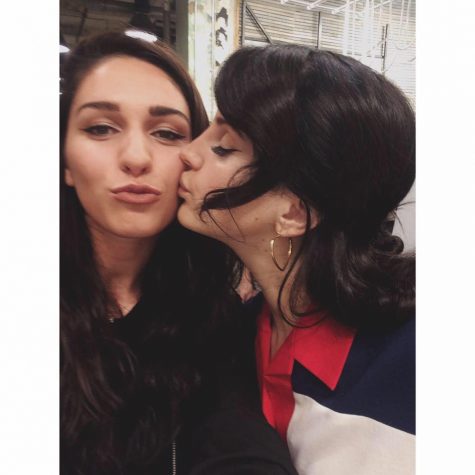 Nora-Grayce Orosz, Former Managing Editor
Nora-Grayce is a journalism major from Yonkers. She's a music and pop culture addict who lives for festivals and food. In her spare time she can be found...