Top 10 Reggaeton Songs
Reggaeton has really evolved over the years from artists to topics and even to the beats. Nowadays, Ozuna, Anuel AA, and Bad Bunny are the faces of reggaeton, but back then, it was different. Even though they are still around, Wisin & Yandel, Daddy Yankee, and Don Omar were really the rappers back in the day. Their skills and beats still manage to inspire rappers now.
1. Gasolina- Daddy Yankee
This is probably the most popular Daddy Yankee song and probably one of the most popular in general. This song is a perfect example of double meaning or hidden meaning. The lyrics are very simple but they have a dirty meaning behind them. It's one of those songs that will have literally everyone dancing, including kids. Little kids will hear this song and have no idea what they're listening to but they'll dance anyway.
2. Ella y Yo- Don Omar ft. Romeo Santos
The ultimate classic and throwback song that everyone knows the words to. It's the King of Reggaeton and the King of Bachata singing to each other. They're singing about Don Omar messing around with Romeo Santos' wife. Don Omar is torn between the forbidden love and hurting his close friend. Romeo Santos is eventually told the news of this affair by another friend. The song has the perfect balance between rapping and singing. Even though those two genres are different, the beat matches both genres perfectly.
3. Oye Mi Canto- N.O.R.E.
This song is every Hispanic's anthem. It represents all types of Hispanics from Puerto Rican to Dominican to Mexican. Every rapper and singer is represented differently by having their own flow but still matching the song's flow. This song easily makes anyone get up and start dancing; feeling the beat. The point of this song is to bring all Hispanics together, and it does just that.
4. Down- R.K.M. y Ken-Y
This song is the ultimate heartbreak song for reggaeton. Even though it's sad, this could still be played at a club and will have everyone singing and dancing. The vocals of Ken-Y flow perfectly with R.K.M.'s rapping skills.
5. Ya Voy- Zion y Lennox, Daddy Yankee
Daddy Yankee's rap flow, which every Hispanic loves, and the vocals of Zion & Lennox, work perfectly together. This song has the greatest chill vibe even though it may start off intense. It's another classic.
6. Noche de Travesura- Hector y Tito
This is a perfect example of classic reggaeton. This song is also an example of what many reggaeton artists now use as inspiration for shifts of different beat drops. For instance, Bad Bunny has gotten a lot of his inspiration from this one song. Many of his songs like "La Romana" and "Safaera" are huge examples of different beat shifts that go well together. One of Bad Bunny's songs, "Chambea," comes from "Noche de Travesura." Even though the beat is similar, it is significantly different than the rest of the song.
7. Noche De Sexo- Wisin & Yandel, Romeo Santos
This is one of the first songs to ever really speak out about sex. When this came out in 2006, sex was very taboo in Hispanic culture. People would get too uncomfortable to talk about it, and not just in music, but in person as well. Before this song, artists would just make references to sex. This song is interesting because even though it is an old school dirty reggaeton, Wisin & Yandel decided to add Romeo Santos who is the main singer of Aventura, a bachata band. Bachata is much different than reggaeton since bachata has more of a smooth flow with guitar and vocals, whereas reggaeton is rapping. This song mixes Romeo Santos' vocals in the chorus and still shows off Wisin & Yandel's rapping skills in the verses.
8. Atrevete -Te -Te – Calle 13
This song is super provocative and all about having a good time regardless of who you are. The instruments used in this song are mostly trumpets and drums, which are not often used in reggaeton. They add a very different touch to the song but still bring the same vibe as any other song of the reggaeton genre.
9. Perdoname- La Factoria ft. Eddy Lover
This is one of the classic heartbreak songs about wanting forgiveness. It's one of those songs that even a child who knows nothing about heartbreak, will listen to it and understand the meaning of the song. Eddy Lover sings very high pitched, passionate, and heartbroken. His vocals seem to flow perfectly with the rapping. La Factoria brings an interesting dialogue with Lover. The whole song consists of Lover begging for forgiveness and La Factoria not having it.
10. Si No Le Contesto- Plan B
Even though this song is less intense than most in this genre, he talks about his girlfriend getting upset because he doesn't pick up his phone. Any Hispanic person will know this song. This is one of the cleanest songs in reggaeton, as it has no curse words, which is honestly shocking and pretty rare. This song will make you dance in your seat. 
Leave a Comment
About the Contributor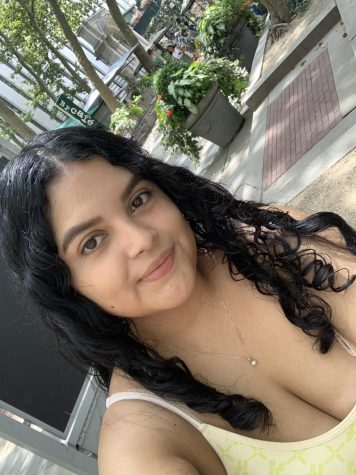 Noelle Ramirez, Impact Staff
Noelle Ramirez is a Junior at Mercy College perusing Journalism to become a Social Media Manager. Noelle enjoys listening to music, especially Bad Bunny,...