10 Socially Distanced Fall Activities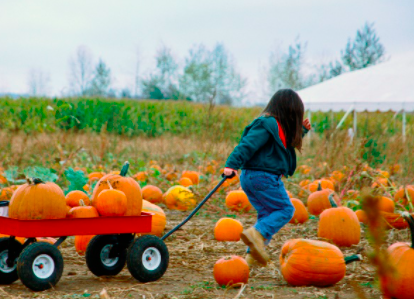 Fall is, without a doubt, my favorite time of the year. I am completely infatuated with everything that has to do with this season. The beautiful fall foliage, the pumpkin spice lattes, the cider, scary movies, and the cool sweater weather. It's the time to stuff your face with apple cider donuts and freshly picked apples. Unfortunately, we have to spend this season following social distancing guidelines due to COVID-19. But don't worry, I've got you covered!
Here are 10 activities to take part in during this pandemic, while still keeping your favorite fall festivities alive:
Cider Houses-
Cider houses are always so much fun. Not only do you get to enjoy the delicious trays of sweet cider and stone oven pizza, but you also get to enjoy the beautiful foliage of the autumn leaves. My favorite local cider house is the Brooklyn Cider House in New Paltz, New York. And guess what, it's completely social distance friendly. People are required to wear masks and the tables are sectioned off according to state guidelines. My family and I loved our visit.
Pumpkin Picking-
You absolutely cannot go a fall season without pumpkin picking. I love to go on the hayrides and scout out the perfect pumpkin to carve. Thankfully, my local pumpkin patch, Pieron's Farm, has taken proper precautions to maintain a safe environment for pumpkin picking. This is a perfect place to keep the annual festivities alive while remaining safe. I'm looking forward to taking a trip there this weekend!
Halloween Movies & Chill-
COVID-19 or not, every fall season, I binge watch a number of spooky movies at home. Movies like "Halloween Town," "Nightmare Before Christmas," "Hocus Pocus," and "CoCo" are my go-to binge-watches during this time of year. It's also a great idea to stay home and safe from this dreaded virus.
Apple Picking-
Apple picking is another important piece of fall. I love going and picking the ripest apples and carrying my bag filled to the very top. Luckily, my local apple picking farm, Masker Orchards, is COVID-19 proof for the season. Masks, of course, are required, and tables are spaced out accordingly as well. It's a beautiful way to spend time with family and it's kid-friendly. My cousins, Danny and Max, always have such a blast.
Baking-
This season, I have decided that I wanted to dip my toes in the baking world. This is due to the fact that I have such a sweet tooth for fall sweets! So, after pumpkin and apple picking, I have set a plan to make my very own apple and pumpkin pies. This is a perfect way to stay safe at home, all while enjoying some spooky treats and bonding with family.
Brewery Visits-
While I'm not a beer type of girl, I do enjoy an occasional visit to the local brewery during the fall, when they have the seasonal beer available. I love the Clemson Bros. Brewery in Middletown, New York because not only do they have amazing beer and stone oven food – they also have started a fund called Clemson Cares. The owner, Kenan Porter, has donated $10,ooo to local businesses impacted by COVID-19, who were not able to get federal and state funding. I would highly recommend giving this location a visit. Their owners truly care about their community, and of course, it is socially distanced according to state guidelines.
Hiking-
Personally, I enjoy hiking the most in the fall more than in the wintertime because of the fall leaves changing and the perfect weather. I love it when it's not too cold but not too hot. It is also a perfect socially distant activity to enjoy time in nature.
Pumpkin Carving-
What is a pumpkin if not carved? Pumpkin carving and painting is a fun and easy way to socially distance at home while keeping the Halloween spirit alive. Nothing is more exciting than decorating the house with cute pumpkins to ring in the season.
Homemade Apple Cider-
I am a sucker for good apple cider. I have planned a day where I will make my own with my sister since we love the drink so much. Warm apple cider, made from scratch, is something I can not wait to try.
The Great Jack-O'-Lantern Blaze-
Every year, the Hudson Valley puts hosts "The Great Jack-O'-Lantern Blaze," where they put on a show of 7,000 illuminated jack-o'-lanterns. Filled with original music, bats, and a 6-foot tall Statue of Liberty jack-o'-lantern. Capacity is limited due to COVID-19, therefore, tickets are sold exclusively online and masks are required, as well as keeping a 6-foot distance between one another.
Leave a Comment