Top 10 Greatest U.S. Sports Moments
Sports have been a crucial part of the United States for well over the past 100 years. They provide so much for so many people. Some use sports as an escape while others use sports as a profession whether that is being an athlete on the field or the vendor selling hot dogs in the stadium concourses. 
However, sports can take on entirely new meanings and become part of our history forever. Sports has the ability to impact this country both emotionally and socially like no other entity in this nation. Here is my list of the top 10 greatest sports moments in the history of this nation. 
10. Hank Aaron becomes the all-time home run king.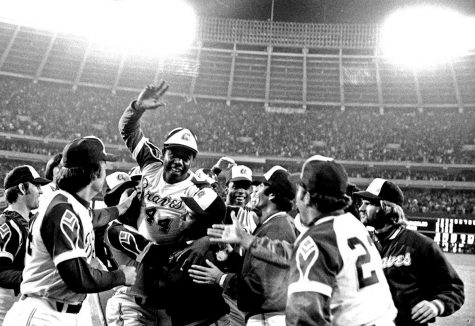 On April 8th, 1974, Atlanta Braves superstar, Hank Aaron, took Al Downing of the Los Angeles Dodgers deep for his 715th career home run. This broke the all-time record which was held by Babe Ruth at that time. It was an iconic day for the sport as Ruth's record that lasted for 39 years was considered the iconic record of the sport. 
This also captured an amazing moment for America's national pastime. Aaron, an African American, had been receiving numerous death threats in his chase to become the all-time home run king. Many people in the South felt it would be wrong for Aaron to break the record of Babe Ruth who was white. However, Iconic Dodger announcer, Vin Scully perfectly brought into perspective to everyone what was happening when the ball went over the fence. 
"What a marvelous moment for baseball. What a marvelous moment for Atlanta and the state of Georgia. What a marvelous moment for the country and the world.
"A black man is getting a standing ovation in the Deep South for breaking a record of an all-time baseball idol. And it is a great moment for all of us, and particularly for Henry Aaron"
9. 2002 Salt Lake City Olympics Opening Ceremony

In the months leading up to the 2002 Salt Lake City Olympic Games the nation was recovering from the attacks on September 11th. Many speculated if the games should even be held due to extreme security that was going to be needed in case of another attack. However, others saw this as an opportunity for the nation to unite behind its athletes and cheer together as proud Americans without any fear. 
During the opening ceremonies, members of Team USA surrounded by members of the NYPD, FDNY, and New York Port Authority carried in a torn flag which was recovered from the World Trade Center site following the attack. The stadium was silent until the announcement of the playing of the Star-Spangled Banner by the Mormon Tabernacle Choir. This led to one of the most iconic displays of patriotism which will never be forgotten. 
8. Dale Jr. wins in NASCAR return at Dover following 9/11

September 23rd, 2001 is a day for many Americans may not know anything about. This was the day that NASCAR made its return to racing following the 9/11 attacks. Many Americans were still debating when sports should go back while still being respectful of the tragedy that had just occurred a few weeks earlier. 
However, on September 23rd racing returned to Dover. NASCAR fans are very patriotic people combined with the sport giving away thousands of tickets to veterans for every race. It's a core part of their identity. This moment was captured beautifully when, NASCAR's most popular driver, Dale Earnhardt Jr. crossed the finish line and brought home the checkered flag. Dale Jr. who never lost sight of the moment took an American flag instead of the checkered flag for his victory lap in his iconic number 8 Budweiser car and saluted those we lost just two weeks earlier.
7. Michael Phelps dominates the 2008 Beijing Olympics

The 2008 Olympic Games in Beijing will always be a special moment for me as it is the first Olympics I vividly remember watching and cheering for Team USA in. I was fortunate as I got to see arguably the greatest Olympian ever dominate the world stage representing Team USA. 
In 2008 Michael Phelps, who in my opinion must be part fish, took home a record eight gold medals. The entire nation rallied behind one individual to root for him to achieve individual sport's immorality all while wearing the red, white, and blue. This display of American dominance resulted in 22 percent of all the gold medals the Americans won during the Olympics. It will forever be the greatest individual achievement in one Olympic by any Team USA athlete. 
6. 1992 Dream Team

The 1992 Olympic Games in Barcelona put together what will most likely be the greatest collection of individual talent on one team in the history of any sport. Following the disastrous 1988 Olympic loss to the Soviet Union, Team USA used NBA players for the first time in the Olympics. This was allowed due to a FIBA rule change shortly after the 1988 games. 
The team including Michael Jordan, Magic Johnson, John Stockton, and many more went on to dominate the entire Olympics. The team defeated all of their opponents by an average of 44 points which led them all the way to the gold medal by the time it was over. A total of 14 players and coaches who were a part of the dream team would later be inducted into the Basketball Hall of Fame including the entire team itself. 
5. 1999 FIFA Women's World Cup

The Women's World Cup in 1999 was a tremendous moment for all Americans but most importantly women who were still fighting to earn their rightful place in the sports world. The event was held in the United States which made this World Cup win even more meaningful. 
Team USA took down the Chinese National Team in dramatic fashion when Brandi Chastain scored the winning penalty shot in the shootout. This moment launched women's soccer in the United States and saw it boom following the win. This gave young girls the heroes they wanted so they could go chase their own athletic dreams in this country. 
4. Jesse Owens takes gold in the 1936 Munich Olympics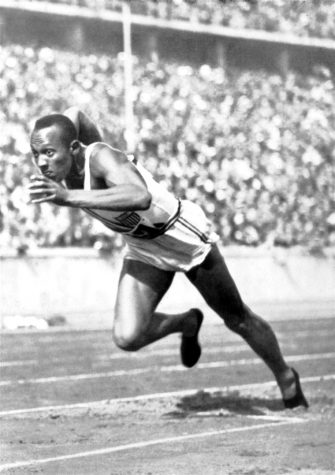 Any sports fan will tell you it's tough to win on the road. Now imagine how it must be to be an African-American and go to Nazi Germany to compete in the Olympic games. That's exactly what Jesse Owens did in 1936 when the Olympic games were in Munich, Germany. 
Despite this adversity, Owens didn't let it stand in his way of Olympic glory and entered himself into the pantheon of greatest American athletes. Owens won a total of four Olympic gold medals while Adolf Hitler watched his ideas of a "superior" race lose to an African-American on Hitler's home turf. This was an iconic moment for Owens and the entire nation which shamefully did not give him the recognition he deserved long after his impressive accomplishments. However, it truly speaks to the greatness of this moment that Hitler's Olympics are best remembered as the Jesse Owens' Olympics.
3. President George W. Bush's first pitch following 9/11

On October 28th, 2001 The World Series returned to the Bronx for game 3. This was the first major sporting event in New York since the attacks on 9/11. The similar feelings of worry and fear were still throughout the city. However, they had baseball to fall back on and be able to escape their reality even if it was for a few hours. 
President George W. Bush was asked to throw out the ceremonial first pitch in front of over 55,000 fans. When he came out wearing the FDNY jacket to hide his bulletproof vest, gave a thumbs up to the crowd and threw a strike right down the middle. It had nothing to do with baseball. It was a moment of hope that the nation was okay and that everything was going to be okay. That together we can unite as proud Americans and overcome any obstacle in front of us. It's impossible not to feel patriotic watching Bush walk off the field with all those fans chanting "USA" together. 
2. Jackie Robinson breaks baseball's color barrier

On April 15th, 1947 one of the most important Americans to ever live did something that many believed was impossible. Jackie Robinson, an African American from Georgia, made his Major League debut for the Brooklyn Dodgers. Robinson played first base and reached on an error and scored the go-ahead run that would eventually win the game. 
That stat line doesn't sound impressive but it sent shock waves inside of baseball and the rest of the nation. For many Americans who ignore the struggle of African-Americans, this brought the issue right into their living rooms. This was the national pastime. It's a sacred part of American culture and identity. People could ignore legislation or Supreme Court decisions that largely didn't affect the average person but they could not ignore Robinson. After all, how can any real fan stop watching his team? Many Americans were forced to watch the beginnings of the Civil Rights movement right in the middle of their favorite game and it forced them to stop ignoring the issue and finally have a conversation about it.
1. Miracle on Ice

The Miracle on Ice is the single greatest and most iconic sports moment in the history of the United States. Americans were enduring some dark times leading up to the game and had no real reason to feel proud to be Americans. Many Americans were still dealing with the betrayal of the Watergate Scandal. The Iranian Revolution had caused an oil crisis. Americans were still being held hostage in Iran and had been up to that point for over two months. To make matters worse the Soviets had invaded Afghanistan on Christmas eve just 4 weeks ahead of the Olympic Games in Lake Placid. 
On February 22nd, 1980, a hockey game, that was never just a hockey game, gave hope to the nation and finally gave them something to rally behind. A bunch of young college kids upset the four-time defending gold medalist and heavily favored Soviet Union team 4-3. This sent the Americans to the gold medal game which they would eventually win. By defeating the long-standing rival of the Soviets it inspired millions. It showed that there is no greater underdog than the United States and that even when times are tough, we always battle through it. 
We could definitely use another Miracle for this country to unite behind again.
Leave a Comment
About the Contributor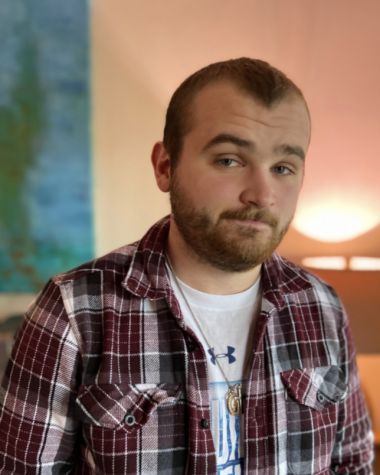 James Tiedemann, Managing Editor
James Tiedemann is in his second year of attending Mercy College. He transferred after graduating from SUNY Orange with his Associate's Degree in New Media....