Top 15 Sports Movies
There are two things in this world that I know about. I know sports and I know movies. Sometimes, a studio will together a piece of cinematic work that combines those two things, and has me rushing to my nearest theatre.
I won't lie, a good number of movies about sports contain an extreme level of cheesiness. You could say the same thing about every romantic comedy in existence, but people still love them. You could say the same thing about the Fast and Furious franchise. They still made eight of them and they probably aren't done yet.
Cheesiness is almost essential in a sports movie. The cliches and metaphors used by the athletes and coaches are meant to evoke emotions that sports make everybody feel. Audiences want to feel the passion and desire of the characters they are watching.
Of course, sports aren't the main ingredient for a sports movie to be successful. The characters off the field or court have to be deep with traits that make people love them or hate them. Again, they have to evoke emotions.
Some of these movies are based on real-life events. Some of them are the by-product of studios needing a box office slam. All of them are fantastic pieces of art.
Much like the list I made during the last semester, narrowing this list down to 10 movies is a difficult task. Instead, here are the top 15 sports movies of all time.
15. Major League (1989)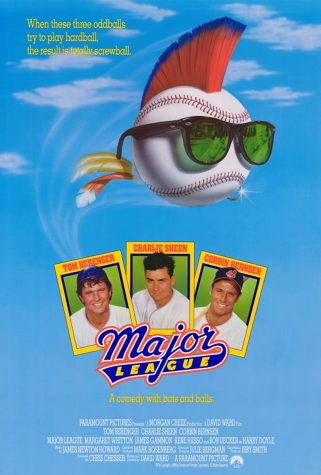 We start this list with an incredibly underrated and hilarious film that stars disgraced actor Charlie Sheen. Sheen, along with Tom Berenger and Wesley Snipes, compile a talented cast that has the comedic chops to make this film a must-see. The film focuses on the Cleveland Indians and their everlasting futility. The owner hopes to move the team to Miami and tries to do this by compiling the worst roster in baseball in hopes attendance bottoms out. Instead, "Wild Thing" Vaughn (Sheen) and the rest of the Indians show enough grit to win the AL pennant.
Sheen, Berenger, and Snipes, along with Corbin Bernsen and Dennis Haysbert (the All-State guy), give outstanding performances that have fans rooting for them to succeed. The crude humor and action scenes make for an all-time comedy with a dramatic sports background. It's one of my personal favorites, and it has a nice spot at the back end of the list.
14. Glory Road (2006)
One of Disney's best attempts at a sports movie, Glory Road is based on the true story of coach Don Haskins and his early run at Texas Western University. Haskins is hired to coach the Miners and turn them around. His idea to help turn them around was to bring seven black players onto the team. This move made the rest of the team, the school, and the administration, very uneasy. Haskins can unite the players together and appease his boss by leading the Miners on a magical run through his first season. The players bond as one group, and Haskins shows that he is a talented coach.
Josh Lucas as Haskins gives an inspired performance, with enough cliches and motivational pep talks to make this a classic sports film. The young cast who portray the athletes do a phenomenal job portraying real basketball, and the acting prowess to display uncomfortable attitudes that turn into true love for one another. The film also features Jon Voight as legendary basketball coach Adolph Rupp, but fans won't be too fond of the character he portrays. This film has stood out as an all-time great.
13. Coach Carter (2005)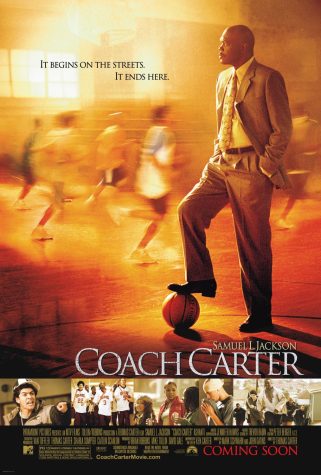 Coach Carter is based on the true story of Richmond High head coach Ken Carter turning around the lives of many troubled teens en route to an appearance in the California State High School playoffs. Carter, who at one point attended Richmond, shows up to coach a raggedy group of teens who are struggling with living in the tough neighborhood in California. Carter instills discipline within the young kids that are resisted by both them and their parents at first. Carter makes sure that they are disciplined and well-educated and leads them to a great season.
Coach Carter and Glory Road are a toss-up for me. Both are tremendous films that feature basketball as the background to stories with much deeper meanings behind them. Where Glory Road is about coming together as one, Coach Carter is about getting that group to rise out of and be better young men. Samuel L. Jackson gives another memorable performance as the tough-nosed Carter. The film features a young Channing Tatum as his starting power forward, and pop star Ashanti shines as one of the player's girlfriends. The young cast does a great job as well showing the struggles of growing up in the inner city and overcoming the obstacles that may come with it. It is a movie that needs to be added to your watch list.
12. Field of Dreams (1989)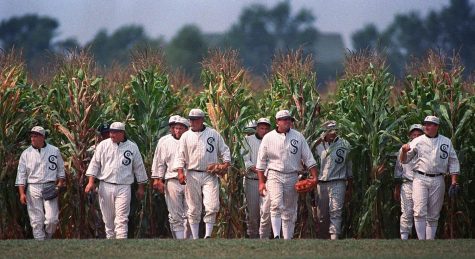 "If you build it, they will come." One of the most quotable lines in cinematic history comes from Field of Dreams. The story centers around Ray Kinsella (Kevin Costner) and his small Iowa farm. He hears the voices in the cornfield, calling him to build a baseball field in his backyard. He is then visited by the ghosts of the Chicago Black Sox and Shoeless Joe Jackson (Ray Liotta), as Kinsella's personal life and business life undergo certain obstacles. The film is emotional, powerful, and one of Costner's best performances.
The film has a lot of ridiculously good qualities that make it stand out. The score of the film won multiple awards, and Costner and Liotta, along with James Earl Jones, turn in excellent performances. The highlighting of the infamous Chicago Black Sox makes the story incredibly interesting for die-hard baseball fans, and the story is relatable to a lot of people dealing with financial struggles. It's also not the best baseball movie that Costner was a part of.
11. We Are Marshall (2006)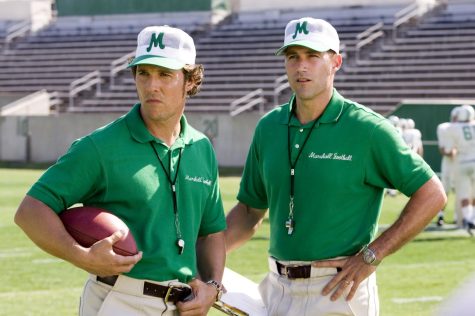 The tragic true story of the 1970 plane crash that killed every single member of the Marshall University football team, We Are Marshall recounts the school and new coaching staff's triumph in building a new college football team that would eventually turn into a Division I FCS powerhouse some thirty years later. Led by new head coach Jack Lengyel (Matthew McConaughey) and the lone coach who was not on the plane in 1970, Red Dawson (Matthew Fox), the movie outlines the school's journey to find support from a broken down and garner faith from prospective student-athletes in their pursuit of not only wins but pride.
This movie will have audience members in tears from start to finish. From the horrific plane crash that kills over 7o people to the Lengyel and Fox's tireless pursuit of players and support from a shattered community, to their ultimate triumphs in the end, it's a tremendous story of perseverance. McConaughey displays a solid performance of compassion and wit, but it is Fox's PTSD-laced character in Dawson that shows the dramatics of the situation at hand, pair this with an inspired performance from future Captain America Anthony Mackie as battered corner Nate Ruffin, and you have a near top-10 sports movie.
10. Hoosiers (1986)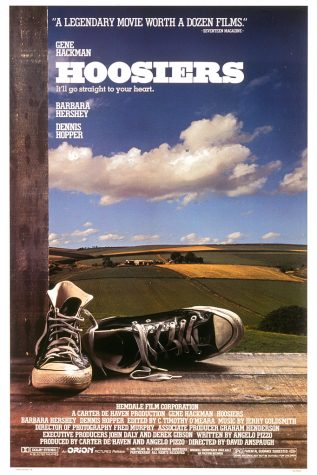 Kicking off the top 10 list of the greatest sports movies is a true basketball classic about a high school team in a state where basketball is religion. Mysterious former college coach Norman Dale (Gene Hackman) arrives in Hickory, Indiana as the school's new basketball coach and history teacher. Even in a small town like Hickory, basketball rules supreme and there are certain expectations. Dale early on fails to inspire the town's people, but when star player Jimmy Chitwood (Maris Valainis) decides to rejoin the team only if Dale remains coach, that faith is restored. What follows is a legendary run to the Indiana State Championship, with the underdog Hickory squad prevailing.
A film carried mostly on the performance of Hackman, two other supporting characters manage to steal scenes. Barbara Hershey portrays Myra Fleener, a fellow teacher at the school and a guardian to Chitwood. Her attitudes about basketball and Coach Dale evolve as the movie progresses, and can balance out the small-town mindset of the rest of the community. Also, Dennis Hopper portrays the town drunk and a father to one of the team's players. His journey back to sobriety and respect is filled with obstacles and humorously sad moments. The kids on the team play minor roles, including the star Chitwood, but the portrayal of a small town obsessed with the sport is perfection.
9. Cinderella Man (2005)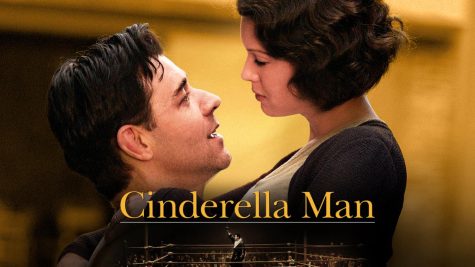 The real-life depiction of James Braddock (Russell Crowe) is a thrilling and inspiring film about fighting for your family. A former boxer who breaks his hand and is forced to retire, Braddock returns to the ring after the Great Depression takes a toll on his family, against the wishes of his wife, Mae (Renée Zellweger). Braddock's unlikely return results in a series of wins against heavily favored opponents, and a potential bout against Max Baer (Craig Bierko). Even though Braddock continues to dominate, he enters his fight against Baer as a heavy underdog. With his wife forced to miss the fight after throwing a drink at Baer days before the match, Braddock can beat Baer in what is considered one of the biggest upsets in boxing history.
Crowe, Zellweger, and Paul Giamatti as Braddock's promoter Jon Gould display acting chops that make the film outstanding for audience members. A true story that shows just how great of an impact the Great Depression had on America, it's an inspirational message to fight for your family and that anything is possible to make Cinderella Man a worthy inclusion in the top 10.
8. White Men Can't Jump (1992)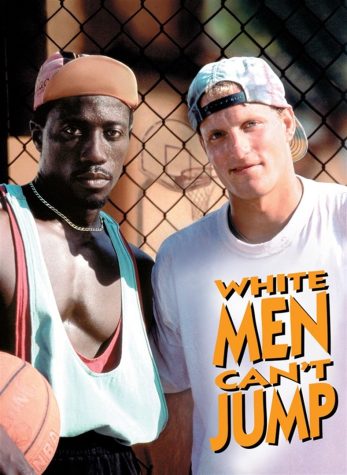 On the basketball courts of Los Angeles, Billy Hoyle (Woody Harrelson) is one of the best hustlers around. After being bested by Hoyle, Sidney Deane (Wesley Snipes) sees an opportunity to cash in. He persuades Doyle to join him as they drive up and down California in pursuit of big bucks. Both men have their reasons for needing cash. Deane has a wife and a young son at home who needs money to survive. Hoyle and his girlfriend, Rosie, (Gloria Clemente) are on the run from mobsters who are owed a large amount. Hoyle typically manages to come up with the money, and then always ends up losing it, forcing Rosie to threaten to leave him. Despite Deane getting back at Hoyle and hustling him out of cash, the respective women in their lives convince them to join forces again in two on-two tournaments, where they ultimately win the grand prize. Although Rosie does follow through on her threats to leave Billy, he and Sidney can find common ground, as they finish the film shooting hoops together.
A buddy comedy with undertones of life's sincerity, White Men Can't Jump is an entertaining tale from start to finish. Harrelson and Clemente's relationship is one of the better parts of the film, as they evade mobsters at every turn. At the height of his popularity in Hollywood, Snipes as the arrogant Sidney Deane is incredibly funny and shows what it means to hustle for your family. The highest-ranked basketball movie on this list has everything you could want in a film.
7. Jerry Maguire (1996)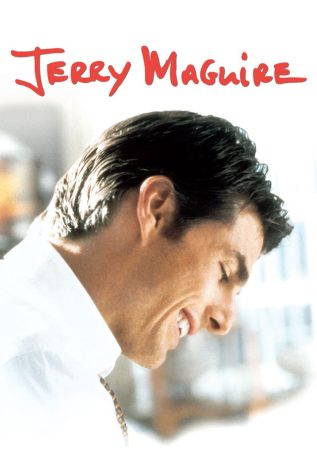 Based on the life of NFL super-agent Leigh Steinberg, Jerry Maguire (Tom Cruise) is a young hot-shot agent who suddenly has a change of heart regarding how his company does business. He leaves his agency, bringing along former company assistant, Barbara (Renée Zellweger), with him. As Maguire tries to satisfy the needs of his now-only client, Rod Smart (Cuba Gooding Jr.) he embarks on a love affair with Barbara and gets very close to her son Ray. (Jonathan Lipnicki) The two eventually marry, but their relationship quickly begins to deteriorate, along with his relationship with Smart. Eventually, Maguire can convince Smart to earn the money he desperately desires. Smart's performance on the field, coupled with Maguire's persistence with the front office, get Smart a new contract. With Smart now content, Maguire flies to see Barbara, where the two quickly reconcile over their love for each other and Ray.
Cruise's passion as Maguire is demonstrated throughout the film. His journey as an all-work super agent and a real-life jerk to a compassionate man in all facets is what makes this film truly special. Gooding Jr. does a fantastic job portraying a money-hungry athlete, who is also able to go on his journey toward compassion. List repeat Zellweger gives a fine performance as a woman love-stricken with a man who needs to change his ways. Its mix of sports and romance makes the film an all-time classic for everyone who watches.
6. Bull Durham (1988)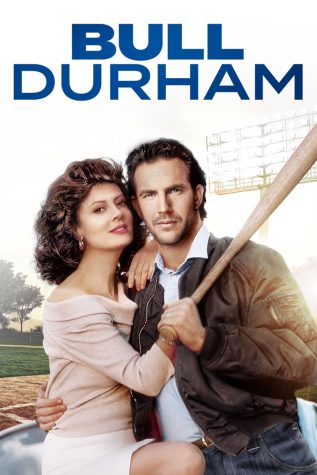 A real-life minor league team for a very long period of its time, Bull Durham is the fictional tale of minor leaguers trying to navigate their way through the trials and tribulations of the roots of the sport, and the role that romance has in baseball. The film largely focuses on two players, Crash Davis (Kevin Costner) and "Nuke" Laloosh (Tim Robbins). Crash is the long-tenured minor leaguer, who is brought into Durham to be a mentor for the erratic Laloosh, who is the big league club's top prospect biding his time in the minors. They both compete for the affection of Durham local Annie Savoy (Susan Sarandon) who every year chooses one member of the Bulls to take under her wing and show through romance how to be a better player. Savoy spends the year with Laloosh, trying to tame his wild side. At the same time, Crash proves to be a better match for the mature Savoy, and they end the film together in Durham, as Laloosh makes the jump to the big leagues after successfully shedding the wild side.
Sarandon is a scene stealer throughout the film, and her narration of the baseball story shows just how discovering romance can have an impact on the game of baseball. Tim Robbins successfully plays the wild-child role, and his journey toward being a respectable human being is one of the best storylines. Costner in another movie surrounding the world of baseball proves to be a legitimate match for the maturity of Sarandon and their eventual love affair at the end of the film makes all the sense in the world. Love, baseball, and the trials of the minor leagues make for an all-time classic.
5. Moneyball (2011)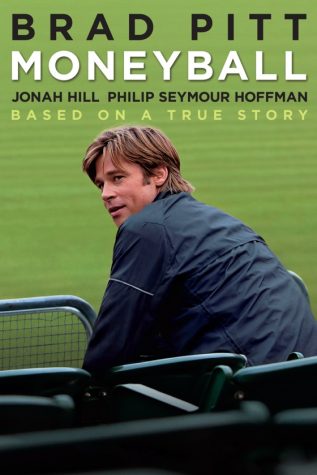 One of my personal favorites, Moneyball is the film adaptation of the book written by Michael Lewis about the 2001 Oakland Athletics. With a front office hell-bent on not spending any money, Athletics general manager Billy Beane (Brad Pitt), along with young assistant Peter Brand (Jonah Hill) find a new way to win games. Relying on sabermetrics to build up their squad with cheap players, the Athletics can find a way to be competitive, and eventually dominate despite resistance from scouts and the Athletic's manager, Art Howe (Phillip Seymour Hoffman). The season is capped off with an MLB record 20-game winning streak, although the Athletics once again lose in the playoffs. Despite being pursued by the Boston Red Sox, Beane decides his heart resides in Oakland and chooses to continue his "Moneyball" style with the Athletics, a job he continues to do today.
This film is filled with stars. Pitt, Hill, Hoffman, Robin Wright as Beane's ex-wife, and Chris Pratt as A's first baseman Scott Hatteberg are among the big names that can be seen throughout. While the film is a slight over-exaggeration, this film is one of the few that relies heavily on the sports motifs that turn into a great film. To quote Brooklyn 99 police captain Raymond Holt after he saw the film for the first time, "The statistical analysis. It's so beautiful!" Moneyball is a worthy inclusion in the top five and can be considered the best baseball movie ever.
4. Miracle (2004)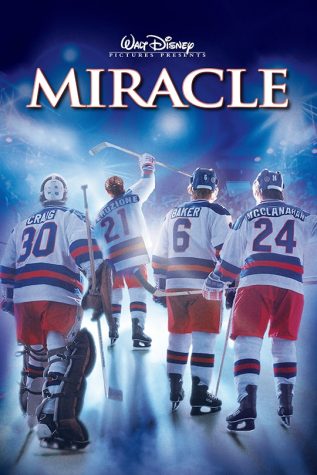 Based on the real-life story of the 1980 US Men's Hockey team, this film made by Disney is without question the best hockey movie to ever be made. To compete against the high-powered Soviet Union hockey squad, head coach Herb Brooks (Kurt Russell) assembles a team of college all-stars from Minnesota and Boston for the upcoming Olympics. Despite having little time to prepare to play a team that has been playing together for over 10 years, Brooks's high-intensity training regimen whips the young squad into shape just in time for their semi-final match against the hated Soviets, where the Americans prevail by a goal. The team goes on to become the gold medal winner, and inspired a quote from legendary broadcaster Al Michaels, "Do you believe in miracles?"
Despite the presence of Russell, the film is full of unknown actors. However, the acting performance of all of the athletes is truly inspiring, and reminiscent of the real squad of random college hockey players. Two of the actors, in particular, stand out: Eddie Cahill as legendary goal-keeper Jim Craig, and the late Michael Mantenuto's performance of brash Boston hockey player Jack O'Callaghan. These two, paired with the performance of Russell, make this film an inspiring story of a legendary American team.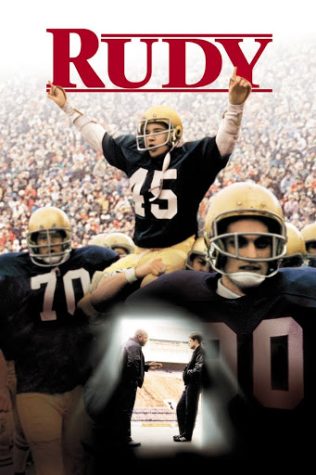 3. Rudy (1993)
Again based on a true story, Rudy follows the improbable journey of former Notre Dame football walk-on Daniel "Rudy" Ruettiger (Sean Astin) and his journey from factory worker to school hero. A Notre Dame fans his entire life, he attempts to attend the university after a factory accident kills his best friend. First enrolling at Holy Cross College in South Bend, Rudy eventually gains entry into Notre Dame after three unsuccessful tries. Once enrolled, his effort during walk-on day impresses Ara Parseghian and he allows him onto the team. After competing in no games as a junior, Parseghian promises to leave Rudy to play in one game as a senior, only for the coach to leave shortly after. New coach Dan Devine has no interest in letting Rudy play, but his teammates each individually ask the coach to let him play. In his first and only game in South Bend, with his family in attendance, Rudy comes into the game with seconds left and manages a sack. Rudy is then subsequently carried off the field as the credits roll.
If it weren't for Rocky Balboa, Rudy would be the ultimate underdog story, and perhaps he still is. Astin's performance as the scrawny football player is inspiring and emotion-evoking. The final moments in South Bend, as he fulfills his childhood dreams, in front of his entire family and the entire school is a tearful moment for all audiences everywhere. The film also features some interesting performances from actors in the early stages of their careers, namely Jon Favreau as Rudy's best friend and tutor, and Vince Vaughn as a jerk football player who eventually warms up to Rudy and throws a touchdown pass to ensure that Rudy enters the game. This film is not only one of the best sports movies ever, but one of the most inspiring movies ever.
2. Rocky/Creed (1976-present)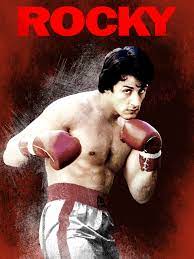 It's hard to pinpoint just one of these movies throughout the list, so the entire franchise will come in at number two on the list. The inspiring tale of Rocky Balboa from Philadelphia rough-up man to heavyweight champion of the world, this film is directly linked to the creator and the actor of Rocky, Sylvester Stallone. The franchise in its entirety has showcased legendary performances from Rocky's opponents, including Carl Wethers as Apollo Creed, Mr. T as Clubber Lang, and Dolph Lundgren as Ivan Drago.
The spin-off centered around the son of Apollo has in its own right served as a worthy successor to the films centered around the Italian Stallion. Starring Michael B. Jordan as Adonis Creed, the latest three installments of the film franchise have proven to be legendary in their own right. With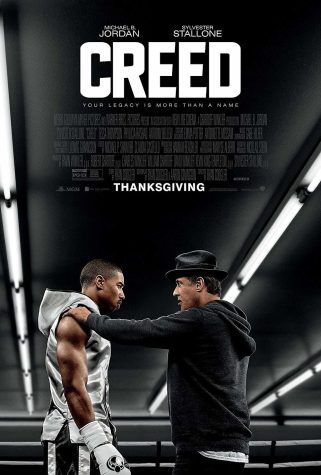 Stallone joining Jordan in the first two Creed films, the franchise also features strong performances from Tessa
Thompson and Jonathan Majors, and realistic boxing performances from former fighters Tony Bellew, Andre Ward, and Florian Munteanu. Throughout all of the installments of the franchise, each has centered around a fighter's shot at either redemption
or sticking strong to the values that they have ingrained in themselves. With all of the potential options, it takes a strong film for Rocky to remain at two.
1. Remember the Titans (2000)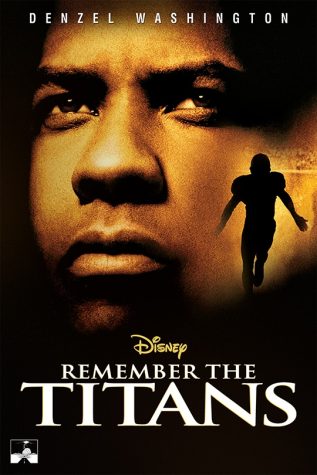 In my mind, the unquestioned number one sports movie of all time has to be Remember the Titans. Based on the true story of the 1971 T.C. Williams high school football team, this film truly has everything you could want as a viewer. During a time in Virginia when racial tensions were at an all-time high, two schools in Alexandria Virginia decided to merge and integrate. Coaches Herman Boone (Denzel Washington) and Bill Yost (Will Patton) were tasked with helping a team not only win but simply get along with each other. With the entire town ready to boil over in hate, the coaches can show that both sides could get along as the Titans dominated their schedule. Boone was also able to show Yost the difficulties of living in the South as a black man, and the two were able to come to an understanding as the movie progressed. After All-American linebacker Gary Bertier (Ryan Hurst) becomes paralyzed in a car accident, the Titans rally to win the Virginia high school state championship, with Boone and Yost raising their arms together in triumph.
This film is a true story, and also a very important story when it comes to the fabric of our world. Two sides that come from two different backgrounds can come together and prevail despite the entire planet being against them for trying to compete together. The way this team played was able to bring together a town that six months earlier was almost up in flames due to riots. Denzel gives an inspiring performance as he always does, and the dynamic between Hurst's and Wood Harris's characters shows that love and friendship can break any barriers. This film makes you laugh, think, and cry all at once. It is the unquestioned best sports movie of all time, and everyone should in their lifetime watch this movie.
Leave a Comment
About the Contributor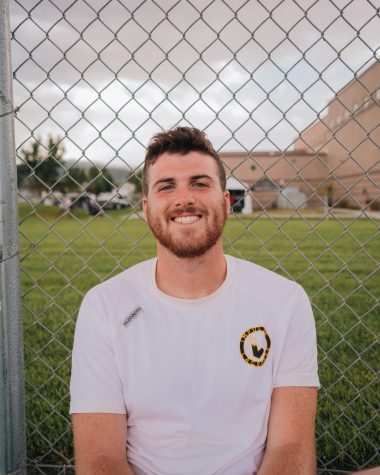 Zack Higgins, Impact Staff
Zack Higgins is a 5th year Media Studies major at Mercy College.  He is a previous student of Salisbury University, Onondaga Community College, and the...