Tomorrow Is A Better Day
November 5, 2015
After being released, Deskovic had no money, no skills, no resources, and was on the way to having no home. He was also a couple credits short of earning his college degree, a journey he made while he was incarcerated.
At the time of his release, Shelly Alkin, Dean of Articulation at Mercy College, read about Deskovic. She offered him a full scholarship. But Deskovic at the time was 33 and believed he was too old for college.
He was on his way to being homeless when Alkin then upped her offer. She offered him free room and board. For Deskovic, that meant a free home and free meals. So he accepted. And Mercy College became a new home to him.
It gave him the skills he needed to live again. He got his Bachelor's degree in Behavioral Science. He even graduated with a GPA of 3.93. It sparked something within him to continue his education and earn his Master's Degree at John Jay College of Criminal Justice in 2013.
"You're never too old," Deskovic says about his prior thoughts. "Mercy College saved my life."
One year later in October 2014, Deskovic was awarded $41.6 million lawsuit for his 16 years of wrongful imprisonment. Due to a high-low settlement he made previously with Putnam County, they only had to pay $10 million.
It's enough to last him the rest of his life, sipping frozen blue hawaiians on a warm beach somewhere far away from the place that is filled with negative memories and many questions about what could've been and why.
Deskovic admits "That does sound nice but… I can't sleep at night knowing that there are people just like me, wrongfully imprisoned waiting for their justice."
He used his settlement to start the Jeffrey Deskovic Foundation of Justice.
Deskovic works with his team to help other wrongfully imprisoned felons to get their justice as well. Once they are released, he helps to give them not only a place to live, but a meal, clothes,  skills and most importantly a friend in Deskovic himself.
One of those new friends included Deskovic's first successfully exonerated prisoner, Willie Lopez. Lopez was also wrongfully imprisoned for murder. After 23 and a half years he heard those five magical words. "You are free to go."
Much like Deskovic, Lopez also entered the world with no money and no skills. Thanks to Deskovic, Lopez had a resource, a place to live and more importantly, a new friend.
Memories like this make Deskovic stand proud with a smile on his face. He looks ahead to the future and what he can do for others – not only to free others like him, but to also educate others on this serious matter.
Much like in Deskovic's case when when DNA tests proved that it was not h3, the data based matched the DNA to a felon who was already in prison for murdering a mother of two. Stephen Cunningham admitted to the murder of Angela Correa after DNA matched him at the scene.
Deskovic is now much more than a wrongfully convicted felon. But he does use his past to help inspire others with a message that screams that just because life might have gone brutally wrong, it can always be used as added fuel to the fire to do something great.
He boasts about achievements like the television show he is now a producer on titled "The Security Brief: The Deskovic Files" and proudly displays his State of New Jersey Department of Law and Public Safety card that certifies him as a Division of Criminal Justice instructor.
"In September," Deskovic smiles, "I start law school!"
Lopez was finally getting into touch with his daughter and mending that relationship, even going so far as to learn to text. His life was coming together outside of prison walls.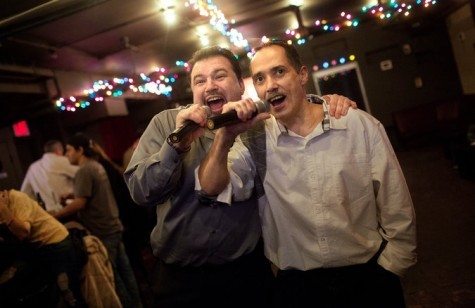 But Lopez never got to see his settlement money as Deskovic had. Days before his status meeting, Lopez passed away of a massive asthma attack before it was finalized. Now it will be awarded to his wife and his daughter.
Although he never got to see his settlement, he was able to die with his innocence and ability to walk the streets as a free man.
"It was a devastating loss," Deskovic says with a heavy heart "I just take some solace in knowing that that year and a half post exoneration were more than likely the best years of his life."
There are more Jeff Deskovics and Willie Lopezs out there. That's why Jeff Deskovic stays. That's why he fights. That's why he's not counting his money or starting businesses or enjoying his freedom on a beach. He works twice as hard now then he ever thought he would if he had a "regular" job. Someplace there is a 16 year-old kid awaiting sentence for a crime he didn't commit. There is a man serving 20-plus years although he is innocent.
That's why Jeff Deskovic can't quit. So many more to free, he says. So many more who need to feel the sun hit their faces as they walk out the door, unchained and reborn.