'A Swing Through Memory Lane'
September 22, 2016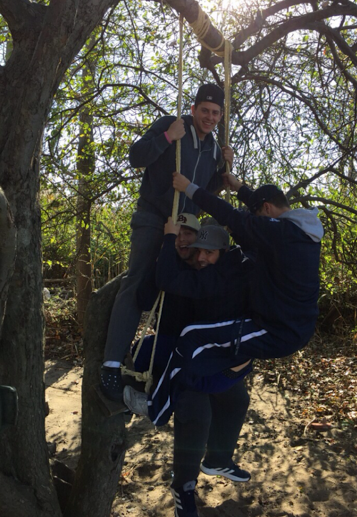 No matter who you talk to about Daley, those who knew him best say the same thing. He was good-hearted, fun and lived life to the fullest.
Reflecting on memories with Daley is often difficult for Cinelli, as the two have shared about a million great memories together. There is one memory in particular that Cinelli will always remember about living with Daley; the way he played video games.
"I go to bed pretty early and there'd be nights where I would go to bed as he was playing video games," Cinelli began to say,  "and wake up with him in the same position, still playing video games."
"Of course he went to bed, but I used to wake up late so it always seemed like he stayed in the same place," he said as he laughed.
"Living with your best friend for two years is pretty amazing."
To say wherever the two went, they were always together, is an understatement. They had been to Jet games two years in a row, concerts at Nikon Jones Beach to see Billboard Hot 100 Festival, and even trips down to the Hudson River with a fellow teammate and friend, John Young, a junior majoring in business management.
Young talks about the many practices he shared with Daley, as they always had the earlier practice times. The two would get up extra early for a Dunkin' Donuts run.
"No matter what day it was, there was always a Dunkin' run," Young said.
"And more than half the time, we were usually the only people in Dunkin' at 5:30 a.m.," he added as he spoke about many pictures of the two of them.
When Cinelli, Daley, and Young were stressed during school or baseball season, they found an escape route by heading down to the Hudson. There, they built a swing with a fellow teammate who transferred this past year.
"We always go there when we need to get away and just wanted to talk," Young said.
The two haven't gone down there since the semester started, but Cinelli says once they get settled in, they will start heading to the Hudson. This time with a deeper meaning.
"It's always been a spot where we just appreciate the time we have together," Cinelli said. "But now it's the spot we can go to, to remember him."