'A Beautiful Day'
October 6, 2016
Although the Sept. 11th terrorist attacks were the largest human-made disaster in U.S. history, there is little existing research documenting the attacks' consequences among those most directly affected, notably persons who were in the World Trade Center towers.
Data from a cross-sectional survey conducted two to three years after the attacks determined the occurrence of long-term, disaster-related post-traumatic stress symptoms and post-traumatic stress disorder (PTSD) in 3,271 civilians who evacuated both North and South W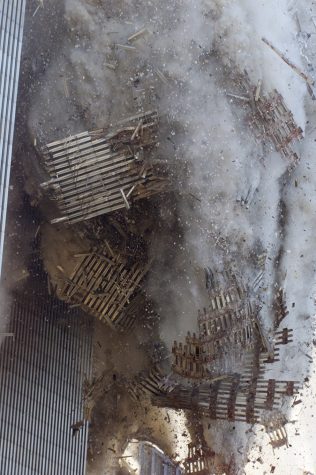 orld Trade Center towers. Overall, 95.6 percent of survivors reported at least one current post-traumatic stress symptom. Women and minorities were at an increased risk of PTSD.
PTSD is a psychiatric disorder that occurs after experiencing or witnessing events that threaten death or serious injury and that involves intense feelings of fear, helplessness, or horror.
Five characteristics of direct exposure to the terrorist attacks independently predicted PTSD: being on a high floor in the towers, initiating evacuation late, being caught in the dust cloud that resulted from the tower collapses, personally witnessing horror, and sustaining an injury.
The rates of 9/11-related PTSD declined over time, though research can't specifically say a time period. Those with the highest exposure burden experienced the worst mental health, according to Dr. Laura DiGrande, Division of Environmental Health, New York City Department of Health and Mental Hygiene.
***
It was a beautiful day, sunny without a cloud in sight.
Brian rode the ferry to work that day because the Holland Tunnel was completely backed up with traffic. He got to work at 8 a.m. and sat down at his desk on the 78th floor of the South Tower.
An hour later, he felt a rumble.
"The air conditioning in the office was turning on," he thought. "Wait, no. That is not the air conditioning turning on. The air conditioning unit must have exploded."
He continued with his work, certain that it was nothing serious.
Suddenly, thousands of papers began flying around the office. He looked outside and there too, papers were floating like snowflakes drifting from the sky.
People began panicking.
He stood up from his desk, grabbed his palm pilot, and walked to the office lobby to see what the commotion was all about.
Nothing.
He walked towards the elevator in attempt to go find out what the hectic worry was all for.
There were loud voices. He turned his head and watched as a human chain of women pushed themselves fiercely through the mobs of people on his floor, trying to get to the elevator.
The elevator doors opened.
There was chaos. Complete chaos inside the doors.
Elevator down, to ground one.
There were masses of people packed into the elevator that no one else could fit. But he made it in. The doors closed and the elevator moved downward.
Everyone was shrieking in complete panic and horror at the thought of not making it out alive.
"Why is everyone panicking?" Brian thought.
"Open the door! Push the door open!" someone yelled from inside the elevator. The doors opened and people hastily exited the elevator, pushing each other with no regard.
The security guards were standing outside
the elevator doors directing people in the calmest order possible. He looked to the left, then to the right. Again, there were thousands of pieces of paper still flying around. The lobby was going up in smoke. Dust and debris were everywhere.
Brian followed the security guard's orders and continued moving forward in everyone else's footsteps through a set of doors. There were yet again more security guards blocking certain routes, so everyone had no option but to go right.
He just kept following the crowd.
"Get out! Everybody out now!" officers yelled.
Now Brian wasn't so composed.
Something was wrong.
Panic. Desperation. Fear. Confusion. Memory loss.
It was indeed a beautiful day. A beautiful day for a terrorist attack.