'I Am A Survivor'
October 6, 2016
What is the definition of a survivor?
One definition says: "A person who continues to function or prosper in spite of opposition, hardships, or setbacks."
Another states: "A person who survives, especially a person remaining alive after an event in which others have died."
So how can one really define who survived Sept. 11?
Were the survivors just the people who were in the towers when the planes hit? Were survivors all the people who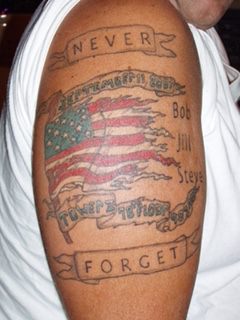 survived within fifty miles of the crash? Maybe survivors were those living in New York or Washington D.C. on the day of the Pentagon and Twin Tower attacks.
Or maybe a survivor is one thing and just being affected by terrorism is something else.
But ultimately, one cannot put such a distinct description on what a survivor is.
Brian is most definitely a survivor. Meryl is also without a doubt a survivor.
Any man or woman who made it out of those Twin Towers is the ultimate definition of a survivor. The families and friends they left behind, who mourn for them and miss their voices, they are survivors too.
**
Merryl told me to listen to a song called I am Woman.
She quoted the song while including her own lyrics: "I cry and in-between I roar."
Later she told me, "It's okay that I'm not okay." And of course, I agreed. "You're right. It is okay that you're not okay."
To quote I am Woman: "Yes, I am wise, but it's wisdom born of pain. Yes, I've paid the price, but look how much I've gained. If I have to, I can do anything. I am strong. I am invincible. I am woman."
"I am a survivor," Brian powerfully declares.
Merryl vigorously adds, "And I'm still surviving."