'One Word: Terrorism'
October 6, 2016
Merryl and Brian have coped with this tragedy in similar yet different ways.
Merryl tried group therapy. She made a commitment and said she would give it a try but never lived up to that commitment. She has her own way of coping, and speaking to interested people about her experience is how she moves forward.
Brian also feels that speaking to people and informing them of that damned day has helped him. He has also made a commitment to consistently volunteer at the September 11 museum every Sunday with Cyndi.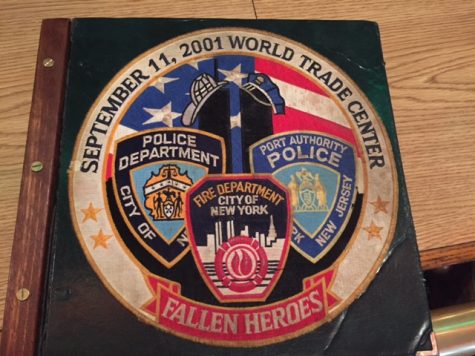 "What are you going to do? You have to move forward. You have to cope, and there's no wrong way to cope as long as it's not going to harm someone," Merryl states.
They realize it is a feeling that will never go away. The previous generation had Pearl Harbor. This generation has 9/11.
"When I think of Sept. 11, there's one word that comes to mind: Terrorism. I see Bin Laden's face," Merryl says.
Merryl's mother was in her older years, and knew she was going to die soon.
"My mother wouldn't allow herself to die. She held on for one reason: to watch Bin Laden get caught. She would not die in peace until she knew I could live in peace."
That day came on May 2 of 2011 when Merryl and her mother were watching the news. President Barack Obama went on air and told the world that Osama Bin Laden had been found and confined.
Later that night, Merryl's mother took her last breath.
**
To survive such a day is heroic to many of us who can't comprehend what it was really like.
"I feel like a celebrity sometimes because people are so curious about my life and how I survived," Merryl says, wishing she wasn't compared to anyone famous.
She doesn't want to be famous. Never did. She says she feels deteriorated now. But at the same time, she has changed, re-shaped herself and her life.
"I appreciate so much more in life like snow, flowers and smiling," she says to me in a light toned voice.
Merryl and Brian are at peace with the fact that they won't ever be the persons they used to be.
"It's okay to be who I am now," Brian says to me as his wife looks at him in agreement.
"I am very lucky to have been given these past fourteen years of life after 9/11. Yes, I still feel survivor guilt, and no, I am not as emotionally strong as I want to be," Merryl states. "But I'm fortunate to be here still. I'm fortunate to have survived."