On the Importance of Voting
November 20, 2020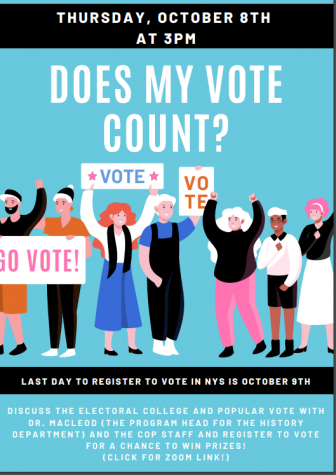 Even while enduring the pandemic, Mercy College continued to push young people to vote. Amongst other similar events during this election season, the school held a virtual Zoom event titled: "Why Does My Vote Count?" where History Program Director and Assistant History Professor Dr. Maureen MacLeod educated students about the importance of voting, both on a local and national scale.
Luis Rodriguez, a staff member at Mercy College, agreed about the importance of voting in all elections, not only presidential.
"Our votes count the most in the local elections. Media only covers the presidential elections, so I subscribe to email newsletters to receive my information," he said. "Otherwise, you have to rely on Google to see the different candidates and the policies they represent."
He feels that finding information about candidates is much more difficult on the local level because many of the elections can seem predetermined. For example, there might be no one running against a judge this year in Dobbs Ferry, making his race to victory a shoo-in win.
Presidential elections are always fact-checked, while local elections don't necessarily have the resources for fact-checking.
"Candidates can say anything. How do we know what we're finding online is factual or not?" Rodriguez asked. "That is daunting for many young candidates in picking the right person to vote for."
For young people who share this point of view: unsure if candidates' information is factual and what their plans are, there is a website called www.vote411.org. This site is dedicated to giving people all the information they might need about voting on every governmental level, as well as insightful breakdowns of candidate policies and plans.
MacLeod explained the importance of young voters exercising their rights.
"One issue that is not focused on enough is that if everyone, 18 to 40, voted, they would decide every election because of the sheer size of that population. It's amazing to think about," she explained.
As a historian, she often looks back and wonders how changes are made. She firmly believes that unless people voice their wants and needs, change will seldom be possible.
"You must remember that your vote will allow for things to change. It has to start at the local level and work its way up," MacLeod said. "You have to be vocal and you have to represent what you want. You can't just complain. Nothing happens when you complain."