Early Thanksgiving Day, 'Chuseok'
From Sept. 18 to 22, was Korean Thanksgiving Day, 'Chuseok'. Chuseok falls on August 15th by the lunar calendar and is the biggest national holiday in Korea. Every 'Chuseok', relatives living far gather at the house of the eldest son of a family and they make different kind of food and eat together.
Before coming 'Chuseok', there is a huge migration of people as well as parcels. The en masse migration has begun to visit hometowns and numberless parcels have delivered to send as a present from places to places. All the bus or train tickets have already been sold. Traffic congestion is unbelievable as Korean's desire to get to their hometown. It takes maybe double time or more than usual.
What kind of food do Korean eat during 'Chuseok'? There are countless numbers of food at 'Chuseok'! 'Chuseok' is day for food! Especially, 'Songpyun' made of rice flour, honey, and bean is the special food that Koreans eat on 'Chuseok'. Korean also make diverse 'jeon'; pancake and noodle dish. After making dishes, they have a memorial ceremony for ancestors wearing 'Hanbok', traditional Korean clothes.
Usually, 'Chuseok' lasts for about a week. Therefore, students and workers have a long holiday. During Chuseok', Koreans gather around together and have a friendly talk with relatives after a long time. They take a rest at home or enjoy watching special TV programs for 'Chuseok'. There are more and more people going to a movie or traveling abroad during the long holiday without following custom. They do not have a memorial ceremony for ancestors or make traditional food. They just eat and enjoy their vacation!
Tradition about 'Chuseok' is changing. These trends would be become different in the future. Now, 'Chuseok' means more than just a national holiday in Korea that gathered all families and ate harvested food together.
Leave a Comment
About the Contributor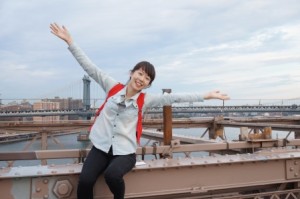 Jung Hyun-Jung, Impact Staff
"Jenny" Hyun-Jung is an exchange student from Yonsei Univ. in South Korea. She majors in Korean Language and Literature and she is highly interested in...