Face to Face With My Driving Force
I first entered the transfer portal in the fall of 2018. I was barely halfway through my first semester at Salisbury University when I made the decision to leave. The decision that led me to four schools in four years. The decision was mine to make, but it was also essentially made for me.
Salisbury lacrosse head coach Jim Berkman is a legend in the world of lacrosse. Since taking over the Sea Gulls in 1989, he has led the program to 12 Division III national championships, and has amassed almost 600 career victories, the most of any college lacrosse coach at any level.
This is the man that I sat down with in the middle of my junior year of high school in his office at the university. This is the man who offered me a spot to join the storied history of the Salisbury lacrosse team. When he offered me a spot, he only made me one promise: if I came to Salisbury, I would win a national championship. Every single player who had suited up for Berkman had won one to that point, and I could be on that next team.
I had three days to decide before the offer was off the table. I didn't hesitate. I committed in two.
I have detailed my Salisbury experience in the very first column that I ever wrote for The Impact. I underperformed on the field tremendously. My grades were the lowest that they had ever been in my life. I was incredibly unhappy. There were lots of reasons for my struggles. First year jitters. Homesickness. A girlfriend back home.
However, Coach Berkman heavily contributed to my unhappiness.
He made me attempt to lose thirty pounds in one month, a feat that I accomplished by not eating and wearing two sweatshirts every day. Of course I wasn't going to play well. Of course I was going to be maybe a little bit, I don't know, unhappy?
The lacrosse fall ball schedule ran to the first week of November, where Coach Berkman met with all of his players to discuss his thoughts on our performances and his expectations for the upcoming season. He didn't see much from me.
Sitting in his office full of trophies, championship rings, and photos with some of the games best, Berkman gave me some very truthful feedback.
"Zack, I have to say that I'm pretty disappointed in what we saw from you this fall. You were out of shape, you weren't physical, you never opened your mouth on defense. You were not what I thought you'd be when we offered you. I'm not going to cut you today, but I need to be honest with you when I say that I don't think you will ever play for me in the next four years. I think it'd be best if you looked at other potential schools."
Berkman didn't cut me that day. He may as well have. Perhaps it was a challenge to me to perform better. My 18 year-old brain didn't see it quite like that. It felt like this coach, who was a legend in the sport that I loved, who was one of the first people to extend to me a college offer, didn't have any type of faith in me.
So, I entered the portal. The first of three times. I settled on Onondaga Community College. I was excited to try again at a school that was legendary in it's own right, and a school that had produced a number of Division I lacrosse players.
As that first semester wound down, I packed up my dorm room knowing I wouldn't be back. I put everything in my car and drove over to Berkman's office one last time to inform him of my plans, as he had said he was curious to know.
I sat back down in his office, and told him with great confidence that I was going to be a Lazer.
"Really? You'll never play there."
I blacked out after that.
First, you tell me I'm not good enough to be here. Fine. I'll get over it.
But now, you decided to get one last jab in?
I've had coaches push me before, in both positive and negative fashions. I've never received a push quite like this. I wasn't upset or sad anymore that my first college didn't work out.
Now, I'm angry. Now, I'm pissed off. Now, I'm going to show you what type of talent you're letting walk out this door.
Five years later, I'm sitting at a lacrosse game at Montclair State University. Salisbury and Coach Berkman came into the game ranked number two in the nation (still just as successful as always). They roll over Montclair State 27-7 in very easy fashion. As the game concludes, I begin to walk over to the entrance where the players will be walking by.
I'm there at the game to catch up with my freshman year roommate, a kid that I've kept in touch with since I left Salisbury in 2018. As I wait for him and a few other old friends to exit their locker room, Coach Berkman walks over towards me, hand stretched out, with a confused look on his face.
"You look familiar," he says to me. "How do I know you?"
"Hey coach. My name is Zack Higgins. I played for you a long time ago. I came back down to see some of the guys."
"Oh yes! How's everything going?"
We engaged in small talk for a few minutes. We talked about the game he had just coached. We talked about Mercy and our lacrosse team here. We talked about a few common friends. He then wished me luck, and walked away.
I had often thought about what it would be like to talk to Coach Berkman again. I had envisioned it countless times. Most of these encounters had me finishing it with a punch to his face.
I had such anger towards this man. It had waned in recent years. But in the beginning of my transfer portal days, that hate towards him was strong and everlasting.
Instead of angry shouting, our conversation was actually pleasant. But it had me thinking the entire drive back to Dobbs Ferry, and the next few days after.
I had used Coach Berkman's words as fuel for years. I'm not good enough? I'll show you that I am.
His last words to me pushed me to work extra hard on the field, in the gym, and in the classroom. I might be tired, but Berkman thinks that I suck. I need to do extra sprints. My stick is pretty good right now, but Berkman doesn't think I'll every play. I need to go do some extra wall-ball.
I hung onto every last word as if it were scripture. During my time at Onondaga and at the University of Hartford, I had taped the cuffs of my gloves, and wrote three letters on the pieces of tape, FJB (I'll let everyone figure that acronym out for themselves). I had envisioned proving him wrong at every turn, showing him that the player he recruited in 2017 was still here breathing. In fact, he was thriving.
I was doing things that he told me I wouldn't. I became a starter at Onondaga day one on campus. I became a captain at Onondaga. I had went Division I. I had played at every single level of lacrosse with varying degrees of success, but success nonetheless.
And when he saw me, he had no clue who I was. And it makes sense.
He was such a big influence on my athletic career, but he has that impact on countless lacrosse players. I'm sure I'm not the first player he spoke these words to. I probably wasn't the last either. It's not surprising that he wouldn't know me.
Thinking back to our conversation. I almost wish I could've thanked him. I would've thanked him for pushing me to be the lacrosse player I am today, and the person I am today. Whether he realized it or not, he helped me tremendously. I had become comfortable with that fact over the past few years, and it is very clear now.
There is one more thing I wish I could've told my old coach, however. When I sat in his office as a wide-eyed, 17 year old kid, he told me I would win a national championship. He was right. I have played in two national championships, and I have in fact won one.
But how many national championships has Coach Berkman won since I first arrived on campus?
As many Super Bowls the Jets have won since 1969.
Leave a Comment
About the Contributor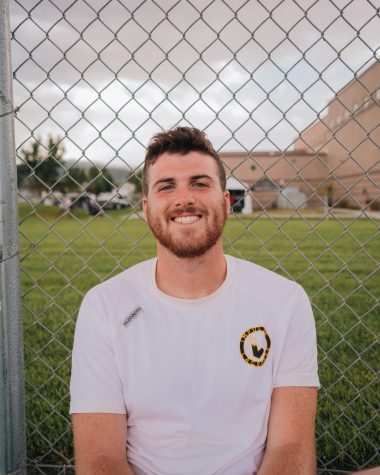 Zack Higgins, Impact Staff
Zack Higgins is a 5th year Media Studies major at Mercy College.  He is a previous student of Salisbury University, Onondaga Community College, and the...