2023 NFL Group Mock Draft
Follow along as the Impact staff debate on the prospects that are projected in the first round entering this year's draft class.
The Impact staff writers take on the 2023 NFL Draft. Andrew Kim, Zack Higgins, and Kris Torres cover their collective mock draft and discuss the NFL teams picking in the first round.
*Mock Draft was done prior to the Aaron Rodgers trade.
1. Carolina Panthers- Bryce Young, QB, Alabama
Kris- "Under pressure, Young's so calm, he will have four guys right in front of his face and still throw an accurate strike down the field, it is Mahomes-like."
Zack- "Bryce Young is small in height like Kyler Murray but Murray is a bit sturdier. The favorable comparison for him is the Drew Brees with his body archetype but regardless, he's my top quarterback in this class."
Andrew- "He's pretty much been the best college football player the last two years and has the combination of having the safest floor but close enough to having the highest upside."
2. Houston Texans- C.J. Stroud, QB, Ohio State
Kris- "You have to take a quarterback if you are the Texans and I know they are thinking about taking defense and I understand there are really good defensive players, but at the end of the day, you have Davis Mills as your starting quarterback. Are you really expecting a new head coach to win and grow with Davis Mills? If it was me, I would take C.J. Stroud, he's my guy."
Zack- " With the Alabama connections, DeMeco Ryan's preferred guy is probably Young but with him taken, it makes complete sense to go with another Alabama player here on defense with Anderson. With the sake of no trades and picking here in this scenario, Stroud should be their guy."
Andrew- "If it is not Anderson here and if they decide not to take Levis with their second first-round pick, it should be Stroud. I don't buy the hype of Levis over Stroud personally."
3. Arizona Cardinals- Will Anderson Jr., ED, Alabama
Kris- "If they stick and pick here, I think the Cardinals want Will Anderson if he is still available to replace retired J.J. Watt."
Zack- "They need so much more than one guy for the defense so I could see another team trading up for a quarterback, but if Anderson is still on the board then he's the pick."
Andrew- "Surprisingly, Alabama could've had more production out of Anderson if he was lined up in a traditional 3-4 edge rusher role. But for the Cardinals, he can do what he is good at and that is getting after the quarterback."
4. Indianapolis Colts- Anthony Richardson, QB, Florida
Kris- "You have to take Richardson here, he is a freak of nature and similar to Cam Newton or Josh Allen but faster. He does have to improve his accuracy but we have seen it with Allen if he has the same work ethic."
Zack- "Richardson, no question. You can do a lot more with him and with Gardner Minshew, you don't have to play him right away but his ceiling is the highest in the entire class. The guy's athleticism is off the charts and with a rookie head coach, you can stash him and wait till he's ready."
Andrew- "His floor is pretty high since we can do a lot of mobile stuff right away and in terms of pocket presence, I think that trait is underrated for him because Anthony Richardson was one of the least sacked quarterbacks in college football last year."
5. Seattle Seahawks- Jalen Carter, DL, Georgia
Kris- "I would definitely trust him in that scene in Seattle with their culture and they would do a good job at developing him. It wouldn't be a bad pick since they don't have any impactful defensive tackles and Carter, talent-wise, is safer and an ideal fit for them (off-field issues aside)."
Zack- "If Jalen Carter is there at five, 99% chance they take him at that spot because they do have some young edge guys that can do it already (like Uchenna Nwosu and Boye Mafe) and Carter is too good for Pete Carroll to pass up."
Andrew- "I don't see him falling out of the top ten and it's harder to find interior pressure than edge pressure so taking Carter here for the Seahawks makes sense."
6. Detroit Lions- Devon Witherspoon, CB, Illinois
Kris- "I got them taking Devon Witherspoon since they just traded Jeff Okudah and Witherspoon is a can't-miss prospect and is an absolute beast as my top-ranked corner, reminds me of Jalen Ramsey. He will literally put his nose down and make the dirty hits and will get into the run game as a corner, that is what you love to see. He's versatile, can play inside and outside, and is shut down."
Zack- "Whether it is Witherspoon or Gonzalez, Detroit can take a cornerback here and get an edge rusher later with their second first-round pick."
Andrew- "Witherspoon's feistiness may fit what Dan Campbell is looking for in his defense for the Lions."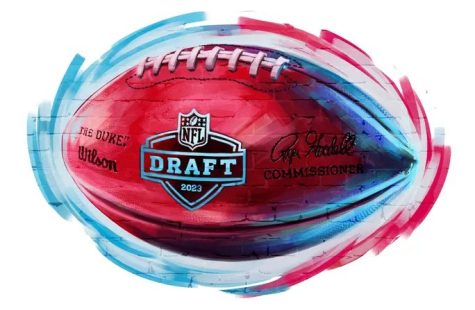 7. Las Vegas Raiders- Christian Gonzalez, CB, Oregon
Kris- "I would take either Christian Gonzalez or Witherspoon and even if Gonzalez is my second-ranked corner, they need to address this need since they don't have anyone competent at cornerback.
Zack- "Nate Hobbs is their only legitimate cornerback for Vegas so my top corner in Gonzalez makes sense on the outside for them as a smooth technician in coverage."
Andrew- "I think if Witherspoon goes, then Gonzalez makes sense for the Raiders."
8. Atlanta Falcons- Tyree Wilson, ED, Texas Tech
Kris- "You can't pass on Tyree Wilson here, even if Myles Murphy or Nolan Smith could be in contention."
Zack- "Wilson is a bit bigger than Nolan Smith and overall, is the best edge rusher off the board."
Andrew- "Atlanta needs edge help, so Wilson makes sense and the versatile pass rusher can play anywhere along the Falcon's defensive line."
9. Chicago Bears- Peter Skoronski, T, Northwestern
Kris- "I think they go with Skoronski since the Bears would be familiar with him (Northwestern) and he can play on the inside and be a really good guard. But if they needed him to, he could play tackle. Skoronski gets dirty in the run game with the Bear's run-heavy offense with Fields, it might be a better fit than Paris Johnson."
Zack- "Skoronski's projection is an all-pro or pro bowl guard to high caliber solid right tackle, so he isn't a player you pass on, especially with the troubles that Chicago has had with their offensive line."
Andrew- "Even though there are other tackles that might be interesting, like Paris Johnson and Broderick Jones, Skoronski makes sense here with his versatility."
To see the rest of the pick analysis for the first of the 2023 NFL Group Mock Draft, the podcast and video are attached below. It is almost the best time of the year for NFL fans with the 2023 NFL Draft taking place this Thursday night, as 259 total collegiate players will get drafted into the pros.
Leave a Comment