Legend of the White Dragon : Propelling and Compelling Passion Project
From Pitching Meeting to Pioneering
A man committed not just to the craft but to a community of fans for decades of his life. As a young man, he was the breakout star of a franchise that would go through multiple transitions that recurring character. He contributed to stories being told and gave his own concepts.
Jason David Frank was one of the original six Power Rangers. JDF, as many people called him, had his insight into what fans wanted and followed through with it. Years ago, he wanted to add weight originally to world fans knew and made a completely new one for them. The Legend of The White Dragon.
For those unfamiliar with or have outgrown the franchise, the premise is that a team of teenagers or young adults are brought together to transform and fight creatures. All while using martial arts, robot stock footage, and their attitude. It's childish, with an edge of seriousness and deeper themes in certain eras of the franchise.
His character Tommy Oliver was the breakout star of the original campy Mighty Morphing Power Rangers. And he was good to his fan base when the industry wasn't the best to its staff. Teaching people off and on-screen with his skill set and his empathy. It was like this when he began, and he was new to all of it, then he kept coming back as someone more knowledgeable.
As a veteran of the franchise butting heads with the industry, the shifting companies that held the brand as he pitched ideas and refused themes.  Those ideas would be used in part as the basis and inspiration for other products the franchise would have later on that were widely successful. The retirement of his character Tommy Oliver, and then the dark variation of said character known as Lord Drakkon. The latter is a very successful and stunning comic storyline. It can be argued, but it is true the movie, at least the very soul of it, was ten years in the making. The concept art they've shared has been translated and retexturized for the upcoming film. That original concept had him play his familiar role, returning desperately to fight a new evil with a revived power source. It's possible that the journey in Legend of the White Dragon will be similar to his last character  Erik Reed reuniting with and reigniting his lost power. Named after his own late brother.
I wasn't old enough to know him from the original show or one fan lucky enough to meet him at a convention, but I watched the legacy season Dino Thunder that marked his return while repeating his backstory. And that led me to watch the prior seasons and the following ones. I worked in reverse after that for a while to see his prior roles and colors. Seeing the small cameos and comebacks he had in a few battle scenes.
This is the pitch, this is just the word of a fan taking cues from other fans and someone with a great deal of respect. I wasn't there at the start, I fell in love, not with a franchise but with a legacy. I'm looking into his poetry, MMA career, and the Karate schools he maintained. I know what else he did do in his life that spoke to people I've listened to the words of those who did grow up watching the original show, who will vouch for JDF inspiring them for years. Seen and gone through the official social media pages for the film. While also looking over those who pledged to the film while it was crowdfunding.
He passed last November but finished one project that plays homage but not in real relation to the material he was known for. The Legend of the White Dragon is a full-length feature film that bore no restriction to the franchise's limits. There are truths and subjects that would never be officially recognized.
He did manage to pay homage to the role he officially retired from before passing in the upcoming film The Legend of the White Dragon. The costumes which were visible in the trailer reference the roles he left behind and the franchise. But it has been expressed sternly that this is not the same character he would be playing. He would portray Erik Reed as a man who protected his city until a colossal and tragic battle forced him into exile.
His team and his friends also fall into disgrace as fugitives, eventually pulling him back into the role of the White Dragon to fight new and old evils.
He did pull in several actors from the Power Rangers Franchise to join him in his project from varying seasons. Some appealed to certain generations of fans as their favorite or introductory season, and some as their least favorite seasons. I was surprised to see two actors associated with this project come from opposite sides of the spectrum regarding quality, for my preference.
Originally the movie was going to be a crowd-funded mini-series, but the original campaign wasn't successful. The second campaign did better, allowing them to shift the project into a full-length feature film to be in select theatersThey continued promoting their film with enthusiasm and emotion. Posting on social media to a certain point before promising more information would be released closer to the film's release date. They promised the release date for the film would be special, so it would be released on September 4, 2023, which would've been Jason's 50th birthday.
But Jason David Frank did not collaborate with colleagues, he worked with family and friends. Bat in the Sun is an independent production company famous for its self-contained audio and film work. One of the filmmakers and creators of Bat in the Sun, Aaron Schoenke, a close friend of Jason, is also playing the film's villain, Dragon Prime. He posted on Bat in the Sun and the Legend of the White Dragon's official media pages to explain the film's progress and developments.
They've worked with official material for short mini-series and created acclaimed fan films touching certain properties' comical and darker themes. " You can't do that on Power Rangers." During the film's Power Morphincon. convention panel of 2022, he commented on a showcased clip showing one of the film's villains, Dragon Prime burning a man from the inside out after demanding answers.
Like me, others will be surprised by the cast members in the film, Mayling NG, Michael Madsen, Kingbach, David Ramsey, and Mark Dacascos. His daughter Jenna will also have a starring role in the movie.
I plan to find one of those select theaters and see a "mature take on the Power Rangers franchise."
With its own room to grow and possible sequels in other mediums, it has its promise. I want to see the weight the film carries, the stunning surprises they've promised. As an actor, he had such an impact as the stranger that shaped childhoods, and now he's the man who left something new for those in adulthood.
Leave a Comment
About the Contributor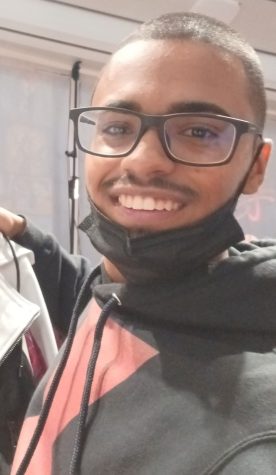 Edwin Gonzalez, Impact Staff
Edwin Gonzalez is a Senior Media Major. Trying to shift from creative and essay writing to entertainment writing and reporting.  He writes under  Empathic...