CW's Gotham Knights Deserves a Chance
People have hated the CW's latest teen superhero drama Gotham Knights since it was announced last May. And not a single episode of the show has dropped yet. 
Admittedly it is a Batman show without Batman, a show about his legacy. When Batman dies, his adopted son and others are blamed, so they fight for the city and try to clear their names. The show will be released on the CW on March 14, 2023. But the nitpicking arrived early, so I will mention why it shouldn't matter. 
Many have become bitter online when any promotional material for Gotham Knights is dropped.
Specific material to highlight or excite the show is immediately slammed or torn down. The trailers and promos barely get views, and the original trailer does get more negative comments. Many people don't know it's coming out or thought the project was scrapped long ago.  
It's fair to say that a costume looks awful or nothing like the source material. The costume department has been heavily criticized. I will agree with one costume, but I was happy with another for an antagonist.
Cosplay at its best is sometimes better than what's on the screen, and people brag about it. That's their point, but do you want them to be right when someone gets so obnoxious about it? Everyone works with their constraints and puts their costume together, from this production to somebody just making a small post. 
There's a bias, stigma, and a bitter taste behind the preemptive hatred. The parent company behind it tried a similar idea, and that show had mixed results and drama.
Batwoman, however, was a show like any other that had its up and down. It wasn't perfect, and it was trying to gather more potential. Their interpretation of certain characters fell flat and was frustrating.
Many recent projects with Batman or the supporting cast connected to him have used similar ideas. It also shares the name and other traits of the game with its hostile reception. That Gotham Knights is also using the same villain. 
The network and parent company have gone through transitions that have canceled other shows people loved. People think the wrong project was saved when it should have been scrapped. They've made mistakes and some gems. The very name of the network and its genre of teen shows have been used as a term for degradation.
The CW is not something people call good hands for some properties. 
Here's the thing: the show with the exact premiere date as Superman and Lois was hated before its arrival and critically claimed in the present.
That show is in its third season, with at least one or two more seasons potentially coming afterward. The comments were venomous and shallow before the show stunned audiences. Claiming it captured the characters better than other efforts like the movies and even the comics.   
Not many YouTube personalities or channels have said anything nice about it but did discuss it. People are seeking to hate watching it or telling people not to hate watching it. They want to eliminate any chance that it could be renewed.
I fell into that mindset for something else and did everything I could to miss out on one movie. I liked it, and people pointed that out to me. I don't want to listen to reviews or word of mouth. I want to judge it for what it does. I don't want to be hostile or part of a toxic fandom. 
One thing that stood out to me was someone hating on the characters and not knowing their significance. Assuming that most of the characters were made up for the show and just familiar with more famous characters.
This show uses supporting characters and members of the Bat Family and foes. Batman and Robin are roles that have a few different characters taken up. There are plenty of others that haven't had that much or any screen time at all.
One character set to appear is Duela, the "Joker's Daughter," who debuted in the comics nearly fifty years ago. Her actress Olivia Rose Keegan jumped from High School Musical: the Musical: the Series of all places. Going from the role of a musical rival to a disturbed yet skilled character. There's also the Row siblings set to appear from a recent era of comics.  Portrayed by Tyler DiChiara and Fallon Smythe.
But another person they were complaining about, Carrie Kelly, was featured in one of the most critically acclaimed Batman comics, Frank Miller's The Dark Knight Returns. She's Robin of that story but won't be just like the source material.
These projects usually combine a few character traits. And they changed the race of the character Carrie Kelly, who is white in the comic. Her actress Navia Robinson is African American. It's not that big a deal, they swap the race but try to keep true to the character.  To my knowledge, she'll be the first Robin for this show's continuity. 
And the main character portrayed by Oscar Morgan is Batman's adopted son, one made for the show. None of the five adopted sons from the comic are being used for the show. 
Here's the thing when most of them were first introduced, fans hated them, and some still are hated in the present. I think it's ironic and pretty funny. And he seems like he'll be a lot like them. Or at least parts of them. A similar approach was done for the Dark Knight Trilogy with that 'Robin.' 
I will watch the show when it airs later this month. I may love it. I may hate it. But I will give it a chance. I might ignore or indulge it from that point on. Many projects won't come out for a while, so it'll be there. 
Leave a Comment
About the Contributor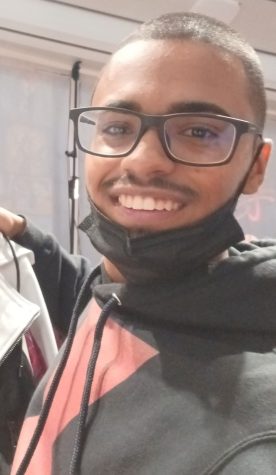 Edwin Gonzalez, Impact Staff
Edwin Gonzalez is a Senior Media Major. Trying to shift from creative and essay writing to entertainment writing and reporting.  He writes under  Empathic...