'Impractical Jokers' Vulcano Transforms Lecture Hall Into Comedy Club
Sal Vulcano flew off the streets of New York City and entered the northern realm of Dobbs Ferry.
On Dec. 1, one of the stars of Tru TV's Impractical Jokers arrived to spread laughs to students and staff throughout Mercy College's Lecture Hall.
Vulcano, one of four of the comedy troupe, The Tenderloins. created a huge buzz in the Maverick community when Student Life announced the event only a week earlier on Mercy's official website.
Vulcano has been known for engaging in outrageous pranks amongst the general public of New York City alongside his longtime friends from high school in Staten Island, New York, Joseph "Joe" Gatto, James "Murr" Murray, and Brian "Q" Quinn.
Impractical Jokers has been highly successful and has recently been announced that it is set to air its eighth season in 2018.
The show started off with the Student Government Association thanking everyone for attending and introducing Vulcano's opening act, Paul Virzi.
Virzi himself as another longtime friend of Sal's. Virzi is not a part of Impractical Jokers but proved himself worthy of audience attention.
A resident of Westchester himself Virzi mentioned how the crowd "booed" the announcer when they hoped Vulcano was finally coming out on stage. His first impression of Mercy was off to a surprising start because of it, he joked. He also spoke of his weight loss journey of losing 20 pounds in a comedic way by saying it was depression after the audience clapped supportingly. He also joked how he was glad to be at Mercy on a Friday night so he won't have to come home early to his two children.
Although Vulcano arrived solo, Mercy College students settled on the fact that he's still the same, unfiltered Sal as on television.
Vulcano poked fun on the topics of marriage and personal memories. During one bit he mentioned his uproarious experiences after taking two five hour energy shots combined with alcohol in the event that he had to go out with a friend on a Friday night. He went on to explain that rode a 5-star Uber that night, but then felt completely guilty after drunkenly rating the man with 1 star and believed it was his fault the driver won't have the proper funds to provide for his family.
"It's me, 4 a.m. in the middle of the street, alone just yelling 'Stars count! Stars count!' just screaming at the moon," shared Vulcano.
Vulcano also went on to share a story he hasn't told in years just specifically for the enjoyment of Mery College students. The story of Stacy Woo included Vulcano's experience of when he received a delivery of the wrong package with Woo's name and wanted to jokingly create a ransom note in exchange for her pants. Vulcano goes on to explain how this was an act of boredom and sends pictures of himself in the tight, silk, pants with a ski mask over his head to make it look as believable as possible.
He mentioned how the only outcome he wanted from the comedic situation besides some laughs was jars of peanut butter. Afterwards, stated in the ransom emails, she was to take police action because of harassment, but it didn't fall through. Ultimately without seeing each other face to face this whole time, Vulcano comes to find out she was the girlfriend of the superintendent of his building (gives him the pants) and meets her a year later asking for his missing peanut butter.
Hilariously, Vulcano brought large, blown out pictures of the ones he sent in the ransom note, and let's just say the room ignited with uncontrollable laughter.
Vulcano also brought attention to his heritage by explaining that as proud as he is to be Italian, he is only 50 percent. He was proud to announce that he is also 25 percent Puerto Rican and 25 percent Cuban, and went on to recall a memory of his hispanic grandparents' obsession with moth balls.
Vulcano's arrival at Mercy's suburban campus was of itself a surprise since most comedians tend to stray from college appearances.
The event time was set for 7 p.m. and was originally supposed to take place in the Rotunda, but under Vulcano's wishes, he chose the lecture hall because he wanted a more intimate experience among attendees.
Many students began queuing for Vulcano hours before the event. Mercy College Junior, Chloe Gelormino, was one of the first ones in line.
"Me, my roommate and two of our friends, were waiting outside of the door since like 5 p.m. It was insane. I'm glad I live on campus," said Gelormino.
Many students who were not originally queuing alongside Gerlormino and other dedicated fans decided to take matters into their own hands before the start of the event. Some students decided to leave their belongings in the front rows of Lecture Hall to ensure a sharp view of Vulcano.
Gelormino found this to be slightly unfair as she had been waiting patiently on the line only end up in the fifth row.
"I wasn't going to say anything because it's not that big of a deal. I'm just glad I got to see Sal, I'm such a fan," said Gelormino.
Assistant Director of Student Life, Railyn Pou, believed that the Student Government Association handled crowd control very well and said they were invested in making sure the general population had a good time.
"Some student volunteers or those with special accommodations were allowed to be seated in the front row, others who were not part of either category were asked to sit elsewhere," stated Pou.
Student Government Association President, Nicoll Baez stated that they want to have a more visible and grand presence on campus, and by having events like Vulcano's is just the first step.
Baez noted that the entire association was excited that the turnout was as large as they had hoped.
" I'm so glad everyone enjoyed it, and we look forward to having more events like this next semester," said Baez.
Student Life and Assesment Specialist, Louis Cameron, believes this event was as successful as they wanted because it was student driven.
"If we had to do this event again we would definitely host it in a larger venue and limit one guest per student to maximize space," said Cameron.
At the end of each semester in preparation for the following one, the Office of Student Life asks club leaders to provide them with a list of events they hope to conduct. Among other events SGA submitted, the group was passionate about bringing a comedian to campus. Former SGA Treasurer Smith Bricker introduced the possibility of Sal Vulcano to the Executive Director of Student Life, Felipe Henao. Bricker's connection to Vulcano's agent made for smooth sailing in Vulcano's appearance on campus.
All student ideas and suggestions are welcomed anytime in person to any of our campus locations or via email to [email protected].
Leave a Comment
About the Contributor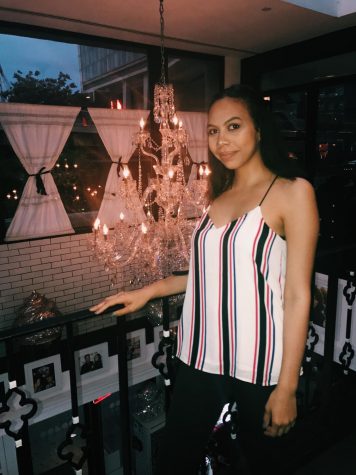 Nicole Acosta, Managing Editor
Nicole is from The Bronx and is a journalism major at Mercy College. Her hobbies include discovering new places to eat on a budget, photography, listening...