Wess Meets West Breaks Borders As They Sign With UK Label
A vast landscape of sound opens up, echoing and rolling through smooth melodies and ambient tones. Rising and falling freely over waves of raw emotion are the guitar lines and subtle electronic elements, all coming together to create a piece of art that speaks so loudly through only the instruments and sparse voices of the musicians.
If you've ever dipped your toes in the local music scene at Mercy College, you've probably heard about post-rock band Wess Meets West– or just 'Wess' for short.
Sam Stauff is the Studio Manager of the Mercy Music Industry and Technology (MTEC) Program, occasional professor, alumni, and mastermind/guitarist behind the mostly instrumental group. He is joined by alumni Andy Porta on drums, and friends Erick Alfisi on bass and Nick Robinson on guitar. Recently introduced to the band's lineup is current student and keyboardist Justin Krass.
The band hopes to extend their reach across the globe with the help of their United Kingdom based label, Hassle Records, which they recently had the pleasure of signing to. This label is also the overseas home to ex-My Chemical Romance rocker Frank Iero, and has represented bands like Attack! Attack!, City and Colour, Say Anything, and Senses Fail.
The label has supported post-rock bands in the past, but right now Wess Meets West is solely representing the genre on Hassle. This fact doesn't concern them, though. Stauff says, "I like being the only post-rock band on the label. It makes us stand out."
Hassle's role will be helping the band's vast catalogue of songs be placed in television and film, as well as representing their music across Europe, Asia, and Australia, while the band continues to independently manage their own work in the States.
Getting along with Hassle Records, though, hasn't been a hassle at all. "They're very supportive of what we do. They've never asked us to change what we do musically, Stauff says while talking about his interactions with the label. "We're excited to see where it goes from here."
The label will be assisting them with the overseas release of their new album, A Light Within the Fracture, which will come out in the US on April 6, 2018.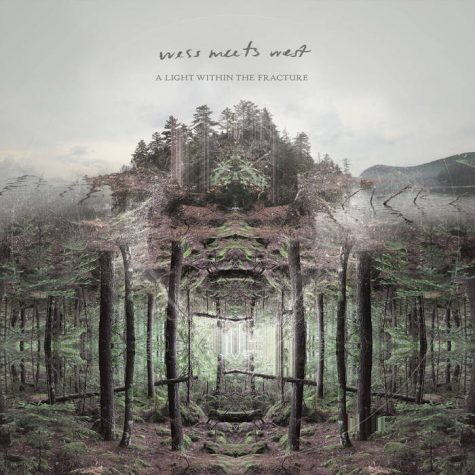 Stauff says that for this record, the band took their time in order to write some of the best songs they could possibly write. This record features more writing from each member of the band than they've had in the past, and every member has taken their time to ensure that the end product is their best work. They had spent a year writing, a year recording, and another six months promoting and preparing to release it.
"I think we were exploring a lot of new ideas melodically. We've done both ambient and heavy stuff, so now we're just pushing those borders," Stauff shares.
He says that this record contains both the heaviest and most calm moments Wess Meets West has ever had, and they worked to make these moments clear and concise without getting rid of the wondrous landscapes created by more lengthy songs. Among these moments are spoken-word pieces, which is a new concept for Wess to explore.
The band spent some time together writing songs in a cabin in Maine during the winter. A lot of the new album takes energy from their time there, the landscape influencing a lot of the melodic and thematic ideas of the songs like it often does for Wess.
The visuals for the band are done by Robinson, and the rest of Wess Meets West gives him full creative authority. The artwork on the singles and album came from photographs Robinson took while in the woods of Vermont, and the artistic direction for the record then centered around those images.
The music video for their first single, "Direct Experience," also features beautiful drone-shots above the trees of the Hudson Valley intertwined with an array of characters seeming to be stuck in a "Groundhog Day"-esque time lapse, waking up in the woods, alone, not knowing how they got there.
Stauff says, "The music video was kind of a happy accident. We needed to get something done really quickly, and the woods happened to be really close."
The video was filmed on the Aqueduct trail right outside of Mercy College Dobbs Ferry Campus, and the actors in the video were all music students that happened to be around to help out that day.
Humbly originating from a class project over 10 years ago, the band has been slowly but surely making waves across New England and the world in the time they've spent together.
Stauff recalls the beginnings of the band, saying that he started making music as Wess Meets West as part of his Electronic Music and Audio Recording classes as an MTEC student at Mercy. It was a way for him to practice recording and creating, and he would turn the songs in as coursework and post them on MySpace.
Wess Meets West as a band, though, began gaining traction a few years later, with the addition of Erick Alfisi on bass.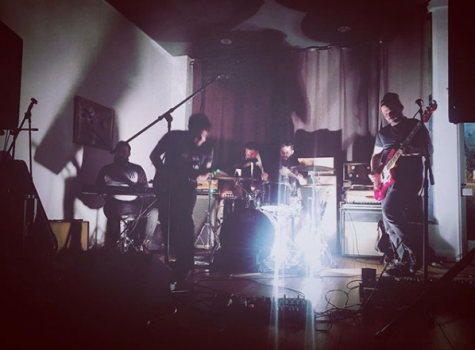 "I was in many bands in Connecticut, including The Morning After and My Holy Ghost, and they were doing pretty well, so Wess was always a side project," says Stauff. "Eventually those bands died out and this became the main focus."
They put out their first full-length album, Chevaliers, in November of 2011. After going though a few great drummers over the years, fellow Mercy student Andy Porta contacted the band and asked to audition.
"I kinda laughed at him because we didn't really do try-outs, but we decided to start jamming and if it worked out, he could be in the band," Stauff remembers. "It obviously worked out really well– Andy is one of the greatest drummers and engineers I know, and such a great person."
Around the time of their second album, When the Structures Fail Us, Nick Robinson had heard thorough friends in New Haven, the band's hometown, that they were looking for a new guitarist. He emailed the band, and joined them as guitarist and graphic designer.
In the time after, the band had a chance to perform on Audiotree Live in Chicago, as well as being placed on a Spotify playlist and racking in over 4 million listens. They continue to record and play shows, and are preparing to release A Light Within the Fracture at the beginning of April.
Although often credited as the brainchild of Stauff, the other members of the band play an integral part in the success of Wess. Each member contributes in their own way: Robinson taking charge of graphic design and visuals, Porta doing a lot of the show booking, Alfisi assisting with writing and management tasks, along with Stauff taking care of the equipment.
"We're all songwriters, so we all bring music to the band," shares Stauff.
From an outsider's view, instrumental rock may appear to be quite a unique and niche genre to get into. A strong following came about in the past decade with help from widely popular bands such as Sigur Ros and Godspeed You! Black Emperor, and the local scene tends to be supported by musicians and listeners alike. Despite the local support, there are still many challenges to creating instrumental music.
Keyboardist Justin Krass shares, "A challenge is keeping the listener interested the whole time. There are no vocals in our music, or very limited vocals, and the average listener pays attention to the vocals more than the music in my opinion."
"I think the challenge is finding melody as much of the time as possible, just like you would with vocals. Your ear always latches onto something you can sing along to," said Stauff.
"There's so much electronic music that's instrumental, and people forget that. They kind of give it a pass, but as soon as you add a lot of guitars now, it's like– oh, why is this instrumental?" Stauff says.
Krass says, "On the flip side I think it can be much more powerful and organic when the musicians express a great feeling of emotion just through their instruments. To me it's like they are speaking to you through their instrument."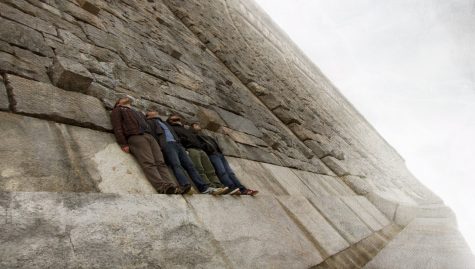 Stauff adds to that, saying that the rewards of instrumental music are that you can focus on other instruments and sounds, diving into more complex musical landscapes. That doesn't mean that Wess Meets West is completely devoid of vocals, though.
"This new album is probably the most 'proper' post-rock record, but we'll do more with vocals in the future, and we've done stuff with vocals in the past," says Stauff.
In his opinion, the amount of vocals they've included in their songs in the past has been confusing with them being labeled as an instrumental band, and he wanted to stay traditionally post-rock with the new record.
"I wanted to make an instrumental statement."
The emotion and explorative nature of this genre has generated quite a community and culture over the years that spans all across the globe, partly due to the very fact that there are no lyrics. This led to the creation of many online groups and communities of post-rock bands and fans that enjoy helping each other out and sharing their music.
"I've had people message me from the Phillipines, Europe, Russia, Greece– a bunch of people will communicate with music."
The fact that instrumental rock can connect people from all over the world and be a borderless experience for listeners is what Stauff and the other band members enjoy most about the genre.
"It doesn't have a language. When you listen to it, it doesn't matter if you speak English or not," says Stauff.
Having a close connection with Mercy College and the MTEC Program has helped Wess Meets West from day one, and continues to help them thrive to this day.
"The MTEC program has absolutely supported us throughout the years, says Porta. He also states that working with professors and industry professionals Steve LaCerra, Paul Steinman, and Steve Ward has been extremely beneficial in the growth of Wess' sound. "They are very accomplished and aren't afraid to give constructive feedback. Their wealth of knowledge and expertise has certainly helped in how we produce/engineer our music."
Being able to work in the MTEC studios has also been a saving grace for the band. While most bands have to pay hundreds of dollars hourly for studio time, having access to the Mercy Studios along with Stauff and Porta's personal studios has saved a lot of money, and stress. Porta shares, "We have been able to work with little pressure at times and I really feel that helped capture some organic music and material. I am forever grateful to Mercy for letting us work and perfect our craft there."
Krass says that he is also grateful for the time he can spend practicing and writing new music. This is also how he met the band. After having enrolled in the MTEC program, he started hanging around the studios, and met Stauff and the band.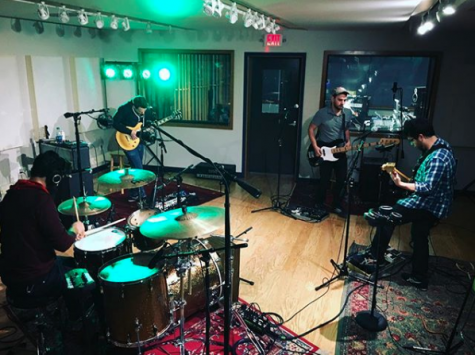 "Justin had a really organic and smooth entrance into the band," Stauff says.
In the past, the other members of the band would all contribute to the keys on records, but when Krass entered the picture they were happy to have a talented and fresh addition to the band. Krass originally was only going to help with keys for the last song on the album, but soon found himself playing on nearly every track.
"I am grateful to Sam and the rest of the guys for allowing me to play awesome music with them. None of that would have been possible without Mercy," Krass says.
Another upside to recording at Mercy is that the band encourages students to help them out with the recording process, giving them real experience and credits on a released record. Sam speaks on this, saying, "We had so many students help out with recording all of our records, and it gives the students an opportunity to work on a record that's gonna come out, and it also gives me this relationship working with students and trying to pay back what amazing things were given to me by teachers and other students when I went there."
In the future, the band hopes to delve more into the film-scoring world and get their songs placed in visual media and commercials. They hope to continue writing, recording, and touring as much as they can. The most important thing is that they continue to love what they do, and from what it seems like now, this will be the least of their troubles.
"We do this because we like the music, and we love what we do. If we didn't like it, we would stop," says Stauff. "I hope our listeners see that we're having a good time, and I think that if we're entertained and we're emotionally moved by the music, then they will be too."
Krass hopes that the band leaves listeners with a message of perseverance and inspiration, saying, "You should always try and be optimistic about situations even if things don't seem that great at the moment. Everything has a way of working itself out in the end so don't give up hope."
Stauff ends the conversation, saying, "There's so much chaos in this crazy world, and if you can sit down and listen to a few minutes of music and be transported to this mythical, ambient, beautiful space, it can be a real relief."
You can find Wess Meets West's music on all major music platforms. Visit their website at wessmeetswest.com.
Upcoming Tour Dates:
Saturday April 7th – Empire Live Music & Events in Portland, ME
Friday April 27th – Wess Meets West Album Release – Space Ballroom in Hamden, CT
Saturday April 28th – The Rug Room in Yonkers, NY
Leave a Comment
About the Contributor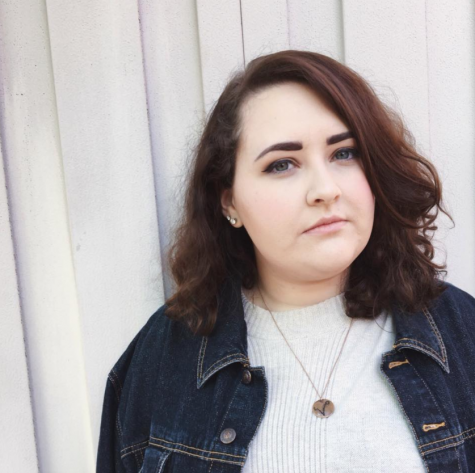 Kristin Millard, Impact Staff
Kristin is a musician, audio engineer, and recording studio assistant from suburban Chicago. She is constantly attending local shows to support her friends,...