Why 'Big Mouth's' Valentine's Day Special Warmed My Heart
Netflix Released Big Mouth's Valentine's Day Special, and it was Everything I Wanted it to be and more
On February 8, Netflix released the 45 minute Valentine's Day special Big Mouth: My Furry Valentine, and it lived up to every expectation for those who were taking a break from kissing and cuddling during the lover's holiday.
The special picked up after the end of last season, allowing audiences a glimpse back into the lives of the Bridgeton middle schoolers, as they navigate one of the most nerve wracking holidays known to man: Valentine's Day.
Valentine's Day strikes up reminders of the past. Tricky at best, this holiday has always been a source of confusion, suffering, pain, love, and chocolate. Reliving the experience of the heart-filled holiday through the eyes of the characters of Big Mouth was reminiscent of what it was like to be a middle schooler during Valentine's day. The awkward moments, the mushy couples, impersonal messages handed out on mass valentines, waiting to see if you would be lucky enough to have a secret admirer, or if the person you were so hopelessly head-over-heels for would finally realize you were meant to be together. Everyone dressed up in red, white, and pink, decorations plastered everywhere: Big Mouth perfectly captured the feeling of the uncomfortable middle school years, where everyone felt out of place and at a loss, where nothing made sense and everyone was still figuring themselves out.
The show, with its regular wit, crude humor and risqué portrayal of puberty follows the stories of Nick Birch (Nick Kroll), Andrew Glouberman (John Mulaney), Jessi Glaser (Jessi Klein), Missy Foreman-Greenwald (Jenny Slate), Jay Bilzerian (Jason Mantzoukas), Matthew (Andrew Rannells), Maurice the Hormone Monster (Nick Kroll), and Connie the Hormone Monstress (Maya Roudolph).
The audience follows along each of their storylines as they try to survive the impending holiday, match up with their desired love interest, or simply fit in and find their place. While Andrew is trying to win over Missy and wear yet another "cool" hat, Nick is coming to grips with having Connie as his Hormone Monstress and the changes that come with puberty. Jessi is learning to live along side her mother and her mother's new girlfriend, Cantor Dina, while Missy avoids Andrew's advances and focuses on herself and her friends. Jay continues to deal with his hyper sexuality and attraction to both sexes, portrayed by a pillow and a couch cushion. Matthew tries to fit in, being the only openly gay student at his school, he faces Valentine's Day with only Jessi to spend time with. To top off the whole affair, Maurice and Connie spend the entire special prodding the kids to deal with their own love interests, while juggling their relationship.
In typical Big Mouth fashion, the special featured a pair of musical numbers, each more spectacular, dazzling, and comical than the next. The first number, "Valentine, St. Valentine" was large scale, featuring all of the characters, and their outlooks on Valentine's day. With lyrics such as Nick saying, "It's a rolling, growing pink snowball of stress that no one needs" it sets the perfect tone for the show. The second number, sung by Jessi and Matthew called "Who Needs a Boy" is a perfect tribute to single friends sticking together through a rough Valentine's night. The show is no stranger to original musical numbers, boasting the creation of hilarious and raunchy songs like "I'm Gay", "Life Is A (expletive) Up Mess", and "Everybody Bleeds" in the first two seasons. The special did not disappoint in keeping up the tradition of catchy comical songs, with elaborate animations behind both featured in the special, they were a feast for the eyes and ears.
The relatable nature of the show, mixed with the raunchy humor made My Furry Valentine an absolute joy to watch. This special is the perfect date for anyone who has been through the awkward stages of middle school, or the stressful uncertainty of Valentine's day.
Leave a Comment
About the Contributor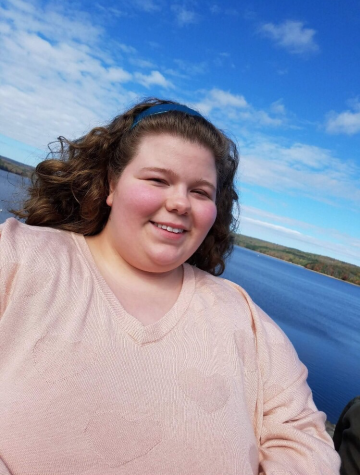 Hope Androsko, Social Media Editor
Hope Androsko is a senior who is majoring in English at Mercy College. Hope's goal is to become a journalist, editor, and English professor. She was...