Queer Eye In Season 3 Still Fabulous
The latest season of the hit show did not disappoint.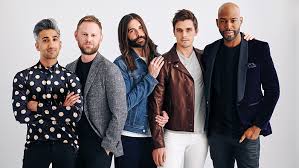 Season three of the hit Netflix show Queer Eye premiered on March 15, streaming onto phones, laptops, and TVs near you. The remake of the cult classic "Queer Eye for The Straight Guy" features a new cast of men known as the "Fab Five," helping transform the lives of all new "heroes."
The Fab Five of Queer Eye are comprised of: Johnathan Van Ness, Karamo Brown, Bobby Berk, Tan France, and Antoni Porowski, each specializing in one of the categories from the original show.
Johnathan is the over the top grooming expert, who cuts hair in heels, and teaches the heroes about the importance of self care. Karamo is the insightful and soulful culture expert, who connects with the heroes, and often sets them on the path for self improvement. Bobby is the innovative and fun designer, thoughtfully making over spaces for the heroes with high style and function. Tan is the put together and encouraging fashion expert, helping heroes into outfits that bring out their personal style and natural beauty. Antoni is the funny and creative food and wine expert, who teaches the heroes fun, healthy and easy-to-make dishes that they can serve to their loved ones.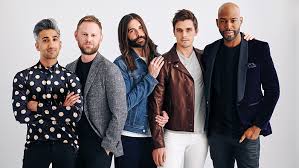 Season three saw the location of the filming move. In the two previous seasons, Queer Eye was filmed in and around Atlanta Georgia. This season, Queer Eye moved house, and relocated to Kansas City, Missouri. In the move, they gained an unofficial sixth member, a French bulldog named Bruley, who has stolen the hearts (and snacks) of the Fab Five
It was in Kansas City that they found their latest, and most diverse batch of heroes. As the catchy theme of the show promised, "Things keep getting better!"
The first hero they took on was a woman named Jody, who had lost touch with her femininity and had a large loss of self confidence after the death of her brother. When not working at her job as a corrections officer, Jody spent most of her time at home, hunting, or taking care of her garden and animals. Notoriously, she wore nearly all camo, and mostly wore her husbands clothing. When the Fab Five came in, they turned her life upside down, renovating her home, making her over, replacing her wardrobe, and teaching her many lessons, the biggest being how to feel confident and beautiful and feminine on her terms. Karamo specifically had Jody meet with a group of women who helped her realize, femininity is what it means to you.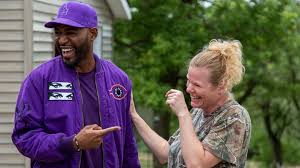 Queer Eye is also unapologetically raw, never shying away from tough or controversial topics. In previous seasons, different members of the Fab Five would talk about an ongoing social issues with their Hero of the week, such as when Karamo sat down with Police Officer Cory (Season 1, Episode 3) and discussed issues of police brutality. Season three did not stray from that expectation, when in the first episode, Tan and Corrections Officer/ Hunter Jody had a frank and polite discussion on gun laws, and the level of access most people have to firearms in America.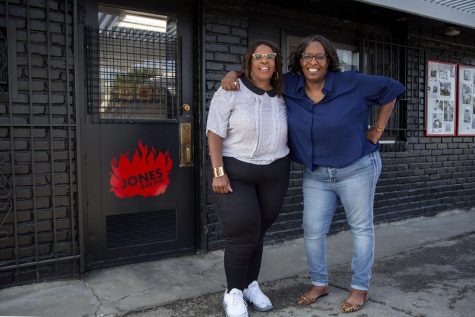 In episode three, the Fab Five took on a pair of sisters from Kansas City, who ran Jones BBQ, and were some of the only female pit masters in the area. Deborah "Little" Jones and Mary "Shorty" Jones made Queer Eye history by being the first duo to be on the show. Aside from the traditional makeover given to these women, where they got gorgeous new styles, hair cuts, and accessories, Bobby completely renovated and rebranded their restaurant, updated the space, and showcased their family history. Additionally, after seeing how wildly popular their food was, and how quickly they sold out for the day, Antoni helped the women bottle their famous and highly sought after Barbeque sauce, helping to secure and expand their business.
Episode five featured an emotional story about a young woman named Jess, who made Queer Eye history as the first lesbian to be featured on the show. Jess, who had been kicked out of her adoptive family's home at the age of 16 when they learned that she was a lesbian, was looking to redefine her sense of home, and family. Johnathan helped Jess to try a new and natural hair style,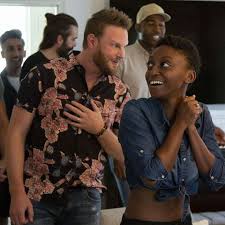 celebrating her hair texture and beautiful features. Tan got her a new wardrobe, that made her feel empowered and beautiful. Karamo helped Jess to begin to love and appreciate her identity as a "strong black lesbian woman." Bobby completely renovated her apartment, making it a space she could be happy to call home. However, Bobby, who was also adopted and then disowned by his homophobic family as a teen, also helped her to research the roots of her biological family, and then helped her reunite with her biological sister who she hadn't seen in years.
Episode six focused on a man named Rob and his two sons. Rob had lost his wife to cancer, and was moving to a new home with his kids as per his wife's last wishes. While he was making a new home for himself, the Fab Five came in and helped him say goodbye to his old home, while completely transforming his new one. He and his sons got easy to style outfits and haircuts from Tan and Johnathan, simple cooking lessons from Antoni to help Rob make delicious healthy food for his family and friends, Karamo got Rob back into music, having him take lessons as to how to play the bass, which was an aspiration he and his wife had before she passed away. Bobby helped make the new house feel like home, even designing a special chest for the special things that reminded Rob of his late wife, and his sons of their mother.
All of the episodes from season three surpassed my expectations, The Fab Five delivered yet another wonderful complex season, that inspired a wide range of emotions. Not unlike one of Antoni's culinary creations, Queer Eye, as well as season three, is a perfectly balanced fresh show, garnished with love, kindness, and new growth.
Leave a Comment
About the Contributor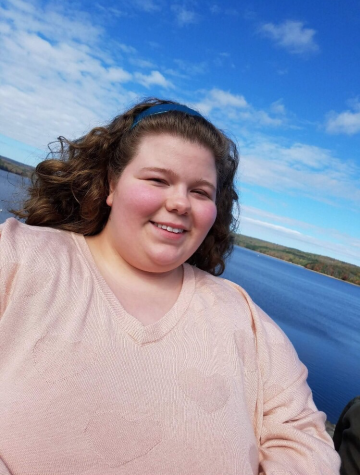 Hope Androsko, Social Media Editor
Hope Androsko is a senior who is majoring in English at Mercy College. Hope's goal is to become a journalist, editor, and English professor. She was...