Birthday Celebration Sing Off At 'Karaoke Night'
Celebrating 20th birthday with those that those care about.
Jillian Simmons, a junior at Mercy College, is a dedicated student and Resident Assistant. Simmons loves bonding with residents and other students who attend her programs. One of her popular programs is 'Karaoke Night' which many residents sign up and sing with their souls. The program is planned once a month, snacks are provided and anyone can sing any song they desire as many times he or she wants!
Simmons does not work alone. She collaborates with another Resident Assistant, Samuel Baiden. Both RAs work together in making the best night for their residents. Karaoke Night takes place in the Rotunda in Mercy Hall. All are welcome to sign up and sing. If there are shy people, don't worry! You can sit, watch and support your fellow roommates or classmates. Simmons and Baiden love welcoming new students every time.
Simmons commitment as an RA is important to her, and the bond she has with many of her residents. 'Karaoke Night' landed on Simmons' birthday, Nov. 19. Usually her responsibility as an Resident Assistant does not interfere with her personal life.
"She is super committed to her job. She is the type of person to celebrate her birthday among her residents," says Marissa Scaramuzzo.
'Karaoke night' is a night full of energetic people. Many love to sing and others like Scaramuzzo are scared to go up alone to sing. A couple of residents sing along with a partner or a group to not feel intimidating. There is no judgement. Students get up to sing and have fun.
"This place is full of energy. Even though I will never sing alone in public, I would sing in a group. Expresses Scaramuzzo.
The atmosphere that was created by Simmons was amusing. There was not even one student left out. Students enjoyed themselves and were getting louder by the minute cheering their fellow peers.
"The most exciting part of Karaoke is seeing students come together and have a platform to sing their hearts out. Most students do it for fun or to release stress," says Baiden.
'Karaoke night' is a relaxing place for many students and for Resident Assistant as well. Other Resident Assistants attended and supported Simmons event. Everyone came out to show love for Simmons and she dearly enjoyed her birthday!
'Karaoke night' creates a huge impact where it is meant for a great community engagement. Students have the ability to interact with each other, get involved, and have fun! It is all about engaging with a community, especially living on campus students should find activities to be part of. Who knows? With time students create bonds that may last for a very long time.
"Students break their shells to be more inclusive not exclusive," expressed Baiden.
Many students stay to themselves at times and feel afraid to open up. At times a 'safe place' to let go is something students look for and need. Homework piles up, college becomes stressful, insecurity can build up, doubtfulness and so much feelings. Students escape those feelings to a place where their minds are free from them.
Simmons has been thoughtful throughout the year to her residents hosting her traditional Karaoke night at the Rotunda. Everyone loves the bond they create and come back every time to sing to the end. Simmons spent her 20th birthday with a special group of people that she dearly cares about.
'Karaoke night' will be resuming next year. This event happens once a month at the Rotunda at Mercy Hall and is open to all students. Simmons and those who help her with this magnificent event happily open their arms to all that want to be part of the Karaoke community.
Leave a Comment
About the Writer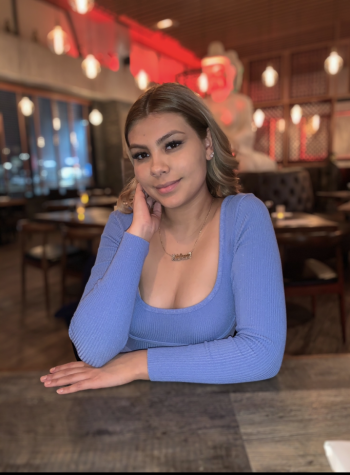 Estefania Salinas, Impact Staff
Estefania Salinas is a senior majoring in Media Studies: Radio & TV Production with a secondary concentration in Journalism. She is a passionate news...