The Streaming Wars
The Battle For Your Dollar
It's a competitive time to be a streaming platform right now, and a great time to be a media consumer as the Streaming Wars heats up.
With new streaming platforms popping up, like Apple TV+ and Disney+, the older streaming platforms like Netflix and Hulu are going to have to step up their games to stay on top, especially after Disney+ gained over 10 million subscribers by the end of their very first day. Disney has even gone as far to say that by 2024 hits, they hope to have 60-90 million subscribers.
Apple TV+ is drawing people in with its deal with every purchase of a new Apple product. One can get a free year of Apple TV+, which could possibly draw in 100 millions new subscribers in just a years time.
Like the deal with Apple TV+, many streaming products are coming free with some other service, or at least free for a year. If one has Verizon, one can get Disney+ free for the first year. If one has Spotify, one can get Hulu and a Showtime add-on for free.
Those not using such a strategy may end up falling flat. Which streaming platform to use is a no brainer, when some of them won't even charge you an extra monthly bill.
According to a poll conducted by CNBC, only 28 percent of Netflix users were going to sign up for Disney+. In terms of people who are users of Netflix, Hulu or Amazon Prime, only 11 percent were planning to drop one of those streaming services to switch over to Disney+ instead.
In the midst of the "Streaming Wars," cable television is also being affected by the new platforms that keep popping up. Cable television has been working steadily on creating better content throughout the past two decades but since streaming platforms have become so popular, primarily starting with Netflix back in 2007, cable has started to scale back the production of shows they feel might get lost in translation.
"I definitely think that they are taking over, because there's so many people that don't even have cable anymore. They just use Netflix, Hulu, Disney+ for whatever they really want to watch," says Alyssa Pagano, Mercy College junior.
Despite cable television pulling back in the production of newer shows, streaming services have never gone more into it. Back in 2016, Netflix had a $13 million budget for every episode of The Crown, and that seemed to be a big controversy. However, things have certainly changed where shows like Game of Thrones, The Mandalorian and even The Morning Show, have budgets of $15 million per episode. Disney even has plans of coming out with new Marvel series which are expected to have around a $25 million budget for every episode.
One of Netflix's biggest commodities is its original content. There's something for everyone on Netflix, having a vast catalogue of original shows and movies that they began creating in 2013, starting with House of Cards which ran for five years and had 66 episodes, quickly becoming one of planet's most talked about shows.
While Netflix has many shows that have lasted for a long time, such as Orange is the New Black, Grace and Frankie, Bojack Horseman and Fuller House. Netflix also has a way of chopping certain shows that have only been on for a few seasons, such as Tuca & Bertie, She's Gotta Have it, GLOW, and even Dear White People, which was certainly a fan favorite when it first began.
Netflix practically built the world of streaming, having been the primary source of entertainment for many at home since the early 2000s, but there have been plenty more streaming services soon to follow, and they won't be stopping there, with plenty more on the way.
Hulu is one of the biggest ones right beside Netflix, offering shows the very next day after they aired on television, which is something that looks quite nice to people who either don't have time to watch shows on cable television or aren't even subscribed to it altogether.
Hulu has deals with many big companies, like Fox, ABC and NBC, so if you were unable to watch a show on one of these channels, one can be sure to get to it the next day, however this may become impossible soon as more and more channels each day intend to create their own streaming platforms. NBC has plans to launch a platform called Peacock in April 2020 which will be free and ad-supported to some cable subscribers.
Another streaming platform that is making its way up is Prime Video, which is included in anybody's Amazon Prime membership. While many people get Amazon Prime for the free, two-day shipping, people have been enjoying the surplus of films and television shows that have come onto Prime Video. One of the greatest benefits of Prime Video is that if it doesn't have what you want to watch ready to stream for free, you can usually rent the show or movie that you were wanting to watch, which allows it to have a great advantage over other platforms.
Apple TV+ has had a lot of talk amongst viewers, though it doesn't have very large catalogue just yet, which may be why it is being offered for free with the purchase of a new Apple product. Apple has made it known that Apple TV+ will be getting more, new original content in the near future.
Disney+ has quickly become one of the hottest new streaming platforms, many people cashing in on the opportunity to have this platform for free through the use of Verizon. With so many different films and television shows, from Pixar, Marvel, Disney, Star Wars and National Geographic, this platform had over 600 titles from the first day.
"I only got the free trial for Disney+ and I planned on cancelling it after, but I really wanted to keep watching all the shows that were on when I was younger," said Christina Heyward, Mercy College senior.
With so many platforms to choose from, people are often times found sharing their passwords with friends and family. Most subscriptions have different options of how many people can stream on them at once, depending on price, and some do not even have a limit to this.
"I only pay for Netflix but I have my friends Hulu, my mom's Amazon Video and two different people's Disney+. I don't really think I need to pay that much money for all of them when I could just use my friends instead," says Maria Garcia, a sophomore at Mercy College.
With so many options, it's just a matter now of which platforms come out on top in the Streaming Wars, and which fall flat.
Streaming Costs:
Netflix: Basic $8.99. Max $15.99
Hulu: With ads, $5.99. No ads, $11.99.
Amazon Prime Video: $8.99.
Apple TV: $4.99
Disney+: $6.99
CBS All Access: With ads, $5.99, No ads, $9.99.
ESPN+: $4.99
Youtube Premium: $11.99
Quibi: $5
Leave a Comment
About the Contributor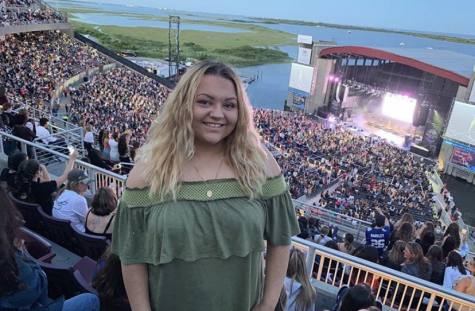 Jillian Simmons, Impact Staff
Jillian Simmons is a junior studying Television and Radio Broadcasting, with a secondary concentration in journalism.

She has a passion for video editing...