Adopting Is The Best Way To Find The Pet You're Looking For
Every day, more than 4,000 dogs and cats are killed in America's shelters simply because they don't have safe places to call home.
By adopting a dog or cat, it means that you truly saved a pet's life.
Bringing home a pet is a very exciting moment. Although it's more common to buy a pet from a pet store, there are many animals in the world that are left on the street and get taken to shelters that also need homes.
There are a lot of reasons behind why dogs and cats end up homeless. Some of the most common reasons are because people move to places where pets aren't allowed, people get divorced, there's an unplanned litter because they are not spayed or neutered or because people feel like they don't have enough time or don't have the desire to take care of a pet anymore.
Paws Crossed is shelter for dogs and cats in Elmsford, New York that opened in 2016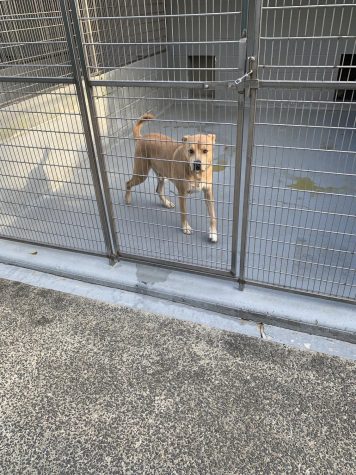 and is a private organization and only relies on donations, grants and fundraising for their income.
Natalie Leon, an Adoptions Counselor and Cat Caretaker at Paws Crossed, says they get a lot of surrender requests and stray animals but sometimes can't take in the animals that are surrender requests.
"We do get surrender requests and strays as well, but we have to be picky with surrenders because we need to know a lot of information about those animals before we're willing to take them in and adopt them out again."
Paws Crossed has a partnership with a shelter in Georgia that will send dogs up to New York to increase their chances of getting adopted. They also receive a lot dogs that come from the Cayman Islands that are looking for homes.
Adopting pets is something that is becoming more and more popular because of the many ways people can access an animal shelter as well as it helps save potential owners money on buying a purebred from a pet store. Every community has pets that need homes and it is easy to check online to find local shelters with animals waiting to be adopted.
Animals that are dropped off to shelters could have came from various situations. Natalie says that Paws Crossed gets animals that maybe injured, sick or haven't been spayed or neutered.
"A lot of the animals aren't spayed or neutered or a lot of times they are sick so we have to wait and observe them to make sure that they are 100 percent better before we adopt them out or they could have been injured and we have to make they are healed first."
The difficult part is that when the animals that are a brought in come from an owner that surrendered, the shelter has to be a cautious with who they bring in because they keep space open for the animals that are coming from high kill areas.
Paws Crossed is a no-kill shelter which means that they aren't going to euthanize an animal unless there is an unforeseen circumstance that would warrant the shelter to have to put them to sleep such as an illness or suffering from an animal that can't be treated.
To make sure that the animals are being sent to safe homes, an application must be filled out by people looking to adopt so that it can be determined that a person is qualified to adopt an animal.
"To adopt everyone must fill out an online application and then they must list two personal references and what their living situation is because if they rent then we have to call the property manager to make sure that they are allowed to have a dog or cat."
Paws Crossed will also make sure that if anyone who is looking to adopt currently has pet that they have gotten within the last three years that the current pet is fully up to date on all of its vaccinations and that they have already been spayed and neutered.
Puppy mills are an issue that is continuing to plague society and are illegal in most states but it doesn't stop people from running them. By people having female dogs breed any chance they can the dogs don't get any recovery time before its time for them have another litter. People use dogs to create more litters as a chance to sell them to make money. It is inhumane and is leading to many dogs being dying in shelters because of the lack of room to contain all of the dogs. In America, there is an estimated 2.11 million puppies that are sold and originated from puppy mills.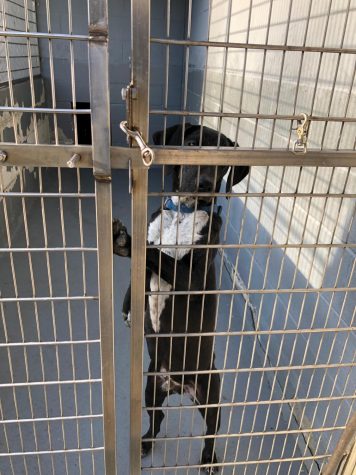 Many times the dogs that come from puppy mills are unhealthy because they aren't given proper food or clean water and sometimes they can even end up being malnourished.
Dogs and cats aren't meant for breeding to for people sell the litters to make money. Animal cruelty can only start to go away if people decide to adopt pets from shelters.
People don't realize that when they are buying pets from a pet store, they contributing to the problem in the world that is the overabundance of stray dogs and cats that are on the streets as well as the increasing population of pets. It becomes an even bigger problem when those dogs and cats aren't spayed and neutered because it results in litters which people simply can't take care of.
Many communities that have a high number of stray dogs and cats around will continue to see the number of strays increase if they don't try to capture them and bring them to shelter. Often times, strays will mate and then have a litter of dogs and cats which will just create more strays on the streets.
Even without adopting a pet, just by donating to animal shelters such as Paws Crossed it has an impact on the work that the shelters try to do for the animals.
Donating is how Paws Crossed gets their source of income. Since it is an adoption place they do not make money off the dogs themselves. Their main focus is to make sure the cats and dogs are healthy and able to be adopted to a good home.
Often times, the animals are found with wounds or cuts and need to be treated. Paws Crossed has a veterinarian on hand to help any of the animals that are in need of medical care.
What's different about this organization, they say, is that they check to see if you are a good fit to adopt a pet. Some of these animals have problems and need special attention and care.
Paws Crossed will work with you and allow you to meet with counselors. The counselors will help you and your family find exactly what you're looking for. Paws Crossed will actually make you list two references in which they will contact and see if you are a good fit for one of the animals. Anyone can just say that they are a good candidate to adopt but to get people to speak on their behalf shows that the truth is being told. Paws Crossed will even check to see if the candidate had previous pets and if they were up to date on shots and any kind of medical treatment. This really shows if someone has any kind of experience with a dog or cat.
Volunteering is a big part of Paws Crossed organization. They are always looking for people to help volunteer and it is available on their website to apply.
An interesting thing about Paws Crossed is that they offer programs for children. There is a junior volunteer program where kids can learn about rescuing animals and also get the chance to interact with the animals.
The animals and the kids benefit from this because the animals do not always get to interact with people on a regular basis besides the workers.
Paws Crossed has a specific mission. That mission is to rescue one by one until there are none. Rescuing is done by their rehabilitation and education. Each pet is treated with special care until how ever long it takes for them to get adopted. Some pets go quickly but others do not.
This particular adoption place has about 80 animals all together which is a lot for one place to take care of and maintain. In the facility itself each animal has a separate cage area just for them. They are in an outside area but also are able to stay inside if it gets too cold for them to be outside. Inside the building there is a lounge area specific for cats where they are able to hangout and interact. Most adoption places do not have resources like this but Paws Crossed wants to make sure the animals are happy and taken care of.
Dogs are adopted more often than cats but it is important that all of the animals find a good home to go to.
The vet technician that is on hand for Paws Crossed comes in roughly once or twice a week to make sure each animal is healthy and okay.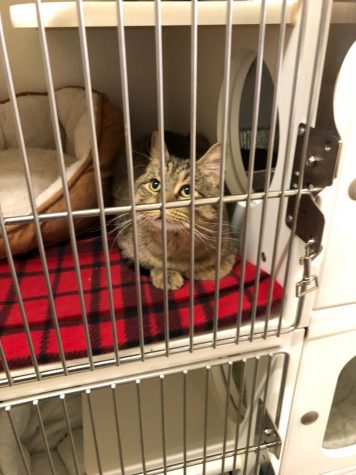 Rather than waiting until an animal needs help, they check weekly for any medical issues the animal might have. This is why adopted a dog from here makes the most sense because you know the kind of care that they are getting.
Roughly 3.2 million animals are adopted each year that live in animal shelters. That is a lot of animals but it could be higher if people are more aware about adoption and the impact that it has on these animals.
Some of these dogs and cats have never had the chance to have an owner or someone who cares and looks after them. Each animal deserves a chance to have this in their lives. If more people become aware of the adoption process then more animals will have homes.
While the animals are benefiting from adoption, families and people benefit from them as well. A dog or cat becomes part of the family and people get very attached to their animals. People who suffer from certain ailments such as being blind, stress, PTSD, are aided by dogs. These dogs become apart of their everyday lives and perform tasks for their owners that some people are unable to do.
People who can not see use these dogs for navigation and they do just that. These people depend on their dogs everyday to show them where to go. That shows how valuable having a dog can be especially to someone who suffers from an illness or disability.
People should look to do the same for the animals that have disabilities themselves. Some dogs or cats sometimes do not have all their legs or have diseases like diabetes. People should see this as an opportunity to help an animal in need and give them a good home to go to. This is why adoption is so important in our world today and people need to get out there and adopt the right pet for them.
Paws Crossed has this message and encourages people to adopt the animal for them. The adoption process might take some time but it is worth a lifetime for these animals.
Paws Crossed does not kill any animal which makes them different from other adoption places. They do not believe killing any animal even those who are not well is the answer. Killing any animal is cruel and should not be apart of a shelters plan. The point is to rescue animals from danger not to make their lives worse or possibly end. They believe in rehabilitation and will help any dog in need.
Join Paws Crossed or any local animal shelter and adopt the animal that is right for you.
Leave a Comment