Make a Difference and Volunteer with Feeding Westchester
Every One Dollar Donated is Equivalent To Four Meals For Someone In Need.
The county of Westchester has about 200,000 residents that are food insecure and about 60,000 children who are food insecure Hunger has an effect on a large amount of people across the United States. Many people don't have the necessary means to provide food for themselves and their families and rely on the help of others such as food shelters and food banks.
Feeding Westchester is a food bank in Westchester County that helps families in need of food and water by providing meals across the Westchester County area. The mission of Feeding Westchester is to feed as many families as possible because they believe that hunger is a solvable problem in the community. The main issue is actually getting people aware and up off the couch making a difference.
Feeding Westchester has a 30,000-square-foot distribution center which is where everything is inspected and sorted out before being distributed across Westchester. Ways to participate in helping to end hunger is by volunteering at the Feeding Westchester Food Bank which is where all of the food products are sorted and packed to send to families in need.
What makes Feeding Westchester different from a basic food pantry is that everything that they receive is sorted out and reviewed to make sure that everything that they give to people can be eaten and won't have to be thrown away. Barbara Wachtel has been a volunteer at the Feeding Westchester Food Bank for three years and thinks it's great to give back to the community.
"I just think it's a wonderful thing to be able to give people food, it's the one thing that everyone needs."
It's great meeting other people who are incredibly generous and willing to give their time and to know that the food is going to schools, children, and shelters."
Feeding Westchester is the county's leading non-profit hunger-relief organization and distributes 95 percent of nutritious food to various towns throughout Westchester. They deliver to soup kitchens, shelters, daycares, and other residential programs.
The food bank has seen many different faces that come to volunteer, but one familiar face that they have seen for five years is Rudolph Rodriguez who is a teacher at the New York School for the deaf.
The school takes trips every Thursday after their lunch period to volunteer from 12:30-2 p.m.. The students are selected as part of the Skills Program among the upper-classmen. Some of the students been volunteering at the food bank for a few years while others have just started volunteering this school year.
The jobs of the students were to pack the food into boxes after it was sorted out into the different categories. Each student was very precise while placing the products in the correct boxes. Rudolph says that it's great for the school to lend a hand and help out the community.
"I think we are doing a great service for the community and I'm glad that we are here. I feel that we have to give back to the community and this is such a great organization."
Besides the fact the Feeding Westchester is helping to stop hunger, they are also helping eliminate the food from becoming waste. By being able to recover the food, they are preventing it from being sent to landfills where it would eventually release methane which is the leading cause of climate change.
Many different manufacturers including, Costco, BJ's, Stop & Shop, and many others have helped safely recover food and have donated to the food bank to help get delivered to those in need.
Not only does feeding Westchester help provide food throughout Westchester County, they also have a backpack program for school students. Every year Feeding Westchester puts together nearly 60,000 backpacks with food for elementary school students who are most in need. Students who receive free or reduced-price lunch at school receive a bag that is packed with food on Fridays for them to take home so they have enough food to last them for the entire weekend. The bags contain over 7 pounds of food which is enough for six meals for kids to microwave or prepare even if they don't have an adult in the house at that given moment. Many of the students who get backpacks also are reliant on the free breakfast school.
In order for children to learn about how to grow their own food, there is a Food Growing Program at various sites across Westchester County for students to learn how to grow their own food. Everything that the students grow become class meals for them to eat. Mercy College has recently stepped in and has offered a hand in trying to help people in need of food as well. Mercy has recently started the Mav Market which is at the Bronx and Dobbs Ferry campuses. The Mav Market was started in 2017 and is a food and resource pantry where students, faculty and staff can pick up any food items that they may need. Since them launch in 2017, the Mav Market has served over 3,500 meals to the Mercy community and has partnered with Feeding Westchester to help give out food.
Volunteering is something that everyone should try to do at least once a year. There are so many people across the country that are underprivileged ad don't have basic everyday needs such as food and water.
People in Feeding Westchester have been apart of this organization for years. Rudolph is a prime example of this. He does not get any sort of compensation for volunteering. He just volunteers because it is the right thing to do.
The volunteering process may seem like a drag but it is easier than one may think. One walks into a room with people who one is not very familiar with. To some that can be very intimating but in reality, everyone at Feeding Westchester was friendly and helpful.
With that being said, there is still a process to volunteering. Jandery Delacrouz was the one who was in charge of the whole process. She is the one who explains what you need to look out for when handling a donated food product.
"If the dent is on the body of the can that it is fine, but you can not feel the air coming out of it."
This is an example of Jandery instructed the volunteers and what to search out for. All of the food is donated so it is not always brand new and not damaged. A small dent does not affect food distribution but an open tear might mean the food is not fresh which can not be sent out.
She really did a good job of distinguishing between the dos and don'ts of the whole process.
Another thing to be aware of while volunteering is that it is important that the correct grouping of food is in order. The food is broken down into separate sections. Some of these sections include snacks, sauces, liquids and even cleaning supplies. Feeding Westchester does not only send food to the agencies but also cleaning and beauty supplies that might be useful to people.
If an item is a little damaged or open the volunteers use tape to try and repackage it. This is very effective because just because the box is slightly open does not mean the food is not edible. Volunteers carefully place the tape when necessary and send it out.
The food is placed into a simple box until it is filled with food items. The school of the deaf really did a good job of keeping all the food in order and making sure it had to go where needed.
Ben from the school of the deaf starting volunteering in January and has enjoyed it ever since.
"I felt it was important to give to the needy and also it is a good way to socialize."
He sees the good in volunteering but also the fun in volunteering for an organization like Feeding Westchester. He also understands the people in needs point of view.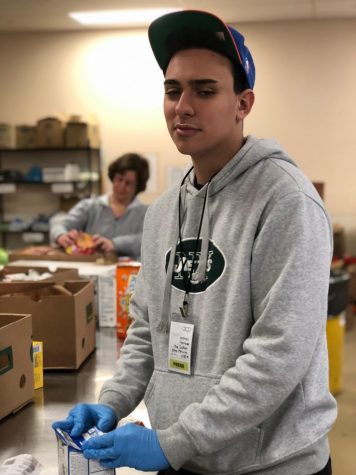 "It is important to understand that there are people who are less fortunate then us, and I feel privileged that I am able to give back to them."
He is a great example of someone who is willing to make a difference in the world and is volunteering as much as possible to do so.
Putting the food together can be time consuming but when you are working amongst your peers it goes by kind of quick. At first it can be a little confusing deciphering what goes where but there are experienced members who are very helpful. Jandery also is constantly around answering any questions that volunteers may have which is helpful.
The whole process lasts about two hours which really is not a large portion of the day. Two hours of the day that can mean the world to people who really need your help because they are not fortunate enough to have food at their disposal.
In order to volunteer at Feeding Westchester, one must create a volunteer account so they learn a little bit about the volunteer. They also have a contact number that one can call to find out when the food drives are taking place. They welcome all people even if you are volunteering only once.
Ilene Rothmen is another volunteer at Feeding Westchester. She is not apart of any group but is a volunteer. She was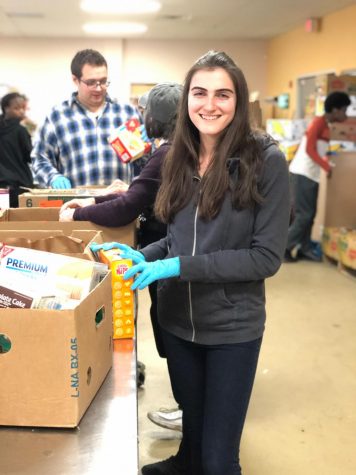 volunteering for the first time and Feeding Westchester but not her first-time volunteering. She is just an example of someone who wanted to give back.
"I was looking for service projects and saw this was available and it worked out easily."
It takes two seconds to just sign up and make a difference. Ilene took advantage of this and will continue to do so.
"I will continue to do this in the future, and next time bring more people with me."
Feeding Westchester allows everyone to volunteer. People often volunteer solo or sometimes they come in groups as well. With that being said, they do not just take walk ins on the day of. This is for security purposes.
Besides the food drives itself, Feeding Westchester has other type of events. The events coincide with the mission that Feeding Westchester is trying to accomplish.
Some of these events include food packing coemptions, gardening groups, or 5k runs. These events all raise awareness which can result to more people volunteering or even donating to the cause.
Donations are a big help for Feeding Westchester. Each time a dollar is donated that translates into four meals. Four meals are a lot and makes a huge difference for only a small donation of a dollar. You can donate right on the Feeding Westchester website.
Any way that you can help the cause Feeding Westchester will appreciate. Whether it is donating some money or volunteering at the food drive everything makes a difference and lives are saved from these contributions.
Feeding Westchester provides a golden opportunity for you to give back and really make a difference in your life and in others. However, there are other organizations similar to Feeding Westchester that provide volunteering and donating opportunities.
Some of these companies include Feeding America, The Trussell Trust, and Capital Area Food Bank. Wherever you are located there is somewhere that you can either volunteer some of your time or donate a small amount of money to really make a difference in someone's life who desperately need's it.
Leave a Comment
About the Contributors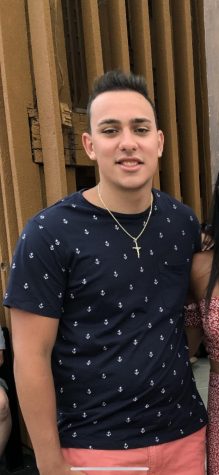 Michael Panteleo, Impact Staff
Michael Panteleo is a senior and studies journalism at Mercy College. He enjoys writing, watching, and playing football and basketball. He is a member...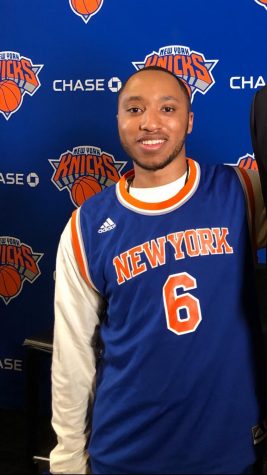 Ellis Joshua, Impact Staff
Ellis is a Senior Media Studies major who is looking to become either a sports writer or sports broadcaster after he graduates. He has a passion for writing...