FTK the Label Take On The Rap Scene
The colorful lights shine throughout the stage and the beat drops, the crowd sings and raps along to lyrics of a piano beat they seem to know like the back of their hand. Kadeem Norville (aka Deemo), Lee Mitchell (aka Kold Ka2e) and Sam Akesson (aka Apebaby Jungle Boy) are singing off their latest EP, A Different Path. They closed out the talent show at Mercy College on March 5, promising the crowd one big surprise. The dynamic trio then pulls out a bag revealing none other than a boa constrictor snake that was wrapped around Jungle Boy's neck like a chain as he sings their song "King Tut."
Talk about a finale.
The group is apart of FTK the label. FTK stands for "For The Kulture", a music label that was started by Kold Ka2e on July 22, 2016 after he threw a backyard party in his home town of Park Hill in Staten Island, New York. He wanted this label to be a way to make something positive from the gang violence that dominated the area.
"There was a lot of shoot-outs and things and this was a way to make something out of ourselves and help each other reach our goal. We got designers, DJs and rappers if you have something to bring to the table you could be apart of it," he said.
Kold Ka2e has gotten many opportunities to perform on stage with different artists through FTK. "I ended up going on stage with Dreamdoll, DJ Sel, and others. My barber is DJ Class Act, so that's how I got the opportunity to have that experience".
Deemo and Jungle boy have known each other since high school. They grew up together in BedStuy, Brooklyn and played basketball together and have been collaborating with music together for a year. They paired up with Kold Ka2e for their project A Different Path which was released Feb. 23.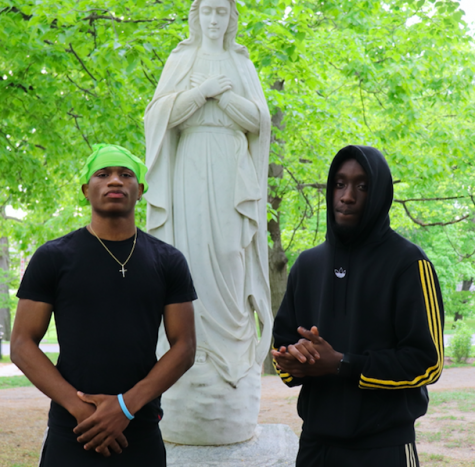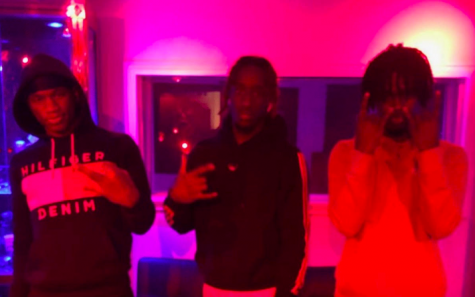 FTK's latest EP took four months to make. They record in a number of studios depending on which one is available. They record in studios out in White Plains, Staten Island and Long Island. They have accumulated a very loyal and dedicated fan base.
"I knew we sounded good when I dropped the snippet on Instagram and then I started getting so many DM's from people asking where they could download the tape," Deemo said.
When talking about their fans Jungle boy agreed saying, "I couldn't even come outside people would blow up my phone asking where the tape was at like 'I'm tired of you lying' when I said it would come out soon."
The crew has even reached an fan base in South Africa who stream their music. Deemo explained. "I wanted to get a worldwide fanbase yeah it's cool to have your hometown like your music but what if they don't like it? Somebody is going to like it somewhere there is like 8 billion people in this world so someone is going to relate to it somewhere. That's why I wanted to go into international markets because you'd be surprised how many people like your stuff and they're not even from where you are from. When I put a promotional post on Instagram I saw how people in South Africa really like our music."
Kold Ka2e added, "The EP that I have has about 4,000 listens that are from day to day from Australia and France."
The SoundCloud rap scene has been the key to getting major artists discovered within the last five years. It is a new innovative way to get discovered and start a music carrier. It is also a way to give the artist compete artistic power and ownership in their own music. Artist like Lil Uzi , Kodak and 21 Savage have gotten the start of their music carriers with this method. FTK the label is the new up in coming example. Now a days you do not need major record label to be heard on major streaming services. Unsigned rappers are being given the chance to be heard around the world. With music distributors like TuneCore and DistroKid people can sell their music to go up on streaming platform like Apple Music, Spotify and Tidal.
The group's inspiration for their EP steamed from real life situations in their life. Their aspirations , their lifestyles and their romantic lives.
"A lot of it is just our experiences compiled into one and different songs that tell different stories. We feel like our life is a movie because of the different things that we go through. "Chosin" is inspired by women who pick and chose when to be with you and play games, King Tut was made to express how we want to live like kings. Every song is a story and that's also why we called the EP A Different Path," Deemo said.
On their track "Her" the intro features a voice mail with Jungle Boy, warning his friend not to play the a man's heart. "be careful because the heart is precious and if you fuck with him and he goes the dark side he's not coming back.. and then you gonna cry and complain why there's no good guys left and you just turned one out."
This track has become a favorite amongst their female fanbase. "The beginning was a voice-mail was a situation that I had freshman year. I was telling my female friends like listen if you play with a mans heart it won't turn out well. That's been the inspiration for our music because we have situations with women that don't go really well," Jungle Boy said.
Kold Ka2e had a romantic experience that helped him when writing his lyrics to "Chossin" and his on EP Unexpected Hail.
"I had just started making music and at the time my best friend started talking about how she wanted to be with me and all that and she is a different type of girl, but at the end of the day she turned out to be like everybody else. She tried to sell me a dream but she switched up," he said.
Women have been the main muse for most of Kold Ka2e's music." I just want women to surround me because that's honestly my inspiration, its more for the ladies. That's what its all about," he said.
Their sound has a singing rapping type of feel. Their relatable lyrics and catchy melody are what has lead the group to have a following. Jungle Boy usually sings most of the choruses but Deemo sang the chorus to the track "Her".
"I just had Deemo step out his comfort zone and do the singing part we chopped it for fun. The girls loved it and thought we should finish it and it was actually not going to make the final cut but it is now my favorite song on the EP," Jungle Boy said.
FTK the label were excited to perform at the Mercy College BSU talent show. This is their second time performing at the school.
"Our first performance was at an open mic night and the crowd just gave me so much energy that I ended up jumping on the table, so basically anything could happen when it comes to our performances," Jungle Boy said.
Deemo agreed. "It's just the beginning for us. We want to have more performances and to have our name get out there."
The groups fun and spontaneous vibe is what makes them so likable. They are not just the average college students. They live life to the fullest everyday in an unpredictable fashion and make lyrics while at it.
"We started because it's fun we don't really take it serious and I think that's why we sound good.We don't even do anything until we hear the beat. I knew we sounded good because whenever I had a girl in the car and I'd play the tracks and they loved it.. when I showed the homies they'd say the same thing,"Jungle Boy said.
When it comes to their daily life, they do the first thing that comes to mind when they wake up in the morning. "If we want to go the casino, we go to the casino. To add to that, if we want to get a tattoo, we go and get a tattoo. We live a lifestyle where we don't stress at all." stated Deemo and Kold Ka2e. School doesn't get in the way of their dreams and what they want to do in life. Although they have a music career, they still want to have a career as a backup since music is not something that they take seriously. Kold Ka2e is a sports management major while Deemo is is finance and Jungle Boy is a Criminal Justice major. "I want to go back to my high school and change the athletic program because what happened while I was there was that my father got me recruited, my coach did nothing for me ." stated Kold Ka2e when asked what he wants to do after he finishes college. Out of the three members of the label, only one of them wants to take it to the next level and build a career off of music. "I want to be Jungle Boy for real, there is no plan B because that takes away from Plan A and I just want to go all in."
Although they are in school, they don't stress about it at all, the label ranges from ages 21-22 so they want to live life to the fullest as best as they can. "You have students over here stressing about a test that they have coming up, studying for nine hours a day yet I don't even open a textbook," said Kold Ka2e.
That is the very simple lifestyle that these three guys live up to on a daily basis, and they don't ever let anything affect their music. When it comes to performances to get their name out there, the Talent show here at Mercy was only their second performance. "The talent show is only our second performance ever so we don't know what's even going to happen. Our first performance was at an open mic night and the crowd just gave me so much energy that I ended up jumping on the table, so basically anything could happen when it comes to our performances come to our performances," stated Jungle Boy.
They want to broaden their horizons when it comes to getting more performance experience and they want to make more of a fanbase and get their name out there. Even though they have only been rapping together, mostly on weekends, they still want to get themselves more of a fanbase than what they have already have gained.
Back to the snake that appeared at the talent show. Ape baby got his name from the amount of pets that he has living in his home. "I have 2 pet snakes, one Python and one Boa Constrictor, which is the one that I brought out at the talent show and that one alone is 9 1/2- 10 ft long , an alligator and a black German Shepherd so that's how I got my name," stated Jungle Boy.
After all the hype that they got from the performance at the talent show, FTK dropped a new track, "Gator Coupe", which features Jungle Boy's little brother, Cash Meer. The song has had 1,000 streams daily so far since the release. "I was satisfied with the talent show and the crowds reaction so we ended up dropping this new track for them," said Jungle Boy
"Speaking of streams, as of a few weeks ago, our EP, has 6,000 streams daily worldwide," added Deemo.
The new track is just the beginning of many things to come this summer. A new mixtape is expected to come with 11-12 songs collaborating with a whole bunch of people as well as two new singles so the fans having something new to look forward to coming up this summer. A Different Path is also now available on Tidal so all those fans out there that don't have Apple Music, you can now go on Tidal and stream all the tracks from the EP.
"The talent show was over too quick and we had people asking us to drop new music right after so I guess you can say, we did this for our fans," Jungle Boy said.
When it comes to the inspiration behind the new track, there really was none according to Jungle Boy, he heard a good beat and created a melody along with some lyrics to go along with it and that's how "Gator Coupe" was born. FTK wants to make a name for themselves, but they don't want to consider themselves a music label, they want to consider it a brand. "FTK has gaming and we have been reaching out to a few sports people to make the label a little bit off everything, we don't just want to keep the main focus on music," said Deemo.
Even though they do collaborations for their EP, that doesn't stop them from working on solo music and booking gigs for themselves to get their solo careers out there as well. "Lee has a show coming up at Sound Of Brazil in Manhattan on May 20, so be sure to check that out and show him some support," stated Deemo. Even though they have been collaborating recently, they all know that they will have their individual fan-bases as well but they will always still support one another in their individual careers as well, they will always remain as FTK the label through thick and thin.
"The individual EP that I put out has about 4,000 streams worldwide that are day too day from Australia all the way over to France," stated Kold Ka2e. Even their individual careers are gaining worldwide attention so with these new tracks, they are trying to gain new fans for not only FTK the label but also for their individual careers as well.
If you are not on the FTK bandwagon, you are definitely missing out. Their catchy melody combined with their showstopping lyrics provides you with a sound unlike any other heard before. To them, this is just a hobby, they do it for the fun of it but for the fans, the energy when they hear the fans reaction to their music is what keeps them motivated to keep going and never give up on their music careers. "It's crazy because I shouldn't even been rapping but I enjoy doing it so much that now I don't even want to stop," stated Jungle Boy. Sometimes people don't think that the artist's care about the fans or the fans opinion but for FTK the label, that is something that is far from the truth. They will not be taking a break from making a music anytime soon.
When it comes to the future of FTK, they are still going to collaborate because that is what is giving them money and it is also what they love to do. The fans should be hearing a lot of new stuff from them this upcoming summer so be sure to be on the lookout for new music.
The energetic triad pulls a boa constrictor out of a backpack as they sing the words to their song "King Tut," the crowd goes wild and sing along with the troika to close out the Talent Show here at Mercy College. For only their second performance ever, they wanted to make sure that you were going to come back for more of their music and for many, that is exactly what they are going to be doing.
Leave a Comment