Alternative Education
Castleton Helps Struggling Students Through High School
High school can be extremely difficult and overwhelming, especially in a large school district. Students can sometimes be made to feel like they don't matter at all. Certain students even suffer from learning disabilities that make high school even more difficult than it already is.
Not only are students overwhelmed, teachers are as well. Large roster sizes can often make it difficult for a teacher to give a student the one on one time needed to succeed in a course. This can lead to students falling behind in credits, thus making it much more demanding to graduate on time.
Students who are struggling mightily may even dropout. Although many school districts around the country offer programs to help credit deficient students make up work and graduate as soon as possible. Unfortunately, these programs still offer students little help with academics and do not encourage them to succeed at a high level.
However, in Oceanside, New York, the Oceanside Union Free School District has a special program that helps students who struggle in a normal high school setting.
Oceanside High School Castleton is an alternative high school that offers students a wide range of resources in order help them grow and learn, as well as make them feel like they actually matter.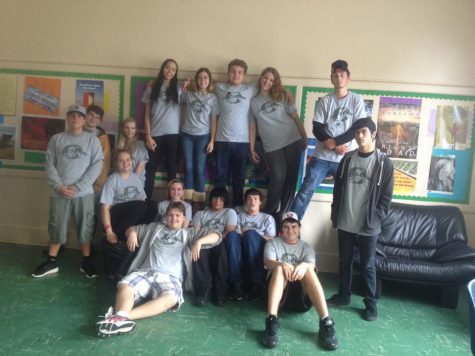 One of the advantages that the students at Castleton have is smaller class sizes.
"The alternative setting is smaller, so you have a really small student to teacher ratio. There's a lot more one on one time with a student," said Mike Radicone, the special education teacher at Castleton.
The smaller class sizes also help to ease the anxiety of anyone who may want to avoid showing up to school. "The small class size really gives the kids a chance to open up and feel comfortable. We have a lot of kids with school-phobia, school anxiety, general anxiety, and to have a small class size really helps to get the kid acclimated, gets them interested," stated Radicone.
Each student at Castleton is treated as an individual thanks to the smaller roster of students. "In the high school I would have a total roster of 120. While here the roster is I think 56. So you get to focus more on the students as individuals," said Francis Gillespie, the English teacher at Castleton.
"The biggest class we have is like 19 kids…Each kid gets the individualized education they need, versus the kind of cookie cutter education in the high school," Radicone added.
Because of the small roster size, students have the same teachers every year. According to Gillespie, this can sometimes serve as a disadvantage for the students. "I became an English teacher because I had four great English teachers in high school, and they all had different styles, and I learned something different from each of them… It's kind of a disadvantage because they're only receiving one type of English instruction, one type of math instruction, from one source. Obviously the good outweighs the bad," said Gillespie.
Castleton also offers its students a variety of courses and extra-curricular activities that help students make up credits.
Castleton Field Experience is a credit baring class in which students go on field trips and write reports on them in order to earn a class credit. "We try to pick things that we don't think kids would normally do on their own. We do the city trips, and we go to museums, we do adventure parks and things like that," Radicone added.
The Castleton program also provides students and teachers more leeway. "There's a lot more flexibility, we give kids a lot more options, a little bit less restrictive than the high school, and there's a lot more wiggle room academically and socially," said Jared Stoler, math teacher at Castleton.
The flexibility that they have at Castleton allows students to focus on projects that they are highly interested in. "We've added things like day five. Where every kid has a passion project. They get to choose what they want to do," Radicone said.
Due to the small roster size of the school relationships between students can be close. On the other hand, students may also struggle socially with others in their classes. However, students cannot run from their problems at Castleton according to Radicone. "Close relationships, close conflicts, close everything. You can't really hide here, it's a hallway."
These close relationships between not only the students, but also the teachers, help to create a community or even a family as some students and teachers refer to their peers at Castleton. "The word family is thrown around a lot here, and it is more of a family atmosphere then you would at the high school. There are 2,000 kids at the high school, so kids can get lost there. Here it's very hard to get lost. We're one hallway," said Gillespie.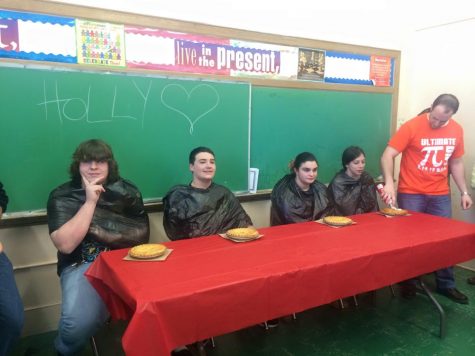 Castleton has been around since the 1980s. It was originally located on the Merle Avenue side of Oceanside School Number Six, before being moved to the third floor of the same building. According to Radicone, "It was for high school dropouts, or kids that were just really failing…It was all packets. They didn't have teachers that were assigned to the school. They were teachers that would come over from the high school…They were kind of just getting them through the program."
Over the years the alternative program at Castleton began to evolve in order to adapt to the different types of students that were arriving. "As the years went on we started to get different types of students that were more on the anxiety side of life, versus the rough fighting type of kid. So we tried to then tailor the education to meet their needs and we became more of a holistic environment," Radicone stated.
Gillespie, who has been at the school for 20 years, has seen the program go through many changes. "The definition of the alternative student, in the big picture, hasn't changed… It's kids that don't find success at the high school. Now the reason for that have changed. We used to get more of the bully, or the kid that was very disruptive at the high school," said Gillespie.
Yes the program is changing, but Stoler has a different opinion on the matter. "The program is I would say, growing. The students are definitely changing, we're getting a different crop of kids than we used to have, but that's just the nature of adolescents nowadays is changing with the times," said Stoler.
What has really helped Castleton's alternative program grow and flourish is the amount of effort the staff puts into their work with the students. "Once we got a staff that was really invested in this type of student. The program, I've been here for eight years, has changed dramatically. Where now the kids are held to a very high standard. So again, you have to pass your regents, you have to take electives, you have to take the credits that you need to get out," stated Radicone.
One of the most important changes that have occurred at Castleton over the last few years has been the increased amount of elective courses available for students to take. "The biggest thing is the amount of enrichment we have now versus what we had when I started. There weren't really any electives when I started, so now we have foreign language, we have history through film, we have forensics and horticulture, and meditation, and all sorts of other credit baring classes that we never really had before," said Radicone.
The electives and the flexibility of Castleton may make it seem like an easy place to teach. However, according to Stoler, if you do not have an abundance of patience, it can be a difficult atmosphere to handle.
"We're dealing with students who really haven't faced any consequences, or rules, or structure in their lives. So we're two fold. We're trying to teach them academics, but we're also trying to teach them adolescents in the same breath… We have to just find that balance between understanding where they're coming from, and also trying to get them on the right path," said Stoler.
The close relationships forged between teachers and students at Castleton are cherished by everyone. Many students and teachers still keep in touch even after a students has graduated and moved on from high school. "There are certain students in your life that you really enjoy, and like to see turn into adults," said Radicone.
Many students who have graduated go on to be successful and productive members of society. "We have students that are in the union, we have students that are working full-time jobs, so there are some successes… Unfortunately some kids just still can't find their way, but we do have those that are moving on and maturing," Stoler added.
The alternative education program put in to place by the Oceanside School District has been helping students succeed for many years. Castleton allows struggling students to make up credits, motivate themselves, and most importantly, earn a high school diploma.
Leave a Comment