Founder's Day A Success
It's that time of the year again when Mercy College and the Dobbs Ferry community come together for Founder's Day. Founder's Day is an event where Mercy celebrates its history and being a part of the community.  It was held  Sept. 28 from 12 p.m. to 4 p.m. in the parking lot next to the athletic field.
There was free food, games, music, bouncy houses, and other fun activities for kids. There were also stands that sold pink Breast Cancer awareness t-shirts, where the proceeds will be donated to help find a cure for Breast Cancer.
Founders Day is Mercy College's way of giving back and saying thank you to the community for supporting everything that Mercy does.
Every year the turnout for Founder's Day gets better and better. More people come out and support the great day. The current Mercy Students really have fun getting to know and interact with the local residents of Dobbs Ferry.
Mercy College Interim President, Dr. Concetta M. Stewart, said in a press release, "Mercy College has a long tradition of giving back to our community, being an engaged community partner and finding new ways to open our beautiful campus to the public. We are proud of our relationships with our neighbors.
"Founders Day benefits the community by spreading awareness about how successful Mercy is becoming. This event really brings the community and school community together. Founder's day also benefits Mercy College by bringing the students and staff together to form this amazing event. All of the games, food, and service tables prove to the community and school that we can all come together.
I am extremely excited to have the opportunity to volunteer at Founders Day. Since I am a student ambassador, I help out in any way needed around the school at all times. My job was to help sell breast cancer awareness t-shirts that represented Mercy and a good cause. I love helping out whoever I can with help from my classmates.
Having such an amazing event such as Founders Day really demonstrates the positivity Mercy College is trying to spread around campus and the Westchester Community. This event is one of many that will be remembered forever," says current student volunteer and Ambassador Jessica Mcgrath.
Staff members such as Adam Parmenter are proud of the connection Mercy has with the community.
"Founders day is a great occasion for the local community, students, alumni, faculty and staff as well as their families and friends to enjoy festivities together and build the sense of community on campus. The event continues to grow in popularity and response," says Adam Parmenter.
Leave a Comment
About the Contributor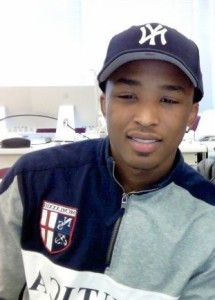 Trifton Rose, Impact Staff
Trifton Rose is a Yonkers native who is a senior at Mercy College and majors in
broadcast Journalism. He is a member of the men's basketball team. Trifton ...