Taking Notice Of Autism Awareness
On Oct. 4,  a family's world was turned upside down when their youngest son, Avonte Oquendo went missing.
Police Commissioner Ray Kelly said that the NYPD was engaging the help of officials in New Jersey and Long Island to expand their search. He also said that Avonte Oquendo, who cannot communicate verbally, was fascinated with trains and may have taken a train beyond the city.
Avonte Oquendo is autistic, and cannot communicate verbally.
Autism is a topic that has been flooding the news for years. A person with autism can be defined by the National Library of Medicine as a person who has a mental condition, present from early childhood, characterized by difficulty in communicating and forming relationships with other people and in using language and abstract concepts.
Rima Izquierdo, mother of two children with autism doesn't like the term mental condition, says. "I feel like when people say mental condition there is a stigma attached to it, and it puts a certain image in peoples minds."
Izquierdo, is a  STEM Peer Mentor from Mercy College's Bronx campus,w ho also participates in autism research.
Autism is known as a developmental disability. Experts believe that autism presents itself during the first three years of a person's life and that the condition is the result of a neurological disorder that has an effect on normal brain function, affecting development of the person's communication and social interaction skills. Children with autism can have imparied social skills,  but there have been multiple cases with children with autism running away.
Parents of children with autism often finds themselves struggling to get adequate help for their children. Now, parents are encouraged to quickly diagnose their children in the hopes that treatment can prevent life long struggles.
"I had them both evaluated at 15 months," explained Inquiredo. "They were delayed and/or regressing. My dad realized my oldest was on the spectrum. I realized my youngest was (obviously from past experience)."
Some parents due not choose to have early diagnosis, or do not care to accept the diagnosis due to the stigma of special education.
Izquierdo has said she has two healthy kids –  one is 7 years old and the other is 20 months old. They are both boys, and Izquierdo is currently five months pregnant with her first girl.
"I am interested in autism because it is fascinating and under served," explained Izquierdo. "There are a lot of myths and stigmas attached to the diagnosis that would improve the quality of life of individuals afflicted if they were addressed to the general population. "
Izquierd goes out of her way to study on new treatments and theories of the topic.
"The list would be shorter about what I don't know about autism," she says.  In general, it is a neuro-developmental disorder that can affect an array of things including social interaction, cognition, and speech language development. Yet she feels some parents do not research the topic as much as she has, leavig it to the "experts" to make decisions about the child.
"Most parents think the school system is going to save their child, and that is not the case."
Students of Mercy College are also educated on what autism is. Some students even have a person connection to this topic.
"My 12 year-old cousin has autism and my uncle tends to deal with very well," said Nicole Kline. "I was young when I found out. When my mother explained it to me, my emotions and feelings towards him didn't change, and I love him just as much as I would any other cousin. My family treats him the same and doesn't make him feel like the odd one out."
According to a National Children's Health Survey of 78,000 parents in 2007, one percent of the population of children in the U.S. ages 3-17 is on the spectrum disorder. A 2010 study that the numbers increased to one in 88.  In 2011, a study in South Korea of school children put the total as high as one in 33 children are on the spectrum.
"Autism is a disability and I feel like they don't have the same opportunity as other people do, which makes me feel bad. I think it is very rude when people make fun of others with autism or down-syndrome," said student Michelle Tiernan.
Izquierdo says that people cannot be educated enough on this topic.
"I feel that we do not know enough about autism and that more research should be done to answer some of the questions that remain elusive," said Izquierdo. "I think society should be better informed so that these individuals can have a better quality of life considering they face enough on a daily basis, which is a life long struggle they did not ask for."
Like other causes, it is going to take research and investments to find more answers.
"I think if more funding were given to the research of autism spectrum disorders and better policies were implemented, and better interventions offered on a case by case basis, better outcomes could be observed across the lifespan."
Though Izquierdo is happy that her children are healthy, she explains how her sons differ and how their lifestyle is. Her oldest is oldest is in a special education district just for children with autism. He is not very social but is affectionate. He is non-verbal.
"He is not doing as well as we'd like, but I had him re-evaluated and am revising everything we've done to see what can be done differently, including getting help outside of the school setting. We have the most issues with him but I am confident that when we find the right school and the right therapy team that he will flourish," Izquierdo began explaining.
Meanwhile her youngest is doing well and is very social.
"We have a nice little dream team for him ,and while he is not progressing as quickly as we'd like, he is making great strides. They are fine in terms of family. Me and dad are very dedicated and do everything we can to ensure an optimal outcome for them across their lifespan."
Luckily, Izquierdos' sons are slowly progressing with a great support team.
Avonte Oquendo still is missing and there are flyers posted all over the train stations. Please call the NYPD's Crime Stoppers Hotline at 800-577-TIPS if you have any information about the child.
Leave a Comment
About the Contributor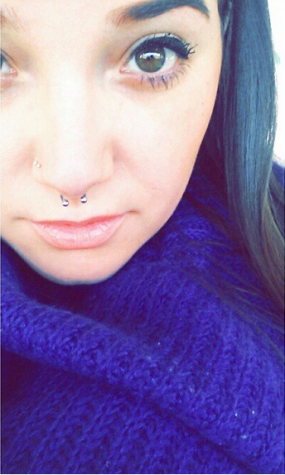 Erminia Errante, Senior Editor
Erminia Errante is FINALLY A SENIOR with an English Education major and a journalism minor. Living in Brooklyn, she has a passion for writing and loves...