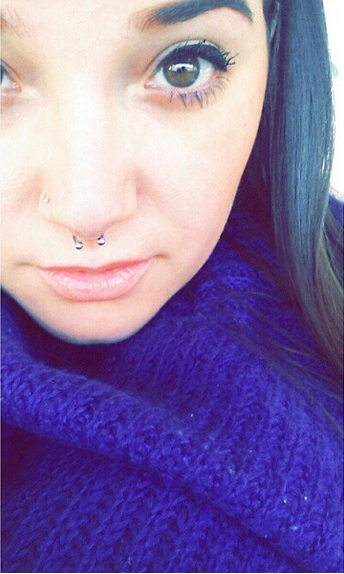 Erminia Errante is FINALLY A SENIOR with an English Education major and a journalism minor. Living in Brooklyn, she has a passion for writing and loves The Impact. Her real dream is teaching English in Italy since she knows both languages very well. Nowadays she'll just be happy having a job in the Education field.
Currently the Senior Editor in The Impact after being the Managing Editor the previous year.
After winning the New York Press Association's 2013 for third place in News Story, she knows this is just the beginning and there are plenty of opportunities out there.
She can be reached at
[email protected]
Erminia Errante, Senior Editor
Apr 15, 2015

OP/ED: Mind the Gap

(Story)

Feb 05, 2015

Let My Voice Be Your Voice

(Story)

Nov 04, 2014

The Life Of Riley

(Story)

Oct 16, 2014

5 Apps that don't exist, but should!

(Story)

Oct 13, 2014

Happiness Is Right around the Corner

(Story)

Oct 09, 2014

Picking Up The Pieces After A Revolution

(Story)

Sep 30, 2014

OP/ED: Jennifer Lawrence's Nudie Pics Aren't For Your Eyes

(Story)

Sep 09, 2014
Apr 24, 2014

Mercy Planning To Build $30M Residence Hall

(Story)

Mar 15, 2014

Obama: Liberal Arts waste of time

(Story)

Mar 12, 2014
Feb 16, 2014

Don't be a Pet Peeve !

(Story)

Feb 10, 2014

5 oddest dating websites for ALL types of people

(Story)

Feb 07, 2014

Editorial: Dear Mr. President

(Story)

Feb 05, 2014

First they are sweet, then they are deadly : Sugarless Gummy Bears

(Story)

Feb 03, 2014

Journalism: one dangerous job

(Story)

Dec 13, 2013

HONY: Mercy College Edition

(Story)

Dec 05, 2013

That's all for now folks

(Story)

Dec 01, 2013

A Picture is Worth a Thousand Words

(Story)

Nov 26, 2013

The Little Things in Life

(Story)

Nov 16, 2013

School of Education Seeks To Be First College With Dual Accreditation

(Story)

Nov 11, 2013

Welcome to College Students 101

(Story)

Oct 30, 2013

The Truth About Lying

(Story)

Oct 29, 2013

Can You Control Your Dreams?

(Story)

Oct 29, 2013

Taking Notice Of Autism Awareness

(Story)

Oct 26, 2013

What Would You Do?

(Story)

Oct 16, 2013
Oct 04, 2013

The New Flesh Eating Drug

(Story)

Oct 02, 2013

It's time to grow up ladies and gents

(Story)

Oct 01, 2013

Dangerous 'Molly' Usage Growing On College Campuses

(Story)

Sep 25, 2013

Professor Earns KappA Delta Pi Honors, Co-Writes Mercy's History

(Story)

Sep 15, 2013

Adjusting into a new lifestyle

(Story)

May 09, 2013

The Post Millinium Melting Pot: Interracial Dating

(Story)

Apr 19, 2013

Men's Lacrosse Wins Against Defending Champion Dowling

(Story)

Apr 18, 2013

Baseball suffers four loses against St. Thomas Aquinas

(Story)

Apr 18, 2013

Maverick Softball's Bentson Wins Player Of The Week

(Story)

Apr 15, 2013

It's a Love-Hate type of relationship

(Story)

Apr 15, 2013

Women's Lacrosse Hovering Above .500 at 6-5

(Story)

Apr 11, 2013

What to do – What to do?

(Story)

Mar 21, 2013

Luxury Vs. Convenience

(Story)

Mar 16, 2013

Men's Lacrosse Gets Off To Hot 6-1 Start

(Story)

Mar 11, 2013

#PrivacyControl on Social Networks

(Story)

Mar 11, 2013

Managing Debt And Paying For College – The Cost Of An Education

(Story)

Mar 11, 2013

OP/ED: Stress, Study, Sleep

(Story)

Mar 06, 2013

Spring Break Stay-cation

(Story)

Feb 28, 2013

Just take it easy!

(Story)

Feb 19, 2013

No Sleep Till Brookl….zzzzzz

(Story)

Feb 14, 2013

No rep. or bad rep.- All the same to Mercy College

(Story)

Feb 08, 2013

Safe Sex in Mercy College

(Story)

Feb 08, 2013
Feb 08, 2013

Mercy Purchases OLV; Withdraws Plan For Irvington Expansion

(Story)

Jan 31, 2013

New Year, New You?

(Story)

Dec 05, 2012

Experts Weigh In On Energy Drinks

(Story)

Dec 02, 2012

OP/ED: Could this be the end?

(Story)

Nov 29, 2012

Mercy Students Wary Of Cyber Attacks

(Story)

Nov 29, 2012
Oct 18, 2012

Credit Card Debt 101

(Story)

Sep 27, 2012

OP/ED: Dormers And The Landing Residents Still Battling Over Noise

(Story)