Metro-North Train Derails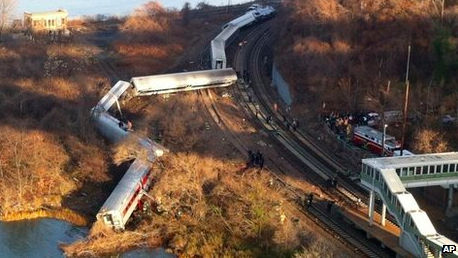 AT least 4 people have been killed and 63 injured after a Hudson Line, Grand Central bound passenger train derailed at 7:20 a.m/ on Sunday morning, Dec.1, north of Spuyten Duyvil station in the Bronx. 
Eleven of the injured are still believed to be in a critical condition in local hospital.
Four of the seven carriages that derailed rolled completely clear of the tracks as the Metro North train went into a bend in the line and landed a few yards away from the adjacent Hudson and Harlem Rivers.
The train appeared to be going "a lot faster" than normal as it approached the curve coming into the station, passenger Frank Tatulli told WABC-TV.
Metropolitan Transportation Authority spokeswoman Marjorie Anders said the curve where the derailment occurred was in a slow speed area, and that the train's black box recorder should be able to tell how fast the train was travelling.
Speaking to the media near the scene, New York state Governor Andrew Cuomo confirmed the casualty figures, adding that the authorities believed everyone at the site has been accounted for and that the National Transportation Safety Board (NTSB) was beginning an investigation.
"It's obviously a very tragic situation," he said. "The first order of business is to care for the people who were on the train… we'll wait to see what the NTSB says before speculating as to any causes."
Many Mercy College students use the Hudson Line trains on a daily basis and many will be travelling back to Mercy this evening. To facilitate travel to the Dobbs Ferry campus, Mercy College is running a complimentary shuttle bus service to and from the Metro-North White Plains train station on the Harlem line. The shuttle is now running and will run continuously until 11 pm Sunday evening, Dec.1. On Monday, Dec. 2, the shuttle will start at 7 a.m. at the White Plains train station and continue back and forth to Mercy until 11 p.m. Monday evening. This schedule will continue until further notice.
Details: The bus is run by Academy and is clearly marked MERCY COLLEGE. It will stop and pick up passengers on the NORTHBOUND side of the track, near the taxi stand.
For information about this bus service, please look for updates on Facebook or the Mercy website at www.mercy.edu. And please feel free to contact the Security Department on (914) 674-7225 with any questions.
Leave a Comment
About the Contributor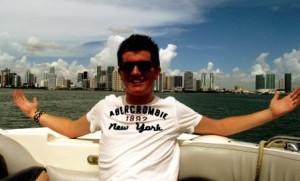 Samuel Neve, Editor-at-large
Sam Neve is junior international student from Great Britain studying Journalism. He has an eclectic taste in both music and sports and enjoys going to...