HD Studio Cameras Comes To Mercy College (Rough Draft)
As of July 2015, Mercy College's Media Studies program has officially gone HD.
Mercy College purchased new high definition JVC GYHM890U studio cameras and have thus far wowed the students, said Prof. Louis Grasso, Program Head and faculty member at Mercy College for nearly 20 years.
In May 2015, Grasso submitted and equipment specification list to obtain new HD studio cameras, and Mercy agreed to the cost of the budget. The students have been very excited since the studio has been upgraded.
Dionna Capers, a junior, stated that the older standard definition cameras could be a source of frustration.  "The picture would look very grayish sometimes, and occasionally when you would turn off the camera, it will be hard to turn them back on, so this upgrade was absolutely necessary."
She continued that she was very proud that Mercy realized an upgrade was needed.
"We can't have a standard definition TV studio in an era when our phones can shoot in HD," she said. "In the world we live in, students that are getting ready to apply to college or plan on go to an open house don't want to walk into a program with out of dated technology. Now our students are excited to produce projects because of the new equipment."
Grasso is a former employee of WCBS-TV News where he worked as a video editor. He also produced three documentary videos for the New York City Mayor's Office of Emergency Management, on off airport disaster, which were used for interagency coordination and personnel training and also shared with other states to compare procedures.
He remembers a time when the Mercy studio was in its infancy.
"Mercy did not really have a television studio, but they had some equipment that I could work with. I started getting used pieces to update the studio slowly. It was a process."
In 1998, two years later, Mercy College received a donation from Andrew Ohm, now a former member of the Board of Trustees at Mercy College and President of Pan-Asian Communications, Inc. where Ohm established the Korea Broadcasting Corporation.
"They were closing their studio and asked me if there was anything I could use, and after looking over their facility, I said yes – everything," laughed Grasso.
Most of the equipment was manufactured in the 1980s, and for years Grasso has been creating magic with his ability to fix and replace equipment in a pinch.
The Media Studies Program had been using standard definition Hitachi C1 studio cameras since 1998. The cost to update the studio was well beyond the department's budget, and generally any program fees were slated for maintenance and program related activities such as funding guest speaker appearances, showcases and award ceremonies.
Grasso stated that he, like other program heads are often making requests for more funding to provide better equipment and services for students.
"In fact, Prof. Michael Perrota, Interim Department Chair of Communication and the Arts, and I are making a proposal to the college to find a way in get more funding for the Media Studies program."
Perrota, faculty in the program for 10 years, advises the college newspaper, The Impact, and realizes how important updating the television studio was.
"Technology is always changing, and Prof. Grasso has done a tremendous job in trying to keep the students current within his operating budget," said Perrota. "The students have been very excited with the move to HD. We have been very pleased by their enthusiasm."
Now that Mercy College's Media Studies Program has new High Definition studio cameras that shoot 16 X 9, Dionna looks forward to more independent projects being produced coming from the TV studio.
Grasso added, "Head of the College's Budget Office, Jennifer Lee, Provost and Vice President, Dr. Concetta Stewart and President of Mercy College, Timothy Hall were very helpful and supportive throughout the process and the students and the faculty are much obliged."
Leave a Comment
About the Contributor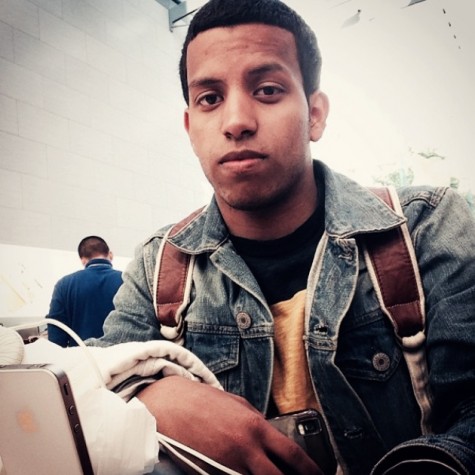 Jose-Ramon Serrano, Staff Writer

I am a senior of Mercy College and majoring in Media Studies with a specialization in Radio & TV Production. I have joined The Impact because...