Residence Halls To Be Named In December
As Mercy is preparing to celebrate the upcoming opening of its new residence hall on the Dobbs Ferry campus, help with name selection was requested from students, faculty, staff, and alumni.
We know Mercy better than anyone else, don't we? And who wouldn't want their idea to live on as a part of Mercy College's history forever?
The response was so overwhelming that Mercy College has decided to rename both on-campus dormitories at the dedication ceremony on the Dobbs Ferry campus on Tuesday, Dec. 15.
Mercy College received 352 original entries in a short period of time, with a total of responses numbering  1,000.  
"The naming of the new residence hall and the original residence hall is an exciting opportunity on campus. It's exciting for all students, faculty, and staff – we received and appreciated everyone's suggestions," said Mercy College President Tim Hall.
Some even used  play on words with the Mercy President, offering Hall Hall as a possibility.
Some of the more serious contenders are Founders' Hall, Mavericks Hall, The Horse Shoe, Eagle Hall, North Point, Maverick's Stable, Hudson Hall and Mark Zuckerberg Hall.
Even though Mark Zuckerberg took a course at Mercy, Mercy is most likely not to name the building after a person. Instead, they are leaving the option open of recognizing a major donor who might be identified in the future.
"The new residence hall is going to be a building that we can all love and use, and the original residence hall is a building rich with history," added Hall. "I want everyone on campus to be proud of the names."
Sister Mary Hartnett, who is the assistant professor of nursing had two clever suggestions for the naming.
"Founders' Hall, it would stand as a symbol for the good people that are still here and working hard," said Hartnett, as she references Dr. Ann Grow, who is the professor of humanities and philosophy in the School of Liberal Arts.
 Dr. Ann Grow was a member  of the Sisters of Mercy, who were the original founders of Mercy College in 1950. Hartnett is still a member.
"Dr. Grow is a super dynamic person who has been working at Mercy since the very beginning, which is why Founders' Hall would be ideal," added Hartnett.
Hartnett also adds that in an event of a donation to be used for its on-going development, a name could easily be added to it to include the donor.
Hartnett also suggested Misericordia Hall as a perfect name for the new residence hall.
"Misericordia is Spanish for mercy," Hartnett said, "I chose the Spanish word over any other translation because of the Hispanic-American population Mercy College has occupying it."
Recently, the White House designated Mercy College as a "bright spot" in Hispanic Education, which added to Hartnett's reasoning.
Kristin Millard, a sophomore studying music technology said, "I think Mavericks Hall or Hudson Hall would work best for the new residence hall only because it just makes sense. It describes who, what, and where Mercy College is."
"I also think it would be more appropriate to name it after someone important in Mercy College's history, as a lot of other schools name their buildings that way," Millard added.
Millard believes that whatever Mercy chooses in the end as the ideal name is okay with her. She's more excited that the building is almost finished.
Keyla Rijo, who is studying clinical lab science as a major, suggested Dobbs Hall.
"It represent Dobbs Ferry and how significant Mercy College is to it," said Rijo.  "Mercy is important to the area, so it's a good idea to include our town and incorporate our community as well. "
Dany Larame, a sophomore studying to be a Physician's Assistant, says he believes the new residence hall should be named Millennial Hall.
"This name strategically targets the vision of Mercy College," Larame says, "with the construction of this building, Mercy College enters an era of expansion both physically, and ideally as a result it should be named accordingly."
"This name symbolizes Mercy College's vision for the future and would also show potential applicants decades from now that Mercy has been and always will be about inclusion instead of exclusion," Larame adds as he thinks of the future generations that will occupy Mercy one day.
A few sophomore business students, Lizbielka Rosario, Mahina Won-Milho, and Dominick Barbato tossed around a few names in the dining hall, such as President Hall, Hudson View Hall, Hudson House, and New Hall.
"I think asking students to help name it parades us together to help decide the future," said Won-Milho.
Rosario added, "It's great to think we could name it for all of us to remember and it will stand out to us."
"The name is going to be there many years after us," concluded Barbato.
Amongst a few freshmen lacrosse players, Kollin Diedrickson, Danny Taylor, and Nick Sehring, the name Maverick Hall was mentioned, but they expressed that they are rather more excited to move in more than anything.
Taylor, an undeclared major said, "Mavericks Hall would be a good name because we're the Mavericks and we have pride in that, but I'm more excited to actually move in."
Diedrickson, who is studying health science, agreed with Taylor, but added, "I can't wait to see the new amenities it's going to offer, such as the new gym because the one we have right now is too small."
Along with the new gym, health science major, Sehring added, "It's also going to offer more food options for us. Possibly a Starbucks and much more."
"The new residence hall will also help with the recruiting process for the sports teams," Taylor concluded.
Once all suggestions were submitted, and the submission entry was closed, President Hall and his leadership team examined each contender carefully.
All were great suggestions, he mentioned.  A few names were submitted multiple times, which helped carry more weight in the overall choosing. At the same time, there were other names that captured the perfect essence of what Mercy College truly is.
President Hall thanks everyone who contributed with a name idea. At the end of the day, two names were chosen.
Two names that will live on in the history of Mercy College. Two names that everyone is all going to love. Two names that are relevant and beautiful.
Leave a Comment
About the Contributor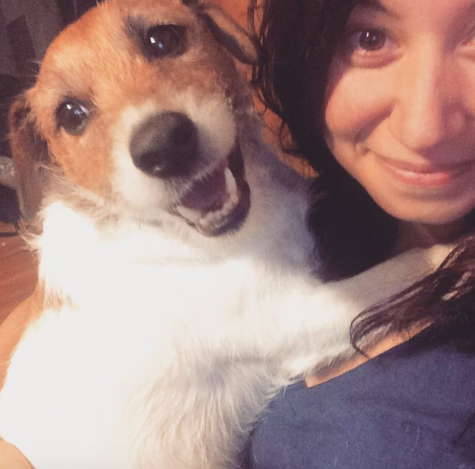 Kayla Simas, Managing Editor
Kayla Simas is a Journalism major at Mercy College. She's from the forgotten borough of New York - Staten Island. She's an avid coffee drinker and enjoys...