The Impact Travels To Trump Inauguration and Finds Support And Protest
Donald Trump stood in front of our nation and was sworn in as the 45th President of the United States on Jan. 20 on the West Front of the United States Capitol building in Washington D.C.
The cool, hazy air was filled with cheers and hisses from a divided country.
As Trump stepped up to the podium, the world opened up to him. "Trump, Trump, Trump, Trump!" people chanted loudly. They scrambled around, shuffling through the idle bodies whose faces were pressed up against the tall fence separating them from a closer crowd. He commenced his inauguration in which he envisioned himself and citizens of America joined in a great national effort to rebuild the country and to restore its promise for all of the people.
As he was speaking, it began to rain. Though many people took this as a sign that the world as we once knew it was about to end, Rev. Franklin Graham had something different to say.
"Mr. President, in the Bible, rain is a sign of God's blessing. And it started to rain, Mr. President, when you came to the platform" He continues, "And it's my prayer that God will bless you, your family, your administration, and may He bless America."
But many did not feel that way.
Alix Olson, a political scientist from North Hampton, Massachusetts was adamant in her fears about the future.
"He is about to pose some serious damage to many, many Americans," she continued. "I think we'll see the results of that pretty quickly and a lot of us are scared. I think we're sort of trying to mix our fear with the form of resistance that's also positive and find ways of life that embrace all kinds of diverse lifestyles."
There has been much controversy over the crowd sizes comparing Barack Obama and President Trump. Obama was estimated to have on average 1.8 million people at his first inauguration for the 2009 term, though Trump's size varies from 160,000-1 million.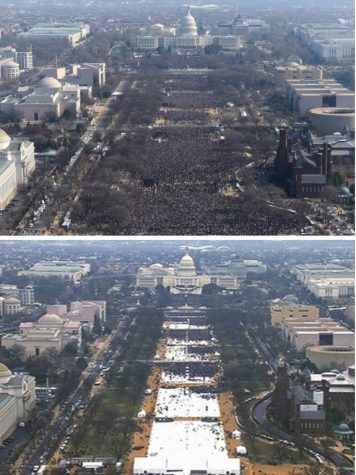 Two things can make a crowd-size image misleading: a low angle and a long distance. It was believed that the inauguration images that were taken from as high as the Washington Monument were misleading over the 15-block Mall. The cloudy skies above this year's inauguration shows no clear satellite imagery of Washington. Without satellite imagery, it is difficult to make a complete and accurate estimate of crowd size. According to the New York Times, the two contrasting images from 2009 and 2017 do not reflect people who might have viewed from the west side of the Washington monument. The grass on the mall is covered in white plastic for Trump's inauguration, but not for Obama's.
Regardless of the exact number, numerous people from all different states congregated outside the gates just minutes before history would be made before everyone present. With their golden tickets in hand ready to proceed closer, countless Trump supporters stood in line, going through metal detectors and advancing forward in hopes of getting as close as they could to the action.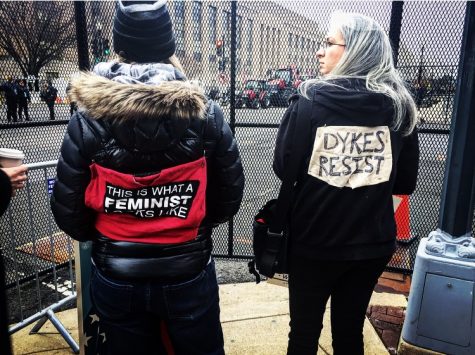 Yet as thousands of people pushed themselves as close as they could to the service, protestors, whose shirts spelled "R-E-S-I-S-T," chanted against him.
"(Expletive) you! Go home!" Pro-Trump supporters yelled back as the police forcefully removed the loud protesters from the calm ceremony.
Anthony Wright of New Jersey came out to see America become great again, as he put it. He yelled, "Our society has been broken and Donald is going to bring us back to where we need to be!"
He strongly believes that unlike most other Presidents, this non-politician is a man of his words, and unlike Obama, actually cares about the American people. He claims the country now has a great leader who is going to repair America.
"We should be one society. Why can't we all be together?" Wright pleads. "Why do we have to be divided in this country?"
As he points to the world around him, he says that all of this is the fault of Obama.
"Look at us. We are caged in like a lion!" He roars, throwing his hands in the air as if he was a lion.
Suzzanne Monk of Chicago is also a Trump believer, and as many people seemed to agree, she deems that overall, people didn't trash Obama as much as they did Trump.
She blames that on the mainstream media, though.
"I think they created a very vitriolic narrative and ran with that over and over… and over."
Instead of talking about policy, Suzzanne credits the media with encouraging all the name-calling.
"I think it's going to take a while to heal collectively as a country because when you get lied to, you get hurt."
After the inauguration ceremony had finished, people flooded the streets to protest more. Bassam Shawl and Chloe Zomnir stood by the anti LGBT protesters with signs held in their hands.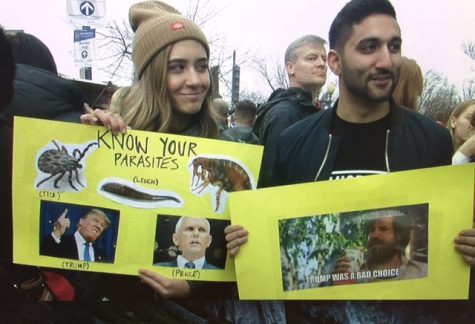 "Trump, Make America Great Again: Ban Homo Marriage," the anti LGBT's signs would say.
Hoping to transfer some of the attention their way with their signs, Shawl says, "We've got a lot of good glares going on."
Zomnir lets out a laugh in agreement.
As an atheist and a member of the LGBT community, it's nothing she hasn't seen before, that's for sure.
"I can't believe I have to protest this (expletive) still. It's 2017," she angrily says. "The fact that so many people are still so against equality for anybody… I just don't understand."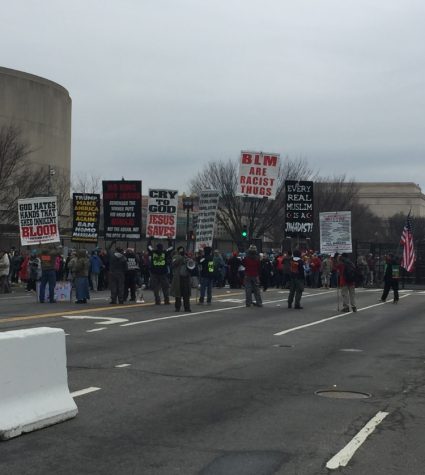 Jason Riddle of Connecticut wears a Trump wig and waves a rainbow flag around in the air as he expresses his gratitude for our new President.
"I love Trump! I know a lot of LGBT people who voted for him and were attacked for it. There's this general assumption that he isn't pro LGBT even though he has done exactly as much as Obama. Obama promised to fight for LGBT rights and so has Trump."
Zomnir seemed to have a different outlook on the situation.
"Trump has gone back and forth regarding the LGBT community and to be honest, I have no idea what he is going to do with the things we have accomplished in the past eight to ten years."
But of all the debates America is struggling with now, freedom of speech is not one of them. That's one right that still makes America a great country.
"If you don't exercise these rights, then what the hell is the point?" Shawl asks.
Zomnir and Shawl have both been to countries where that privilege isn't allowed, and they fully believe that American's don't take their rights for granted. She strongly deems that peaceful protesting is a way to stand up for what you believe in, and that is important.
"To not do that is silly, especially when you live in D.C. Why not go out and show your support?" She says as Shawls interjects. "It really shows a testament to what democracy really is."
While the peaceful protests were taking place, just blocks away on 12th and K Street, "anti-fascist" rioters were exhibiting their anger by running around with hammers and crowbars smashing bus stops and the windows of a Starbucks and Bank of America. People were setting cars and limos on fire and spray painting "We The People" along the sides and chanting "No Trump, no KKK, no fascist USA!"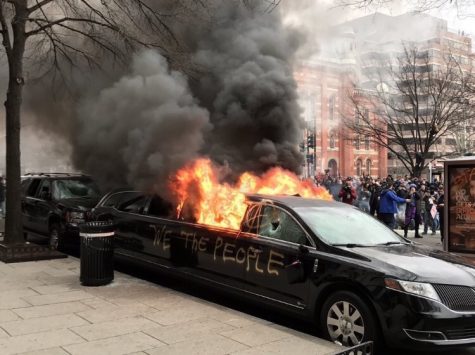 Josh Wade of North Carolina was watching from a distance as police were tear-gassing the rioters.
"I'd never seen anything like this before. There were so many people aggressively running around screaming and throwing things." He stops for a moment as his memory flashes back to what he had just seen moments ago. "You could've easily been trampled by the mobs of angry citizens."
Six police officers were injured that day, along with 217 protesters.
Olson says she is a political optimist, and though she is against violence as a means of making a point, she hopes that the peaceful protests will shed some light on all the reasons Trump should only last one term.
"There are so many who are up for this kind of resistance and the work that it requires."
Shawl is on the fence regarding whether or not Trump could win a second term, or even finish his first.
"He's has Congressional support and judiciary support so all of his agendas will be pushed early on so I guess we will see how it unfolds," he sighs. "It'll really be up to the American people to decide."
Zomnir desperately adds, "I hope to God that he doesn't get elected for another term after this… the God that I don't believe in."
Leave a Comment