Impact Wins Four Awards At NYPA; Simas Wins First Place
The Impact was awarded four journalism awards by the New York Press Association last week, earning the second most writing awards in the state for the second year in a row.
The 2016 awards was also the first time The Impact won an individual first place prize, as Kayla Simas won top honors for column writing. Her column is ironically titled, Winner Take All.
Judges comments included "beautiful writing; the subjects are personal yet universal….the memories of your grandmother made me tear up."
"I'm beyond speechless," Simas said, who serves as the publication's Managing Editor. "I never thought I'd win an award, let alone first place."
The Impact also won a third place award in the same category, as Weronika Raczek was honored for her column, A Fangirl's World.
Judges comments included "Always Keep Fighting shares a very personal story, but one that many will relate to."
"It was personal and from the heart," said Raczek, who serves as the publications Digital News Editor. "Writing is a way of connecting with people and I'm proud to say I get to do it regularly."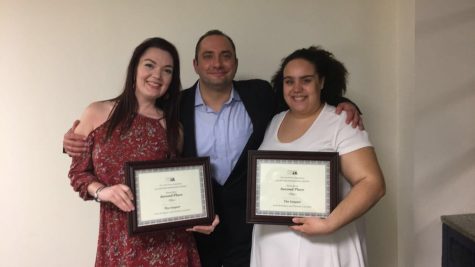 Faith Rodriguez and Christine Cassolino won second place in category of news reporting for the article, "Students Travel To Help Rebuild The Middle East." The story centered on Mercy College's
Environmental Sustainability and Justice Club aiding Palestinian and Israeli students help build bio-digesters.
The judges called the pair talented writers who know how to take a story that stretches across the globe relatable to its readers.
"This was the most difficult story we ever worked on. We were glad when it was over," the pair laughed. "Now it will forever be a part of us."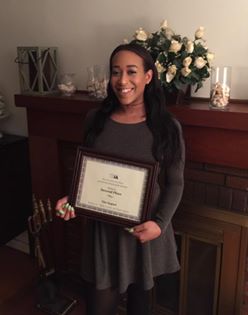 In a team effort, three staff writer submissions won a a second place award for best staff Editorial Writing. The collaboration consisted of Brittany Lee, Ihsani Jackson and Tiffany Cordero. Lee's editorial centered on the important of sexual consent. Jackson's focused on why so many college students can relate to Beyonce's #Formation. Cordero's editorial focused on the Take Back the Night event and why students should participate.
"It's amazing to be able to hold this up," says Cordero in reference to her award. "In the current climate that we are in, it is important as journalists that we have integrity an do our jobs responsibly."
The judges stated that that fellow students of the trio should be emboldened to stand up for their rights as well as the rights of others, and these editorials "give strong support for that cause."
The NYPA is an annual contest that judges categories in which every college in the state of New York is eligible. The contest is judged on a calendar year, and every submission must be published by Dec. 31.
The Impact had won four awards from 2007 to 2014, but tripled that number to 12 the last two years.
"We are catching momentum. To win this many awards again really proves how much progress we have made," said Impact advisor and Department of Communication and the Arts Chair, Michael Perrota. "I'm so happy for everyone. It is testament to their dedication to the publication."
Size of the college, staff or budgets are not taken into consideration during the awards process. Just the top collegiate work, regardless of the school.
"A decade ago we looked just to compete. But now the goal is to win," adds Perrota.
Leave a Comment