Mercy To Now Host School Specific Graduation Format Every Spring
Along with resolutions and a new gym regimen, 2018 brings a new commencement schedule to Mercy College for this coming May.
Commencement will now be split up into four ceremonies held on two separate days, compared to prior years when only two ceremonies were held on the same day.
The School of Business' commencement ceremony will be held on May 15 at 9:30 a.m. and the School of Social and Behavioral Science's ceremony will be held on the same day at 2:30 p.m.
The School of Health and Natural Sciences will have their ceremony the following day, May 16, at 9:30 a.m., and the School of Liberal Arts and School of Education will have a combined ceremony at 2:30 p.m. that day.
The School of Liberal Arts and School of Education will be combined based on the number of graduates.
"When I was a part of the 2017 commencement, I saw family members being left out of this special day [because there weren't enough tickets] and that wasn't okay," stated Mercy College Provost José Herrera.
Each Baccalaureate ceremony, which recognizes honor students, will also be incorporated in to the graduation ceremony, instead of being on a separate night, in hopes of creating a more intimate ceremony for the schools, according to an email from the Office of the Provost that was sent to the Mercy College community on Jan. 17.
Even though having separate ceremonies will be more expensive for Mercy College, the Provost believes it will be a more enjoyable experience for all.
"Some graduation celebrations become so big that it's easy to get lost in them," he added. "It's a great investment for Mercy because the ceremonies will be more culturally relevant to the students involved."
The exact number of tickets that each student will receive will be announced in the next month, according to Lisa Mills-Campbell, Director of Community Programs and Events at Mercy College. But it will be an increase compared to prior years.
Mills-Campbell, who is part of a large family and a Mercy College graduate, sympathizes with having to choose whom to invite to the ceremony.
"I had to scramble to try and get enough tickets for my family. I want it to be different this year."
For some students, announcing the change a few months before commencement caused them to have to change their plans for celebration.
"When I received the email, I immediately called my family so we could make the proper changes," said Jared Miller, a senior majoring in Sports Management. "It's cool that I get to graduate a day earlier, but some family from out of state had to rearrange their plans. All-in-all, I'm excited about the changes."
Herrera believes that this change will be a "win-win for students and their families."
"I couldn't go through another graduation with that tension from family members who couldn't see their relative walk across stage. Having to wait another year was not in the cards," he added.
Mills-Campbell, who is in charge of planning the ceremony, has been diligently working since the decision was made.
"We figured January would be enough time for students to make changes. There were a lot of moving parts, and we have been discussing this change since last year's commencement," she stated.
A main part of the decision process was the fact that with more tickets, more family members could attend the actual ceremony. But with splitting up the days, others may be left out.
"I'm excited more of my family can come, but I really wanted to be with all of my friends and now I'll only see half of my classmates," expressed Clairet Saldana, a senior majoring in Exercise Science. "I can't see everyone that I came in with freshman year."
However, as explained by Mills-Campbell, there were two split ceremonies even when it was on the same day so not everyone would've graduated together.
"We hope that having more family will balance out the fact that you won't see a few friends," said Herrera.
Something additional is that each ceremony will have its own guest speaker. The purpose of that, according to both Herrera and Mills-Campbell, is so the speakers can represent each school's needs.
"There are several reasons to change the structure of commencement," he added. "But the main reason is to benefit the students and their families."
Leave a Comment
About the Contributor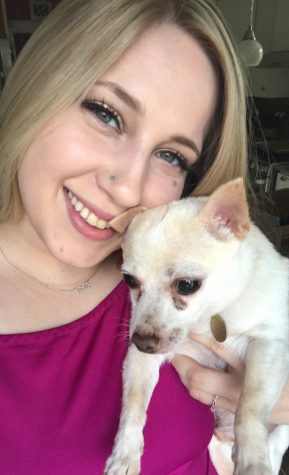 Liv Meier, Former Associate Editor
Olivia Meier, most commonly referred to as Liv, is a journalism student at Mercy College. And while she loves New York, she is a true Jersey girl. If she's...