Theater Club Brings Drama to Irvington Playhouse
Mercy College's theater creatives finally had their voices heard past the confinements of Victory Hall's cramped classrooms. April 23 was a day filled with nerves, excitement, and pure gratitude. Unlike one's average Monday, dreading the hours to come, members of the Theater Club were welcomed with open arms by Irvington's own Town Hall Theater.
The audience was filled with not only students to support, but also members of the local community as well to enjoy the hour-long free performance. Local residents and theater enthusiasts, Michael and Linda Kaufman, were waiting patiently for the six members of the club to take their grand stance on stage.
It has been 20 years since they last set foot into the theater, and while actively visiting Mercy's Dobbs Ferry campus for the recent International Film Festival, they were notified of the upcoming theater showcase.
"I think its great that Mercy College does this and invites the community into programs," said M. Kaufman." We've been going to the film festival for the last three years, and tonight the attendance was at an all-time high."
The Kaufmans also appreciate how welcoming President Tim Hall is, as after each film festival, 15-30 people are invited to Hall's house for an evening. Such gestures make residents like the Kaufmans willing to take time out of their day to support Mercy's public events.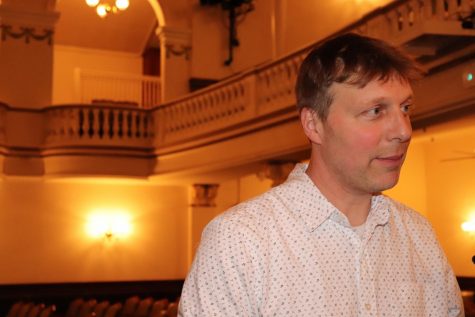 Marc Palmieri, co-advisor of the theater club, introduced the evening by expressing his gratitude for the School of Liberal Arts and the great treatment the Town Hall Theater has given the members.
Palmieri described the students' upcoming performances as works in progress of the exercises and scene work and speech work they focus on in the club.
"These are snippets, fragments of scenes and monologues from longer pieces- not full productions of anything complete."
The Theater Club president, Reeyaz Bettencourt, started the showcase with a comedic monologue. Bettencourt grabbed the audience's attention almost immediately with comical remarks as his character felt as if he were being watched by a child through a window and had to showcase his everlasting Picasso skills as if he needed the closure.
Danielle Gray then changed the mood to what was once a giddy audience to a heart-wrenching one. Gray took us through an emotional state of a woman's unexpected pregnancy and the elongated hardships mothers endure.
Text such as "I ain't raising no kid police will shoot" bounced loudly across the room, yet the viewers were stunned in silence.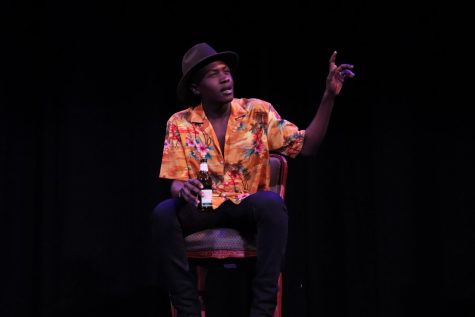 Bettencourt and John Sebastian Aperano Yoba led the next scene as best friends, in the park late at night, trying to find one's mermaid lover which ends in nothing but laughs and a jack o' lantern prop.
Dionna Capers brought the room back to a more sentimental state with a feminist highlighted monologue. She paced back and forth while reciting lovestruck comments such as " it was the love I made too much space for."
Following more emotional bits by Gray, Yoba, Capers, and Bettencourt, Angelica Campoverde received a specific musical transition before her monologue that fought against homophobia. Lady Gaga's "Born This Way," known as an anthem for the LGBTQ community, was one of the only lyrical music scene transitions used all night.
The showcase concludes with a tag-teamed piece with Capers and Campoverde yearning for the easiest way to dispose of a dead woman's body, who also happens to be a male member, Rorghino Flores, dressed to the nine with a mini dress, heels and flirtatious wig.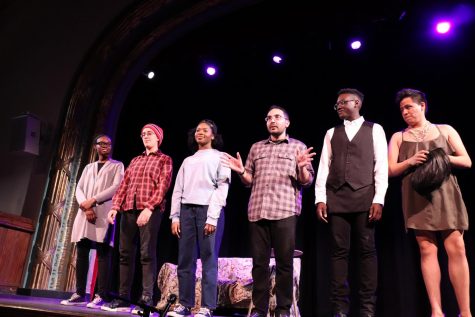 Flores recounts Bettencourt's persuasion as a reason to why he decided to perform in the play in the first place. He states that this performance was an event that the club hoped to happen in the near future, as the club is only a semester old, but the Town Hall Theater wanted to showcase their talent sooner than later.
"We started a collaboration with the theater earlier this year, and we worked out an agreement, but we only had two months to prepare which was hard to balance as we all have jobs and classes to work around," expressed Bettencourt.
Bettencourt appreciates Palmieri's dedication to the club as he states Palmieri took on a director's role which assisted the club greatly. Bettencourt hopes to keep the legacy going next semester and add smaller play readings on campus.
" You always want to have something going on to keep the ball rolling."
Palmieri says he wanted the club to have a showcase after learning the club only had weekly meetings. He emailed the board of directors of the Town Hall Theater, and everything fell into place.
"They responded well beyond my imagination. They offered internships; Reeyaz was hired in marketing; the students got to observe professional productions coming in and out, participate in pre-production and strike, and then they offered us the stage," expressed Palmieri.
Palmieri's love for theater was discovered in college, and he takes that memory with him as he assists in the Theater Club.
"One of the reasons I've always wanted to work on a campus to be a professor was because that is where I wanted to exist ultimately. All the work I've done professionally just comes to bear here in this job. I get to live and share the experience I had as an undergrad discovering this."
The shocks of sensitive language, such as curse words, didn't seem to be a worry for Palmieri. He believes by adding those remarks, it not only adds to the humor, but makes the scenes more authentic.
"It would be highly inappropriate (and in fact not legal) to alter a playwright's words for any reason in performance. The event was a college level event, and a disclaimer was included on the publicity materials that subject matter may be inappropriate for children," explained Palmieri
Capers believes there were special elements to preparing with her fellow members for this first showcase.
" We all have unique personalities, in which we all had to work together with each other, and pretty much adapt and adjust to changes and theater movements. We learned to accept doing something that might not be eagerly talked about," said Capers.
As her senior year concludes, Capers feels that it isn't just a club, but what they do for a living, it's their lives – the careers they're going to fill out. To the people who want to try theater but are afraid, Capers wants those individuals not to second guess it: " Do it, go out there and get what you want."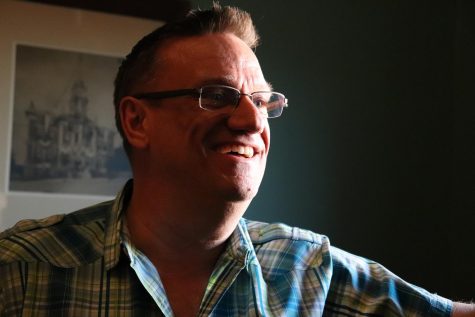 Gregory Allen, the theater manager, believes it was significant to have the collaboration with the college.
"Why not have that synergy of what they're doing with the club, as far as theater and drama. We have this whole space here and events going on every weekend that they can be a part of and see how theater happens live."
Four years before Allen's current position at the theater, he ran an arts center on a college campus in New Jersey, which is the atmosphere he loved and felt was now imperative to transport to Irvington.
Mercy College is the first institution to collaborate with the Town Hall Theater and Allen hopes to continue a partnership.
If anyone wishes to join the Theater club, whether interested in performance or behind the scenes activities, contact Reeyaz Bettencourt at [email protected].
Leave a Comment
About the Contributor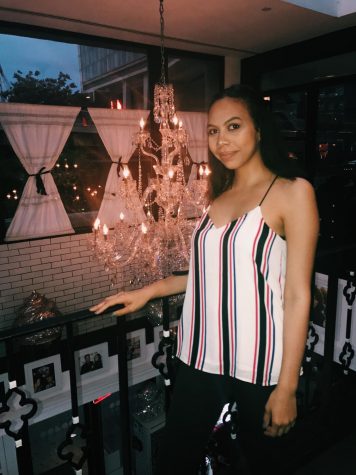 Nicole Acosta, Managing Editor
Nicole is from The Bronx and is a journalism major at Mercy College. Her hobbies include discovering new places to eat on a budget, photography, listening...