Essentia Water Recognizes Overachievers With Nationwide College Artists at Fire Within Event
Essentia aims to prove to be more than just one's new favorite brand of hydrating H20. The alkaline water company hosted a Press only event titled Fire Within, on Oct. 18 in the Meatpacking District of New York City. The engaging tone of the event allowed Essentia to commemorate overachievement by highlighting college student artists in seven nationwide cities.
Essentia connected with local universities in Philadelphia, Dallas, Los Angeles, Portland, New York City, Washington, D.C. and Seattle – and leveraged social media to solicit entries from local students. A panel of judges evaluated the submissions and selected a local artist in each market, Essentia officials stated.
Once selected, the students were provided with a creative brief to inspire artwork that showcased what makes their city unique, inspiring and overachieving. Essentia then surveyed local residents from each of the cities to determine what they perceived were "overachieving qualities" of their respective cities.
Essentia stated that the Fire Within event marked the culmination of collaboration with the student artists, which not only celebrated these seven individuals and their cities but provided insight into what it really takes to become an overachiever. Throughout September, their work was spotlighted with iconic billboards in their respective cities.
Such artists represented were Chuck Werbany from Philidelphia, Eric "Drigo" Rodriguez from Dallas, Jacqueline Jun-Ha from Los Angeles, Andromyda Wagenman from Portland, Dillion O'Keefe from New York, Chandler Murphy from Washington D.C, and Maya Milton from Seattle.
As their distinctly colorful artwork encapsulates the room of supportive residents, the millennial artists find it surreal to be individually celebrated in the Big Apple by such a dominant company.
"I'm just really honored. I'm a little dubious when it comes to corporate, business world sort of things but, I'm pretty proud that they chose me to represent a part of them. Their message is really wholesome and humanistic," Jun-Ha revealed.
Milton's plus one, her mother Priscilla Milton, expressed gratitude for the collaboration with Essentia.
"This is a really great organization. The company has just been so supportive, and also supportive of diversity. Diversity in all ways – that's huge."
Even though art has become a non-conformative career path, the college artists want other creative hopefuls to not let that fear stop them from following their dreams.
"When you really break it down to the bare essentials of it all, doing something like art, doing unconventional things, actually makes a whole lot of sense, and I think you should stick with that gut instinct if you have it," Jun-Ha proclaimed.
Wagenman agreed with Jun-Ha's sentiments and found it essential to have confidence in yourself, and in your art.
"The most important thing is just to try. Give yourself the benefit of the doubt, take yourself seriously, but not too seriously. Put yourself out there because someone will notice it."
M. Milton also expressed how imperative it is to have a positive support system by one's side during their journey.
"Go for your goals. Ignore what everybody else says. People are going to tell you that you are not going to be able to do it. You have to believe in yourself, and having people around you who believe in you, that's the main thing,"
***
As the event was aimed to highlight overachievers, Essentia also set a panel discussion of a few of their collaborative individuals, a part of what they call their, Essentia Nation.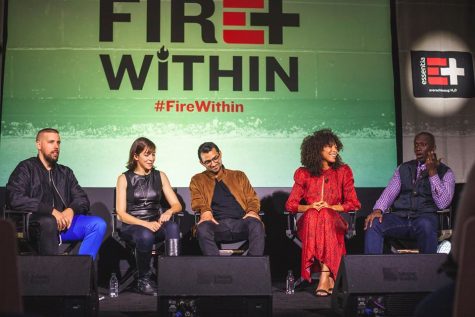 The panel focused on four of Essentia Nation's rising stars, and how they stay at the top of their game. The stars included, U.S Coast Guard, Triathalon athlete, Jessica Lukasik, Australian fashion designer, Daniel Patrick, British singer/songwriter, Arlissa, and filmmaker Karam Gill.
The panel, moderated by digital media maven, Derrick N. Ashong, discussed not only their personal journeys but the dense navigation of career versus family.
Patrick mentioned with humor that as his father was a pro rugby player, he was just quitting rugby to study fashion. He noted that his father easily supported his endeavors and paid for his fashion school tuition.
"I was very lucky that I had a family that was very supportive of what you wanted to do. It's not the be all end all if your family doesn't support you, but I think people should do what they want to do and what makes them happy."
Arlissa's response slightly contrasted with Patrick's comments and she stated that although she had the support of one parent, she was in the presence of one unsupportive parent, her mother.
"I actually had to move out. I lived with my best friend and her family just because it was such a hostile environment."
She expressed that the more her mother badgered her about not pursuing singing as a career, the more she believed it.
"Well if I can't sing, I better start trying to get better at it."
Although Arlissa has admitted her success in the music industry, she no longer has a relationship with her mother and hasn't spoken to her in seven years.
"Unfortunately, this is the sacrifice I had to make to make myself very happy."
***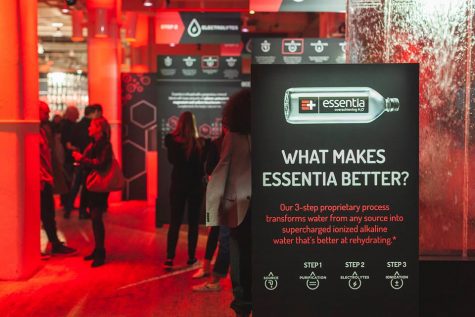 Aside from giving a platform to the student artists to showcase their pieces and network, Essentia dedicated a section of the space to represent each step the company takes when creating their unique alkaline mixture.
In the midst of a glass waterfall, stood company representatives, that explained each transformative step.
The first step is purification. "Water is passed through microfiltration, reverse osmosis and ultraviolet exposure making Essentia 99.9 percent pure," as stated on Essentia's official website.
Step two is the mineralization/electrolytes stage. The exclusive mineral mixture, containing magnesium, calcium, potassium, and sodium bicarbonate were on display for guests to not only view but to touch.
The final step is ionization. "Removal of bitter-tasting acidic ions creates a 9.5pH (or higher) ionized alkaline water."
As the evening persisted, Essentia's acts of collaboration continued to shine as their Believe + campaign caught the eyes of many empathetic attendees.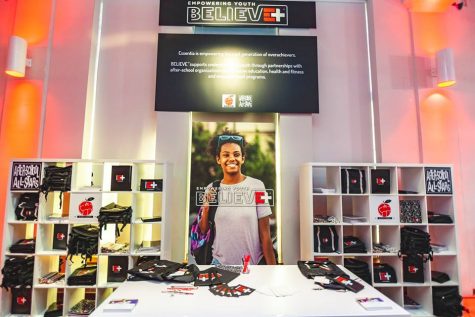 "We thought it was a great opportunity to introduce Believe+ and give guests an opportunity to give back to the next generation of overachievers by stuffing backpacks with school supplies for the kids in the after-school programs," Essentia officials stated.
Believe+ is an initiative that Essentia launched to support underprivileged youth through partnerships with after-school organizations, like After-School All-Stars and Active Children Portland, that focus on education, health and fitness, as well as empowerment programs.
Eva Fordham, the Vice President of After-School All-Stars, felt that their involvement in particularly middle schools in 53 cities across the nation, is an essential stage of development in the youth community.
"It's the forgotten age group. Not right for wrong or good or bad, but there are tons of programs for elementary and high school students. There seems to be this gap in middle school where I think kids are most vulnerable."
Fordham expressed their focus in Tidal one schools, which are the schools that tend to be located in low-income communities. They ensure the students are aided in every aspect whether it is homework help, sports, and fitness, to learning about STEM.
Overall, Essentia emphasized the importance of their beliefs in empowering young adults to be their best while doing the things they love. The company credits the arts for being a powerful tool to build community, harness creative energy and create meaning.
There is a quotation Essentia proudly advocates as a brand of motivation.
"Be fearless in the pursuit of what sets your soul on fire."
Leave a Comment
About the Contributor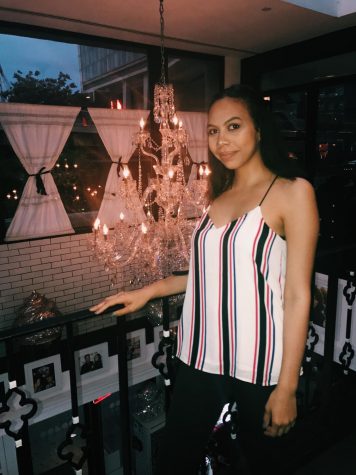 Nicole Acosta, Managing Editor
Nicole is from The Bronx and is a journalism major at Mercy College. Her hobbies include discovering new places to eat on a budget, photography, listening...