Providing Relief to Stressed-Out Students in Need
The middle of the school semester can be a stressful time for college students. The midterm panic has passed and the attention is now focused on research papers, long term assignments and reaching the finish line. With all that going on, it's hard to find time to relax and do something happy.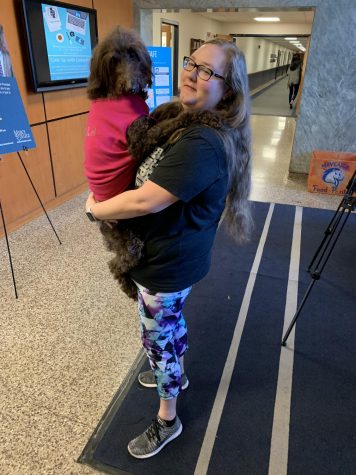 On Nov. 8, students were able to escape their problems for a few minutes. This was thanks to three therapy dogs that were set up in the Main Hall lobby. As dozens stopped by to pet and hug these cute furry friends, The Impact chatted with the owners of the dogs to gain insight into their personal lives and the process of becoming a therapy support dog.
Marissa Levy is the owner of Stella, an eight-year old 37 lb. poodle. After losing her best friend and her dad three months apart, she felt lost. Levy said, "I wanted a happy, healthy puppy. Dogs are always unconditionally loved. So I did it just simply for that reason. She was my coping mechanism. I bought Stella from a breeder."
So far Stella had visited several colleges, hospitals and local Barnes & Noble bookstores to delight the public, at least six times a week. 99 percent of the time, crowds are very welcoming towards her. A woman approached Levy and Stella in the dog park and wanted the poodle to become a therapy dog. In her free time, she enjoys going to the beach and playing with her brother Harris, a six-year old 85 lb. Australian labradoodle.
Lynda Shenkman previously owned a labradoodle. One day, while looking at a photo of sheepadoodle, she reminisced about her old dog and wanted to get a poodle mixture. That led her to Skye, a two year old, 60 lb. sheepadoodle from a breeder on the eastern seaboard of Maryland.
"Sheepadoodles have very good temperament and I knew I wanted to train her to become a therapy dog, if her temperament was good, which it was," Shenkman explaining her decision to get Skye. She was Thursday was her second therapy dog session, after visiting Manhattanville College the previous week. She will visit The College of New Rochelle next month. With students, Shenkman wants to get Skye adjusted to people.
Shenkman adds, "She's a combination of a poodle and a sheep dog, both are really smart which is nice. She need to be groomed, brushed regularly. But she enjoys it and I enjoy brushing her."
Skye even enjoys playing soccer in her free time. "Every morning, we kick the soccer ball and she actually knows how to stop the ball. She goes after it. She's totally obsessed with her soccer ball."
There is a process to becoming a therapy support dog. As Levy explains,"there is a test they have to pass. Probably about 50 percent temperament and 50 percent obedience. They are tested with children, loud noises and medical equipment and basically have no fear."
Shenkman added on, "With Therapy Dogs International, I found a trainer nearby, researched it and went eight weeks, once a week. We both had to pass a test. I had to pass a test as her handler and she had to pass a test for her temperament, for taking directions and being able to be surrounded by people. As you can see, she's doing a great job so far."
Leave a Comment
About the Contributor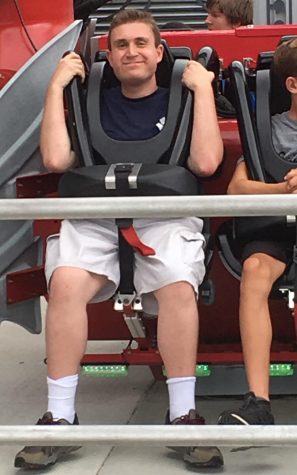 Daniel Lederer, Impact Staff
Daniel Lederer is a senior finishing his final semester on campus as a media studies student. Dan is an avid fan of movies and television, particularly...